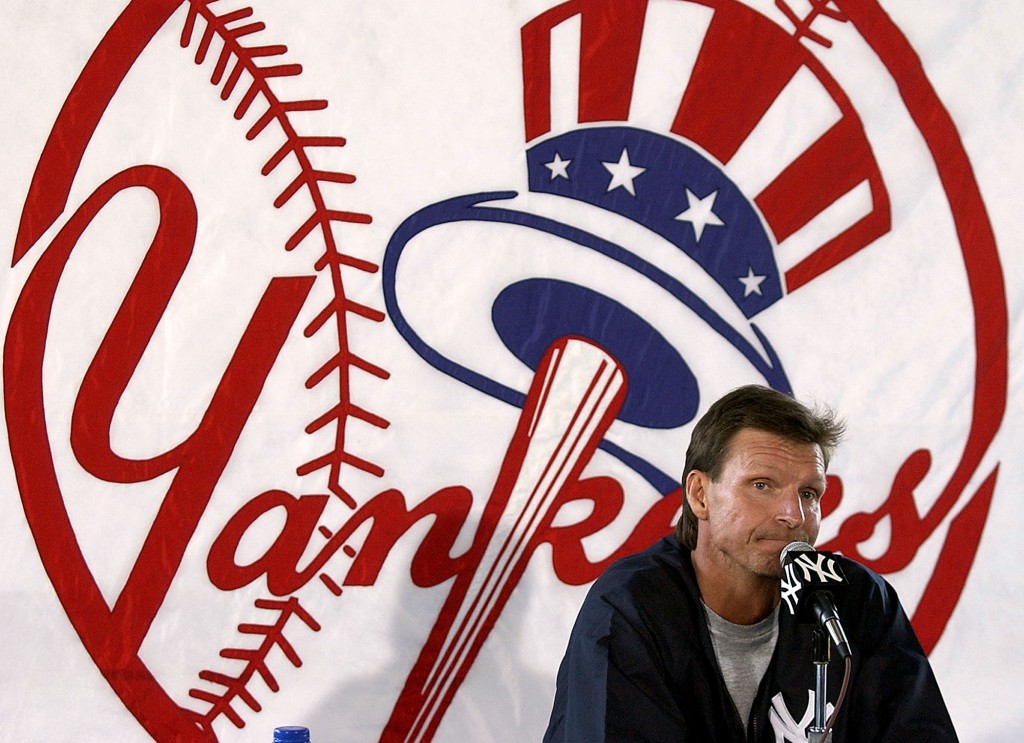 Over 21 years ago, a tall and lanky lefthander from Northern California with a University of Southern California education made his Major League debut as a member of the now defunct Montreal Expos, throwing five innings of two run ball against the Pirates to earn his first Major League win. The next season he made 28 starts and walked 96 batters in 160.2 innings, getting traded to Seattle in the process. He would go on to lead the big leagues in walks in 1990 (120 BB), 1991 (152), and 1992 (140), and it wasn't until his age-29 season that he broke through and established himself as an elite starting pitcher.
That pitcher walked away from the game yesterday, having led the league in strikeouts nine times and being named the Cy Young Award winner five times. He would finish in the top three of the voting on four other occasions. Randy Johnson hangs 'em up as one of the game's very best, though his time in New York is largely remembered as a disappointment.
George Steinbrenner had long desired to bring The Big Unit to the Bronx, and he made no secret of it. "God, who wouldn't love to have Randy Johnson?" Steinbrenner told ESPN Radio in 2004. "He's a dominator and we'd love to have him. Anybody would love to have him." The Boss' wish came true following the '04 season, when he masterminded a deal that sent Javy Vazquez plus two prospects and cash to Arizona for Johnson. Before he even had a chance to put on his jersey during the introductory press conference, the team gave Johnson a two-year contract extension worth $32M, and he responded by roughing up a CBS cameraman on a midtown sidewalk.
Expectations were high heading into 2005, after all Johnson was coming off a season in which he struck out 290 and allowed just 221 baserunners in 245.2 innings. Unfortunately, Randy was rather ordinary out of the gate. After allowing one run in six innings to earn the win against the Red Sox on Opening Day, Johnson posted a 4.39 ERA and a .751 OPS against in his next 16 starts. His record stood at 6-6 on July 1st, and he had lost a full mile an hour off his fastball from the year before.
Johnson settled in and was very good down the stretch, pitching to a 3.32 ERA with a .648 OPS against in his final 17 starts. The Yankees won five of his six starts against Boston, which proved to be the difference in the AL East race. The two clubs finished with identical 95-67 records, but the Yanks were crowned division champs because they had won the season series 10-9.
Lined up to start Game Three of the ALDS against the Angels, Johnson lasted just three innings and allowed five runs as the Yanks got creamed on their own turf. By the time he came out of the bullpen in relief of Mike Mussina in Game Five, the Yankees' fate was all but sealed. RJ had been the team's best starter by a considerable margin all season, however the blame for their early playoff exit was hoisted squarely onto his shoulders.
Heading into the 2006 season, many expected big things out of The Big Unit since he had a season to acclimate himself to New York under his belt. "I think it will be more comfortable for him," said manager Joe Torre. "I think that's been from Spring Training all the way through. It's been less hectic than last year."
Johnson dominated the A's on Opening Day, though his ERA stood at 5.25 on July 1st. He lost even more giddy-up off his fastball and battled lower back soreness the rest of the season, though it wasn't until the end of the year that he decided to get it checked out. It was revealed that Johnson had a herniated disc in his back, and he needed an epidural before being cleared to take the mound in the ALDS. Against the Tigers, Johnson tossed another postseason dud in pinstripes, allowing five runs in just over five innings in Game Three as the Yanks were again sent home prematurely.
At 43-years-old and with a bad back, GM Brian Cashman traded Johnson back to the Diamondbacks for a reliever and three prospects after the 2006 campaign. In two years with the Yankees, Randy had a more than respectable 34-19 record with a 4.39 ERA, though his 6.92 ERA in three postseason appearances remain his Yankee legacy. His time in pinstripes had no effect on his status as a future first ballot Hall of Famer, though he's viewed as just another mercenary – a grumpy mercenary, nonetheless – that failed to do the job he was brought in to do. He failed not because he was soft or because he didn't care, but because he was unable to maintain his historical dominance into his 40's.
Unfortunately for Yankee fans, Johnson will perhaps be better remembered for the damage he did against the Yanks than he did for them. He allowed just five hits in ten innings against the Bombers during the 1995 ALDS, winning Game Three before coming out of the bullpen to win the deciding Game Five. During the 2001 World Series, he beat the Yanks in Games Two, Six, and Seven, clinching the World Championship in relief after throwing seven innings the night before.
Randy Johnson announced his retirement from baseball last night, and it closed the book on perhaps the most dominant starting pitching career we'll ever see. He retired with 739 more strikeouts than any other lefthanded pitcher in the history of baseball, and his career mark of 10.61 strikeouts per nine innings is the best by any pitcher ever. He's the oldest pitcher in history to throw a perfect game (40), and this past season he joined the exclusive 300 win club.
The Big Unit may have been a big disappointment in New York because of his failure to deliver a World Championship, but the game said goodbye to one of it's all-time greats yesterday.
Photo Credit: Tony Gutierrez, AP