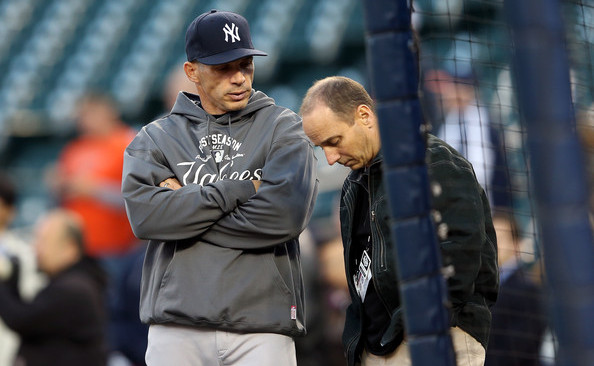 Welcome to September. The final month of the regular season. The 2017 Yankees are currently fighting for a postseason spot, and five years ago the 2012 Yankees were doing the same. The 2017 Yankees feel like a team on the rise because of all the talented young players on the roster. The 2012 Yankees felt like a team in decline, with an aging roster and too many bloated contracts on the books.
The 2012 Yankees went into September with a 75-56 record and a two-game lead in the AL East. That lead was once as large as ten games. The Yankees went 18-22 from July 19th through August 31st, hence the disappearing division lead. Tensions were high. And now that we're in a new month, it's time for another entry into the MLBTR Archives series. Most September rumors are speculative or looking ahead to the offseason. That was certainly the case in September 2012. Let's dive in.
September 5th, 2012: Yankees Notes: Steinbrenner, Cashman, Girardi
The Yankees have made it clear that they intend to reduce payroll below the $189MM luxury tax threshold by 2014. But Ken Rosenthal of FOX Sports wonders if Yankees managing general partner Hal Steinbrenner will change his mind if the team misses the postseason this year. Promising young pitchers such as Ivan Nova, Michael Pineda and Manny Banuelos dealt with injuries in 2012, which will make it harder for GM Brain Cashman to build an affordable rotation.
Rosenthal was a year early. The Yankees did manage to win the division and go to the postseason in 2012 — they beat the Orioles in five games in the ALDS, then were swept by the Tigers in the ALCS — so they stuck to their guns and tried to get under the luxury tax threshold in 2014. Then they missed the postseason in 2013 and that was that. The Yankees blew up their austerity plan to sign Brian McCann, Jacoby Ellsbury, Carlos Beltran, and Masahiro Tanaka during the 2013-14 offseason.
I can't help but wonder how things would've turned out had the Yankees stuck to the plan and not signed those guys, and gotten under the luxury tax in 2014. My guess is things would probably be worse than they are right now. They probably would have gone out and spent big on free agents after resetting the luxury tax rate, which means more onerous contracts on the books, and few prospects. Who knows. Maybe they'd have a ton more prospects and tens of millions in payroll space under the luxury tax. Whatever. What's done is done. I don't foresee the Yankees changing their plan again, regardless of what happens this year. They're getting under the luxury tax threshold next year.
September 7th, 2012: Stark On Yankees, LaRoche, Phillies
Two National League executives had no reservations about spending on Cano. "Pay him what he's worth," one said. The other said Cano has a legitimate case for a $200MM extension.
I always wonder about the sincerity of comments like this. Did these rival executives truly have no reservations about paying Robinson Cano, or where they just saying that in an effort to bait the Yankees into a big contract for Cano's decline years? I think they meant it, that Cano was worth paying top dollar to re-sign. These guys know whatever they say isn't going to sway a team's decision. A general manager who makes decisions based on what rival executives say to reporters won't be a general manager for long.
September 13th, 2012: Rafael Soriano Likely To Opt-Out
There's a good chance Rafael Soriano will exercise the opt-out clause in his contract with the Yankees after the season and hit free agency early, Jon Heyman of CBSSports.com reports. Soriano must choose between another year in New York with a salary of $14MM and opting out for a $1.5MM buyout and the uncertainty of the open market.
Opt-outs are the new thing in baseball — even mid-range free agents are getting them these days — and the only scenario in which they're advantageous for the team is when the player has a good year, opts out, and they don't get stuck with his decline years. How often does that happen? Very rarely. In most cases, when a player has a year good enough to use the opt-out, the team wants to keep him.
Anyway, the Soriano contract worked out about as well as the Yankees could've hoped, and all it took was Mariano Rivera tearing his ACL in a freak accident. Soriano was hurt and ineffective (4.12 ERA and 3.97 FIP) in 2011, didn't use his opt-out, then was great as Rivera's replacement (2.26 ERA and 3.32 FIP) in 2012. He used his second opt-out, landed a two-year deal with the Nationals, and threw 128.2 innings with a 3.15 ERA (3.38 FIP) with Washington. The Yankees used the compensation draft pick on Ian Clarkin. They paid $21M for 107 innings of 2.94 ERA (3.56 FIP) pitching and Clarkin.
September 13th, 2012: New York Notes: Collins, Mets, Yankees, McLouth
Joel Sherman of the New York Post tweets that the Yankees offered Nate McLouth a minor league deal after he was released by the Pirates in June.  McLouth instead opted to go with the Orioles as he felt that he had a better shot of reaching the majors.  The outfielder is hitting .279/.350/.418 in 35 games for the O's this year.
The Yankees did not have Brett Gardner for pretty much the entire 2012 season. He hurt his elbow making a sliding catch in April and didn't return until late September. So, anytime an outfielder became available, the Yankees were said to be interested. It had been years since McLouth's breakout 2008 season, and when the Pirates released him in 2012, he was hitting .140/.210/.175 (9 wRC+). Yeah.
McLouth landed with the Orioles and had a strong 55 games, hitting .268/.342/.435 (112 wRC+) with seven homers. There were a lot of "why didn't the Yankees sign him?" questions because of that, especially since the O's were the team chasing the Yankees down in the standings. The Yankees instead made the Ichiro Suzuki trade, and that worked out pretty darn well, so it's hard to complain about missing out on McLouth.
September 16th, 2012: East Notes: Girardi, Nationals, Rays, Bay
GM Brian Cashman reiterated Joe Girardi will manage the Yankees next year, according to Ken Davidoff of the New York Post. Cashman was specifically asked, if in his mind, Girardi will be the manager regardless of what happens. "Yup," was Cashman's reply.
On the morning of this report, the Yankees were 82-63 and one game up in the AL East. They were 7-7 in September up to that point and had been alternating one-game leads with being tied with the O's atop the division for more than a week. The Yankees had a ten-game lead vanish, though they never did fall out of first place. They were tied with Baltimore at their lowest point.
Needless to say, with that big fade in the second half, there were a lot of questions about Girardi and whether his job would be safe if the Yankees missed the postseason for the first time in four years. Cashman and Steinbrenner summarily shot it down at every opportunity. Girardi was their guy regardless of how the season played out. I still think that is the case now. I'm not certain of it, but I do think that's the case.
September 19th, 2012: AL East Notes: Bundy, Pettitte, Kuroda
The Yankees still have some hope that David Aardsma could pitch this year, Sherman adds. They signed the reliever with 2013 in mind, knowing that most of this year would be spent recovering from Tommy John surgery.
Aardsma, who is somehow still only 35, did pitch for the Yankees in 2012. He got into one game in September, allowed a home run to J.P. Arencibia, and that was it. They released him at the end of Spring Training 2013. The Yankees signed Aardsma, rehabbed him hoping he would contribute down the line, and it didn't happen. Aardsma spent the 2013 season with the Mets, where he had a 4.31 ERA (5.27 FIP) in 39.2 innings. He currently has a 2.01 ERA with 31 strikeouts in 22.1 innings for the Long Island Ducks.
The Yankees have tried a few of these "sign an injured pitcher, rehab him, and hope he helps" moves over the years. The Jon Lieber deal was, by frickin' far, the most successful. Others include Aardsma, Octavio Dotel, Matt Daley, and Andrew Bailey. Those didn't work out so well. Now these pitchers are getting guaranteed big league deals and 40-man roster spots (Kris Medlen, Mike Minor, Nathan Eovaldi, etc.). The days of rehabbing a once successful veteran on a minor league deal are pretty much over.
September 20th, 2012: AL East Notes: Middlebrooks, Ichiro, Blue Jays
Ichiro Suzuki and Brett Gardner are too similar to be the Yankees' corner outfielders in 2013, Ken Davidoff of the New York Post writes. The Yankees hope to have Gardner back at full health next year, so Ichiro might have to sign elsewhere as a free agent. Davidoff won't be surprised if Ichiro's still unsigned in January.
Hah. The Yankees not only re-signed Ichiro to a two-year contract after the season, they then tripled down on the speedy leadoff type by giving Ellsbury a seven-year contract the following offseason. Their leaders in games played at each outfield position in 2014:
Left Field: Gardner (126 games)
Center Field: Ellsbury (141 games)
Right Field: Ichiro (119 games)
That trio started 64 games together in 2014. (Ichiro came off the bench a bunch to replace Beltran for defense.) Pretty sure having too many of the same type of player wasn't a big concern back then. It's cool to have some outfielders who can hit the ball out of the park now, isn't it?
September 20th, 2012: Quick Hits: Upton, Greinke, Escobar, Managers
Derek Jeter told ESPN's Rick Reilly (passed on by Anthony McCarron of the New York Daily News) that he would potentially be open to playing for a team besides the Yankees once his current contract expires.  "Well, if I wanted to keep playing, yes," Jeter said. "It's a business. People forget that."  Jeter is under contract through the 2013 season with an $8MM player option for 2014; the shortstop turns 40 years old in June 2014.
There was never any chance Jeter would go play for another team, nor was there any chance the Yankees would let him go play for another team. The two benefited from each other tremendously. The Yankees enhanced Jeter's personal #brand and Jeter did the same for the Yankees. Jeter shot this report down pretty quickly, but he did say it, and I remember thinking at the time it was an attempt to create some leverage for his next contract. And maybe it worked. Following the 2013 season the Yankees needlessly renegotiated that $8M player option into a $12M guaranteed year. O … kay?
September 21st, 2012: AL East Notes: Jeter, Yankees, Red Sox, Hamilton
Derek Jeter says that suggestions that he wants to play elsewhere are "comical," and that he obviously wants to end career with the Yankees, according to MLB.com's Bryan Hoch (via Twitter).  Yesterday, Jeter seemed to imply that he would be open to playing for another club once his contract expires.  The shortstop is under contract for 2013 with an $8MM player option for '14.
Like I said, Jeter shot it down pretty quickly.
September 23rd, 2012: Cafardo On Angels, Ross, Loney, Carp, Scioscia
Outfielder Cody Ross has three major-market teams – the Phillies, Yankees, and Red Sox – very interested in him.  Ross has made it clear that he would like to stay in Boston and Larry Lucchino said earlier this week that the club is beginning the process of keeping him for next season and beyond. 
This one is kinda weird. Ross was on a one-year contract with the Red Sox at the time. But apparently the Yankees wanted him even after trading for Ichiro? And the non-contender Phillies wanted him too? The Red Sox were in last place at the time, so I guess they could've looked to trade Ross late in the season. Maybe Ross meant those teams would want him when he became a free agent after the season? I dunno. The Diamondbacks signed him to a three-year deal worth $26M after the season and he played 177 total games for them due to injuries.
September 25th, 2012: Yankees Designated Justin Thomas For Assignment
The Yankees have designated left-hander Justin Thomas for assignment, according to Mark Feinsand of the New York Daily News (via Twitter).  After the Red Sox removed Thomas from their 40-man roster in May, he was claimed by the Yankees and posted a 3.45 ERA, a 2.45 K/BB ratio and a 7.7 K/9 rate in 30 games (six of them starts) for Triple-A Scranton/Wilkes-Barre this season.
Thomas allowed three runs in three innings with the Yankees in September 2012, before getting dropped from the roster. He hasn't played in the big leagues since. He hasn't played anywhere since 2014. Thomas spent 2013 in Triple-A and Japan, and 2014 in Triple-A and Korea. There are so, so many of these "pitched in four games with the Yankees in September 20XX" relievers out there. Too many to remember. I remembered Thomas though, for whatever reason. I remember Mike Zagurski too.