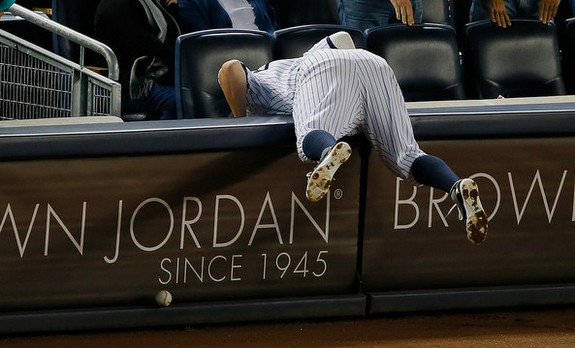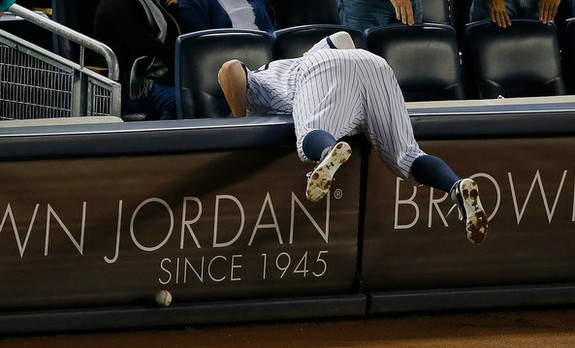 The trade deadline has passed and we are now into August, and that means it is time for another edition of our MLB Trade Rumors archives series. After all, what good are trade rumors if we're only going to look at them once, and forget about them five minutes later? Few things in baseball can made you facepalm quite like old rumors.
Anyway, the Yankees were 56-51 and only three games back of the second Wild Card spot on the morning of August 1st, 2013. They added Alfonso Soriano prior to the trade deadline and that was pretty much it despite glaring needs up and down the roster. The rotation, the bullpen, the infield, all over. Let's dive into another round of old school trade rumors.
August 1st, 2013: Yankees Sign Leonardo Molina
The Yankees have signed 16-year-old Dominican outfielder Leonardo Molina for a $1.4MM bonus, reports Ben Badler of Baseball America. Molina, who ranked as the No. 5 international prospect according to both BA and MLB.com's Jesse Sanchez, had to wait until August 1 to sign, as he just turned 16 years old today.
The 2013-14 international signing period was the first with the soft bonus pools. MLB hastily implemented the system in 2012 — all 30 teams had a $2.9M bonus pool for the 2012-13 signing period — then tailored it a bit the following year. The Yankees had a $1.88M bonus pool (!) for the 2013-14 signing period and they gave almost all of it to Molina, who has yet to make it out of Single-A and is currently hitting .261/.301/.372 for Low-A Charleston. That 2013-14 signing period netted the Yankees nothing worthwhile.
August 2nd, 2013: Yankees Designate Thomas Neal For Assignment
The Yankees have designated outfielder Thomas Neal for assignment, reports MLB.com's Bryan Hoch (via Twitter). After a brief call-up, he had been optioned to Triple-A by the club last week to make way for Alfonso Soriano.
The Yankees signed Neal as a minor league free agent prior to the 2013 season and he was the "OMG why aren't they calling this guy up???" guy. Neal hit .325/.391/.411 (130 wRC+) in 72 games with Scranton, the Yankees called him up, he went 2-for-11 in four games, then he was designated for assignment. The Cubs claimed him on waivers and he went 0-for-4 for them. He's been out of baseball since 2015. So many random players on those 2013 Yankees.
August 5th, 2013: Yankees Designated Brent Lillibridge For Assignment
The Yankees have designated infielder Brent Lillibridge for assignment, according to Andy McCullough of the Star-Ledger (on Twitter). David Adams was recalled to take his roster spot, adds McCullough.
Like I said, so many random players on those 2013 Yankees. The Yankees got Lillibridge in a cash trade with the Cubs and he played eleven games in pinstripes. In one of those games he had a go-ahead ninth inning single against Joe Nathan. In another game he batted second. I will always and forever remember Lillibridge for these catches on back-to-back plays in 2011 though.
What a dumb game that was.
August 7th, 2013: Rodriguez Appeals 211-Game Suspension
WEDNESDAY: Rodriguez has officially filed his appeal of the suspension, tweets David Waldstein of the New York Times. The MLBPA has confirmed the appeal, tweets David Lennon of Newsday.

MONDAY: Major League Baseball has announced that Alex Rodriguez has officially been suspended for 211 games. That punishment would take effect on Thursday, August 8. However, unlike the other 12 players who were issued suspensions today, Rodriguez will appeal his suspension and therefore be allowed to play until that appeal has been heard.
Twelve players were suspended 50 games for their ties to Biogenesis. A-Rod, the 13th player, was suspended for the remainder of the 2013 season plus the entire 2014 season because they had more evidence against him. Or something like that. I forget, exactly. Anyway, A-Rod went scorched Earth after that. Among other things, his lawyer Joe Tacopina made the sports radio rounds and claimed the Yankees made Alex play through a torn hip labrum in 2012 in an effort to shorten his career. Rodriguez then sued everyone. The Yankees, the team doctors, MLB, MLBPA, you name it. His suspension was later reduced to 162 games and he played out the stretch in 2013, which led to this classic A-Rod game.
After the game A-Rod was asked whether Ryan Dempster should be suspended for throwing at him. "
I'm the wrong guy to be asking about suspensions
," he replied. The king.
August 15th, 2013: Yankees To Sign Mark Reynolds
The Yankees have agreed to terms with Mark Reynolds, Jon Heyman of CBS Sports reports. Heyman indicates that Reynolds will "help with their righthanded power," and indicates he'll be used to spell Alex Rodriguez at third and Lyle Overbay at first. If that's the case, Reynolds would likely play in place of the left-handed Overbay against lefty starters.
Reynolds packed a lot into his 36 games with the Yankees. He drove in three runs and went 2-for-5 with a homer at Fenway Park in his first game with the team. He also hit his 200th career homer in pinstripes. And he made his first big league start at second base when Robinson Cano needed a day after taking a pitch to the hand. Reynolds also hit a 14th inning home run in Game 162 to give the Yankees a win. Dude hit .236/.300/.455 (106 wRC+) with six homers in 36 games with the Yankees. Not bad for a midseason scrap heap pickup.
Also, on the day they signed Reynolds, New York's right-handed batters were hitting .223/.283/.324 (66 wRC+) in 2,005 plate appearances. I am not joking.
August 19th, 2013: Yankees Release Luis Cruz
FRIDAY: The Yankees have designated infielder Luis Cruz for assignment in order to clear a 40-man roster spot for the newly signed Mark Reynolds, according to MLB.com's Bryan Hoch (on Twitter). The Yankees optioned right-hander Preston Claiborne to Triple-A to open up a 25-man roster spot, Hoch adds.
Cruz played 16 games with the Yankees and I don't know whether to be surprised it was that many, or that few. They cycled through so many random infielders that season. Seven different players started a game at shortstop that year and all seven made at least five starts. Five made at least ten starts. The best thing Cruz did as a Yankee was set up Manny Machado for this play:
After his time with the Yankees came to an end, Cruz spent a few years in Japan, and he's currently playing in Mexico. Dude is hitting .307/.357/.602 with the Diablos Rojos del Mexico.
August 20th, 2013: Quick Hits: Morneau, Matsuzaka, Red Sox, Padres
With a big night at the plate putting an exclamation point on his torrid run over August, Twins first baseman Justin Morneau is drawing increased attention on the trade market, 1500ESPN.com's Darren Wolfson reports on Twitter. According to a source, the resurgent Yankees are "back in" on Morneau, which could also increase the pressure on the Orioles to make a move on the veteran slugger. The Yanks are now just one game back of Baltimore, though both clubs have significant ground to gain in both the AL East and Wild Card hunt.
I forgot all about the Morneau rumors. Lyle Overbay had basically stopped hitting and the Yankees were looking for a new first baseman, though they never did come up with one. The Twins traded Morneau to the Pirates for nothing in particular, and he hit .260/.370/.312 (99 wRC+) with zero homers in 25 games. He then played two years with the Rockies and one year with the White Sox. I remember none of that.
August 29th, 2013: Minor Moves: Edgmer Escalona, Dan Johnson
The Yankees have released first baseman Dan Johnson, according to the International League transactions page. Sweeny Murti of WFAN was first to report the move (on Twitter). After signing a minor league deal over the off-season, Johnson has posted a strong .253/.379/.447 line in 559 plate appearances at Triple-A this year. The 34-year-old last saw big league action in a short stint with the White Sox last year, and has a career .237/.338/.412 triple-slash over 1,551 MLB plate appearances. 
Fun fact: Johnson is still playing. Second fun fact: Johnson is now a pitcher. A knuckleballer, to be exact. He's allowed eight runs on 13 hits and seven walks in eight innings with the independent St. Paul Saints this year. Johnson hit .253/.379/.447 (134 wRC+) with 21 homers in 133 games with Scranton in 2013 and I distinctly remember there being a "call up Johnson and release Overbay" movement. Never happened. C'est la vie.