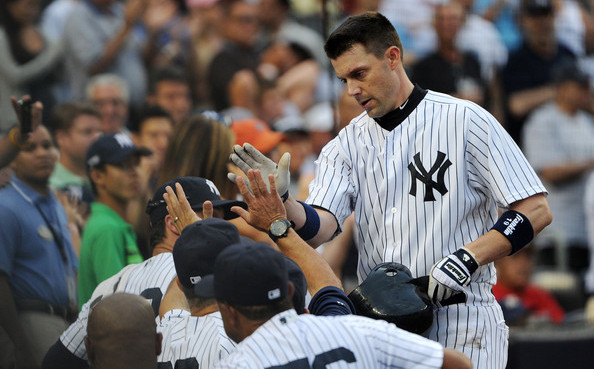 We are now in April and a new season has begun. That is true today and it was true in 2012 as well. Now that we're in a new month, it's time to go through the MLB Trade Rumors archives again. April is usually a slow month for rumors and transactions though. The season has just started and most teams are evaluating their rosters and minor league depth before looking for help outside the organization.
The Yankees remade their rotation during the 2011-12 offseason by signing Hiroki Kuroda and trading for Michael Pineda. They also brought back Freddy Garcia and salary dumped A.J. Burnett. The Yankees didn't just lose on Opening Day in 2012 — that was the first of these six straight Opening Day losses — they got swept in the first series by the Rays. The cries of panic were quickly erased by a 10-3 stretch. The Yankees went 13-9 in April overall. Let's dive into the MLBTR archives, shall we?
April 1st, 2012: Minor Moves: Scales, Bulger
The Yankees have signed Jason Bulger to a minor league contract, tweets MLB.com's Bryan Hoch. He'll pitch at Triple-A. After signing a minor league deal with the Twins this winter, Bulger disappointed in Spring Training, allowing 10 earned runs on eight hits and five walks in four innings. He last enjoyed success in 2009 with the Angels.
Bulger had some nice years with the Angels back in the day, throwing 99 innings with a 3.64 ERA (4.40 FIP) from 2009-11. He was just trying to hang on by time he signed with the Yankees. Bulger, then 33, spent the 2012 season in Triple-A, where he had a 3.41 ERA (4.50 FIP) in 34.1 relief innings. He walked 21 and struck out 28 as the designated "veteran arm who makes sure the kids don't get overworked" reliever. The Yankees have a few guys like that this year (Ernesto Frieri, Jason Gurka), though they're much deeper in young arms than they were five years ago. The odds of seeing Frieri and Gurka in the Bronx aren't as good as they would have been a few years back.
April 4th, 2012: Giants, Yanks Swap George Kontos For Chris Stewart
2:32pm: The Yankees have acquired Stewart in exchange for right-hander George Kontos, reports MLB.com's Bryan Hoch (on Twitter).
The big-ish surprise trade. Opening Day was April 6th, 2012, and two days earlier the Yankees changed course behind the plate and acquired Chris Stewart to back up Russell Martin. Francisco Cervelli was optioned to Triple-A. It was right around that time we started to learn about the value of pitch-framing, and Stewart was a master at it. Here are the numbers, per StatCorner:
| | Stewart | Cervelli |
| --- | --- | --- |
| 2011 | +16.8 in 460.1 innings | +8.4 in 316.1 innings |
| 2012 | +14.1 in 395.1 innings | +0.2 in 5 innings |
| 2013 | +21.7 in 844.1 innings | +3.2 in 138 innings |
On a rate basis, Stewart was one of the very best pitch-framers in baseball at the time. Cervelli was good, but not as good as Stewart. Stewart backed up Martin in 2012 and hit .241/.292/.319 (65 wRC+) in 157 plate appearances. Cervelli hit .246/.341/.316 (89 wRC+) in 99 Triple-A games.
The Yankees let Martin walk as a free agent following the season and were planning to go with Stewart and Cervelli behind the plate in 2013, but a foul tip broke Cervelli's hand in April and kept him out most of the season. That gave Austin Romine his first extended taste of big league action.
Kontos, meanwhile, has two World Series rings with the Giants, and has carved out a nice career as a middle reliever. He came into this season with a 2.64 ERA (3.66 FIP) in 264 career innings. I thought Kontos had a chance to be a setup guy and wasn't too pleased with the trade, but whatever. What's done is done.
April 4th, 2012: Yankees Sign Ramon Ortiz
The Yankees signed right-hander Ramon Ortiz, Jon Heyman of CBSSports.com tweets. It's a minor league deal, Marc Carig of the Star-Ledger tweets. The Giants recently released the 39-year-old Praver/Shapiro client.
The Yankees have some nice pitching depth in the minors, which hasn't always been the case over the years. It's hardly been the case, really. They used to have to pick up guys like Ortiz to chew up innings in Triple-A. Ortiz, then 39 with over 1,400 big league innings to his credit, spent the entire season with Triple-A Scranton, where he had a 3.45 ERA (4.06 FIP) in 169.1 innings. That was the season Scranton had to play entirely on the road while PNC Field was being renovated, so Ortiz, a 12-year MLB veteran, stuck it out and road buses and lived in hotels all summer. Some guys stick around so long because they truly love the game.
By the way, those 169.1 innings Ortiz threw that season are still the most in the farm system since Steven White threw 175.1 innings back in 2006. Aside from Ortiz, only four Yankees farmhands have reached 160 innings in a single minor league season since White: Shaeffer Hall (164.1 in 2012), D.J. Mitchell (161.1 in 2011), Hector Noesi (160.1 in 2010), and Jason Jones (160 in 2008). Geez, those are some names. Shaeffer Hall was the Dietrich Enns of his time.
April 5th, 2012: Yankees Claim Cody Eppley
The Yankees claimed reliever Cody Eppley off of waivers from the Rangers, Joel Sherman of the New York Post tweets. The Rangers had designated the right-hander for assignment yesterday.
You never see it coming with these fringe relievers. The Yankees claimed Eppley off waivers the day before Opening Day, and while he didn't make the Opening Day roster, he was called up in the middle of April and spent the entire rest of the season in the big leagues. He threw 46 innings with a 3.33 ERA (3.66 FIP) and a 60.3% ground ball rate. Eppley appeared in two games with the Yankees in 2013 before being released at midseason. He's been bouncing around independent leagues and the Mexican League since 2014. The Yankees got their 40-something good innings out of Eppley and that was it, time to move on.
April 6th, 2012: NL West Notes: Padres, Dodgers, Phelps
The Giants originally requested right-hander David Phelps from the Yankees for catcher Chris Stewart, George A. King III of the New York Post reports. The Yankees ultimately sent right-hander George Kontos to San Francisco.
I don't remember this at all. Phelps had yet to pitch in the big leagues at the time of the Stewart-Kontos trade, though he made his debut in the middle of the 2012 season. It's easy to understand why the Yankees said no to Phelps but yes to Kontos. Phelps could start. Kontos couldn't. Also, Phelps had a much cleaner injury history. (Kontos had undergone Tommy John surgery a few years prior.) The Yankees have never really missed Kontos. They would have missed Phelps given the 299.1 league average-ish innings he threw for them from 2012-14 though.
April 18th, 2012: Quick Hits: Lannan, Martin, Nationals, Orioles
The Yankees have no plans to talk to Russell Martin about a contract extension soon, reports Jon Heyman of CBSSports.com (on Twitter). Martin will become a free agent after this season, and the two sides briefly discussed a multi-year deal this past offseason.
The two sides did talk about an extension at some point, but nothing came of it and Martin ended up signing with the Pirates after the season. That led to the Stewvelli era in 2013. Here are the catchers the Yankees have lost or traded away over the last few offseasons:
After 2016: Brian McCann traded to Astros.
After 2015: John Ryan Murphy traded to Twins.
After 2014: Francisco Cervelli traded to Pirates.
After 2013: Chris Stewart traded to Pirates.
After 2012: Russell Martin leaves as free agent.
After 2011: Jesus Montero traded to Mariners.
The Yankees did all of that and they still have a budding star behind the plate in Gary Sanchez. Pretty cool. The super early guess here is Romine is sent packing after the season so Kyle Higashioka can take over as the backup in 2018, continuing the annual tradition of jettisoning a catcher in the offseason.
April 19th, 2012: Yankees Sign Nelson Figueroa
The Yankees have signed right-hander Nelson Figueroa to a minor league deal, Jon Heyman of CBSSports.com tweets.
Nelson Figueroa too? Geez, the Yankees signed so many veteran guys to stash in Triple-A in 2012 that I had to go back to look at their rotation to start the season. Here are their Opening Day starting pitchers:
The Delcarmen start was basically a rehab thing. He moved to the bullpen after that one little start, at which point Ortiz took his rotation spot. Figueroa helped replace Banuelos, who got hurt early in the season. Others on the 2012 Triple-A Opening Day roster include Mike O'Connor, Craig Heyer, and Pat Venditte. I had a prospect crush on Heyer for a while.
April 20th, 2012: No More Personal Service Deals & Milestone Bonuses
Major League Baseball and the MLB Players Association have agreed to put an end to personal service deals and milestone bonus clauses, ESPN.com's Jayson Stark reports. Existing contracts with these deals or bonuses won't be affected by the changes, which were agreed to this month.
I don't remember this. Alex Rodriguez had those home run milestone bonuses in his contract, though he didn't trigger the first bonus until 2015. MLB and MLBPA changed the rules three years before that was a thing. I know Albert Pujols has an option for a ten-year, $10M personal services contract in his deal with the Angels, which was signed a few weeks before this report. Ryan Zimmermann has a personal services clause in his contract too.
MLB and MLBPA determined milestone bonuses violated a clause in the Collective Bargaining Agreement that says performance statistics can not be used as a basis for incentives. The personal services stuff violated a clause about contracts extending beyond the player's career as an active player. So, if you're looking for a way the Yankees can sweeten the pot to lure a free agent in the future, milestone bonuses and personal services agreements are a no go.
April 25th, 2012: Michael Pineda To Undergo Labrum Operation
Michael Pineda has a tear in his right labrum and will undergo arthroscopic surgery next Tuesday, according to Mark Feinsand of the New York Daily News (Twitter link). The 23-year-old will likely miss a full year, MLB.com's Bryan Hoch tweets. The Yankees acquired Pineda in an offseason trade that sent their top hitting prospect to the Mariners, but the right-hander has yet to pitch his first inning in pinstripes.
Oh boy. That was a bad day. Pineda's velocity was down all throughout Spring Training — he came to camp out of shape too — and the Yankees had him start the season on the disabled list with what they called shoulder tendinitis. He made a rehab start a few days prior to this report and left the game after only a handful of pitches with pain in his shoulder. Tests revealed the labrum tear. Brian Cashman called it a "tragic diagnosis" at the time.
Pineda missed close to two full seasons following the surgery — he did throw 40.2 minor league rehab innings in the second half of 2013 — and all things considered, his stuff has come back very well following surgery. He can still get his fastball into the mid-90s regularly and his slider can be devastating. Pineda still doesn't have a reliable changeup though, and his command is pretty terrible, which may or may not be the result of the surgery. I remember being worried he'd come back throwing 88-89 mph with no bite on his slider. That didn't happen.
Even with his stuff coming back, the shoulder injury definitely derailed Pineda's career to some degree. He missed his age 23 season and most of his age 24 season. Those are crucial developmental years, years Pineda could have been working on his changeup and command. There's no guarantee Pineda would be a better today had he not undergone surgery. The surgery didn't do him any favors though. Sucks.
April 28th, 2012: Bobby Abreu Links: Angels, Wells, Trout, Yankees
Mike Axisa of the River Ave Blues blog thinks the Yankees might have an interest in Abreu as at least a short-term fix while Brett Gardner is on the DL.  New York tried to acquire Abreu for A.J. Burnett in the offseason, before Burnett blocked the deal to avoid playing on the west coast.
That idiot Mike Axisa has a good idea every once in a while, but this probably wasn't one of them. Gardner suffered what was essentially a season-ending elbow injury making a sliding catch in the team's 11th game of the season — he did return very late in September and for the postseason — which sent the Yankees scrambling for outfield help. Here are their games started leaders in left field in 2012:
Raul Ibanez — 65 starts
Andruw Jones — 41
Ichiro Suzuki — 26
Dewayne Wise and Jayson Nix — 9 each
Brett Gardner — 8
Eduardo Nunez — 3
Chris Dickerson — 1
I remember Nunez have some adventures during those three starts in left field. The Yankees rolled with an Ibanez/Jones platoon for much of the season, but Andruw was awful that year, which led to guys like Nunez and Nix playing out there. Eventually the Yankees traded for Ichiro to replace Gardner.
Anyway, I've gotten sidetracked. The Yankees and Angels reportedly agreed to a Burnett-for-Abreu trade during the 2011-12 offseason, but Burnett invoked his no-trade clause to block the deal because he didn't want to go to the West Coast. He was traded to the Pirates, who were not on his no-trade list, a few weeks later.
Abreu, then 38, hit .208/.259/.333 (62 wRC+) in eight games with the Angels before being released on April 27th. The player called up to take his roster spot? Mike Trout. A good decision, that was. Abreu then hooked on with the Dodgers and hit a serviceable .246/.361/.344 (100 wRC+) in 92 games. Ibanez hit some enormous home runs late in 2012 and Ichiro played well after the trade. Good thing the Yankees didn't listen to me and sign Abreu, huh?