In his daily blog post this morning, Buster Olney opined about the five best starting rotations in the game, led by the Red Sox. The Yankees placed second, followed (in order) by the White Sox, Angels, and Cardinals. The Phillies also received an honorable mention.
We could argue about who has the best rotation from here until Opening Day, and there's no right answer. However, what we do have are CHONE projections, so I rounded those up to see how each rotation is expected to perform next season. He's the four non-New York teams…

All we're doing is adding, so it doesn't matter what order the pitchers are listed in. Olney has no idea who the Cardinals' fifth starter is, and neither do I. And frankly, neither does the team. Regardless, they don't have any other pitchers projected to be worth over a win, so it doesn't make much of a difference anyway. Obviously, the BoSox have the best projected rotation among the four teams, with five starters set to be at least league average (two WAR is basically league avg). You have to like the balance in the ChiSox's rotation though, minus the Freddy Garcia eyesore.
Now, what about the Yanks?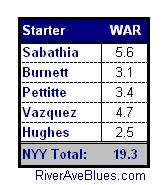 Olney thinks Phil Hughes will be the fifth starter, though most others think it'll be Joba Chamberlain. For whatever reason, CHONE has Joba projected as a reliever in 2010, a reliever worth just 0.9 WAR at that. Even if we swap Hughes out for a 0.9 WAR pitcher, the Yanks still outpace the pack by a full win. They have the two best projected starters among the five teams in CC Sabathia and Javy Vazquez, and are the only team besides Chicago with four 3.0+ WAR pitchers on the staff.
Remember, these are just projections, far from gospel. They're not telling us what will happen, but what could happen based on past data. Don't take them to heart, they're just for fun. That said, I like the way the numbers worked out.
Anyway, here's your open thread for the evening. The Islanders, Nets, and Knicks are all in action. Anything goes, just be cool.