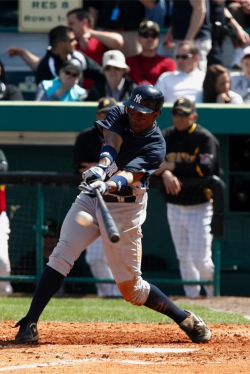 In 2008 the Yankees posted their worst offensive season in recent memory. The unit finished seventh in the AL in runs scored, after finishing in the top five, and usually in the top three, since their playoff ran began. Injuries played a large role in the decline. Hideki Matsui missed the entire second half, as did Jorge Posada. Even Alex Rodriguez spent three weeks on the DL, and many think that Derek Jeter played through a wrist injury. The team also saw diminished production from a couple of its younger players, Robinson Cano and Melky Cabrera. In order to succeed in 2009, the Yankees needed bounce back seasons from more than one of those players.
When Brian Cashman traded for Nick Swisher that November, he placed an even deeper reliance on the team returning to form. Not only did he need rebounds from his own players, but now needed one from an incoming player. He didn't place a huge bet on Swisher — he cost the team only spare parts, players who wouldn't have had a role on any future Yankees team. But at the time he was slated to start at first base, leaving the lineup with not only five players who needed to rebound, but also one, Xavier Nady, who almost certainly wouldn't repeat his 2008 success. It was a pretty big gamble, though mitigated when the Yanks acquired Mark Teixeira later that winter.
Somehow, the plan worked out on all fronts. While Rodriguez missed the first month of the season, Posada missed a couple of weeks, and Matsui couldn't play the field, the Yankees saw each of their rebound candidates take that step forward. This off-season Cashman cashed in a few of those chips, letting Hideki Matsui leave as a free agent and trading Melky Cabrera in the Javy Vazquez trade. Yet he apparently enjoys picking up players coming off down years, as his first major move this winter was to acquire Curtis Granderson from the Tigers. The case is a bit different than Swisher's, mainly because the Yankees paid a lot more for Granderson, but the rebound necessity remains.
Granderson's 2009 offensive season looks more like a follow-up to his 2006 campaign rather than his 2008. In 2006 he put his potential on display as a 25-year-old, hitting .260/.335/.438, good for a .333 wOBA while playing a mean center field. In 2009 he hit .249/.327/.453 while playing a just above average center field. He slightly improve his walk rate from 2006, to 10.1 percent from 9.7, and also increased his ISO from .178 to .204. If he had posted his 2009 line in 2007 we would have thought it completely normal. His defense regressed, but he made improvements in other areas. Even his batting average can be explained by a poor BABIP, .275, down from .333 in 2006.
Of course, 2009 did not come directly after 2006. Instead, Granderson posted an elite season in 2007, hitting .302/.361/.552, a .395 wOBA. He also continued to track down more fly balls than his fellow center fielders. His WAR that season, 7.3, was more than a win better than the next highest center fielder, Aaron Rowand at 6.1. He followed that with a quality 2008 campaign in which he hit .280/.365/.494, a .374 wOBA, though his defense dipped a bit. That dropped him in the WAR rankings, though his offensive component still ranked fifth among his peers. It was good enough, in other words, that his performance in 2009 came as a surprise.
The good news for the Yankees is that even if he repeats his 2009 he'll still post a more valuable season than Melky Cabrera did. Of course, the Yankees are looking for a bit more than that, since Granderson, along with Nick Johnson, is charged with replacing two of the heavier bats from the 2009 Yankees. A return to his 2008 form seems a feasible expectation, though his 2007 appears to be an outlier in almost every sense. Still, a.374 wOBA, at .280/.365/.494, would essentially replace Damon's 2009 production.
How do the projection systems see it?
Unsurprisingly, this checks in right around Granderson's career line of .272/.344/.484. It would represent a modest improvement over his 2009, but when the Yankees traded their No. 2 prospect for him in December they likely expected more. I'm confident Granderson can deliver, too. He clearly has the tools, and now he's surrounded by much better hitters than in the Detroit lineup. He'll also face a lot less pressure as he moves from the leadoff spot to the bottom of the order (though I think there are worse ideas than trying him in the five hole).
The gamble on Granderson is clear. Cash in two winning chips, Matsui and Cabrera, and put another one down on the table. Again, because of what theYankees surrendered its a bit bigger gamble than they placed last year, but I think still a winnable one. If it does pay off, the Yankees will reap the benefits not only in 2010, but also over the next few years of Granderson's contract.
Photo credit: Gene J. Puskar/AP