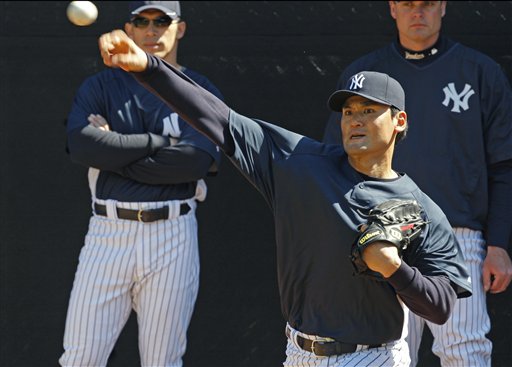 There's nothing quite like baseball under the sun, but I've always had a soft spot for night games. The cool breeze, the lights, I dunno what it is, but I like it. The Yankees are playing one of their few night games of the preseason tonight, taking on the Rays' B-team in Tampa. Javy Vazquez will be making his third televised start of the spring in as many outings. I guess he's an attention whore.
Anyway, here's the lineup…
Jeter, SS
Granderson, CF
Swisher, RF
Posada, C
Cano, 2B
Thames, DH
Winn, LF
Miranda, 1B
Pena, 3B
Scheduled Pitchers: Javy Vazquez, Chan Ho Park, and David Robertson. Dustin Moseley, Mark Melancon, Romulo Sanchez, and Boone Logan are also available.
Also scheduled to play: Reegie Corona, Colin Curtis, Greg Golson, Reid Gorecki, Eduardo Nunez, P.J. Pilittere, Austin Romine, Kevin Russo, and Jon Weber.
First pitch is scheduled for 7:05pm ET. You can watch locally on YES, or out of market on MLB Network. Enjoy the game.
Photo Credit: Kathy Willens, AP