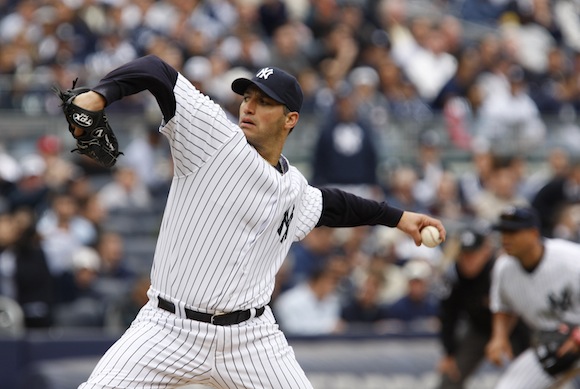 From my couch, it looks to be a beautiful day for baseball in the Bronx, but the weather is a bit deceptive. It's 52 degrees out with a light wind. While the players on the field should be fine, the fans in the stands might get a little chilly as the day goes on.
Despite the weather, though, the Yanks are hot. They're sitting pretty at 8-3, their best start since 2003, and they've won four series to open the season for the first time since 1926. A win today would give the team a sweep of the Texas Rangers. The Bombers are sharing first place with the Tampa Bay Rays – who beat the Red Sox twice yesterday – and will hit the road after their 1:05 p.m. contest wraps this afternoon.
For the Yankees, Andy Pettitte takes the bump this afternoon. After tossing six shut-out innings against the Angels in the home opener, the lefty is 1-0 with a 0.75 ERA in 12 innings. He'll try to put a bow on this homestand as he goes up against Rich Harden. The Rangers' right-hander is 0-0 with a 2.79 ERA, and while he has struck out 10 in 9.2 innings this year, he has also issued eight free passes. The patient Yankees will test him.
Offensively, the Yanks are giving Derek Jeter, suffering from a slight cold, the day off. Brett Gardner, he of the three infield hits yesterday, will man the leadoff spot, and Ramiro Pena will slot in ninth. This afternoon delight will be on the YES Network.
B. Gardner LF
N. Johnson DH
M. Teixeira 1B
A. Rodriguez 3B
R. Cano 2B
J. Posada C
C. Granderson CF
N. Swisher RF
R. Pena SS
A. Pettitte LHP
Game Notes: With the win yesterday, Joe Girardi became the 11th manager in Yankee history to win 200 games with the team…This is the last matchup between the Yanks and Rangers at Yankee Stadium this year. The Bombers make two trips to Texas later this summer.
Photo Credit: AP Photo/Kathy Willens