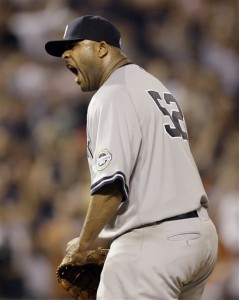 As fast as the start to the season was for the Yankees, things turned in the opposite direction just as quick. They've lost four of their last five games despite being outscored by just three runs during that stretch. Even with their recent dip, the Yanks still have the fourth best winning percentage and fifth best run differential in the game, plus … you know … the season is far from over. They're still on a 102 win pace.
CC Sabathia gets the ball tonight in an effort to right the ship, back at the site of where he first announced his arrival to the Yankees last May. He faced Jeremy Guthrie that night, and he'll do the same again on this one. Of course, Alex Rodriguez stole the show in that game when he hit a three run homer on the first pitch thrown to him on the season. Such a selfish jerk.
CC's coming off back-to-back complete games, except one was rain shortened and the other was an eight inning loss. You can tell Joe Girardi is really trying to get off the schneid tonight, he's sending the A-lineup out there to back up Sabathia…
Jeter, SS
Johnson, DH
Teixeira, 1B
A-Rod, 3B
Cano, 2B
Posada, C
Granderson, CF
Swisher, RF
Gardner, LF
And on the mound, Carsten Charles Sabathia.
First pitch is scheduled for 7:05pm, and can be seen on YES. Enjoy.