In 2007 and in 2008, Robinson Cano got off to a slow start. After nearly winning the batting title with a late surge in 2006, Cano stumbled a bit in August, posting a .270/.320/.337 April. Things got worse in May, and he hit rock bottom on May 16 when he was hitting .234/.276/.312. He took off after that, though, and in his final 522 PA he hit .326/.374/.536, which more resemble the Cano we had gotten to know in 2006.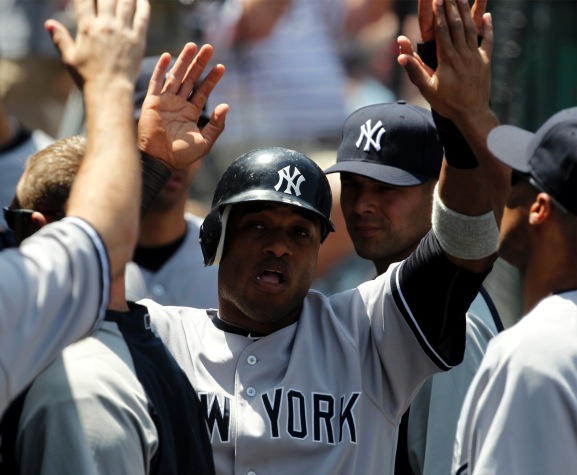 In 2008 his start was even worse. He hit under .200 for almost the entire month of April, finishing the month at .151/.211/.236. While he hit rock bottom on May 3 that year, his recovery didn't go as well as in 2007. His .300/.327/.452 line from May 4 through the end of the season wasn't terrible, but it was far below what we had come to expect from Cano. It got so bad that Joe Girardi ended up benching him in September.
The narrative, then, entering the 2009 season was that Robbie had to get off to a hot start in order to fend off his critics. As we saw, he responded. Through 20 games he hit .381/.418/.619, and while he didn't keep that up for the rest of the season he still kept up a respectable line of .311/.341/.505 from Game 21 through Game 162. His final line, .320/.352/.520, represented his best production since that superb 2006 season.
In 2010, we've seen more of the same. Cano's hot start is a big reason why the Yankees have gotten off to such a hot start. In the first 20 games he's hitting .390/.430/.701, which closely resembles his 2009 start. The good news, though, is that he has shown improvement in every category. His BA is clearly higher. In his first 20 games last year he walked 6.6 percent of the time and had a .238 ISO. This year he has walked 7 percent of the time and has a .312 ISO.
There's just no way Cano will keep up this production throughout 2010. Yet even if he drops off a bit he'll finish strong this season. It's tough to ignore such a massive increase in power. It comes at the cost of strikeouts — Cano's 13 percent strikeout rate is his highest since 2007 — but he's also shown a bit more willingness to take some pitches and even draw a walk. I'm being cautious, given Cano's similar start last year, but it seems like this year could be his best yet.