For three innings it looked like Javy Vazquez might grind his way through a decent start. His fastball command wasn't there yet again, but the Angels didn't get much off him the first turn through. By the fourth, though, everything caught up with him. He wasn't throwing many fastballs, he was nibbling with his secondary stuff, and eventually he hung a critical pitch or two. The offense had its own struggles outside of the second inning, but after his fourth straight not-so-good start, Vazquez once again finds himself the center of attention.
Biggest Hit: Jorge avenges Cano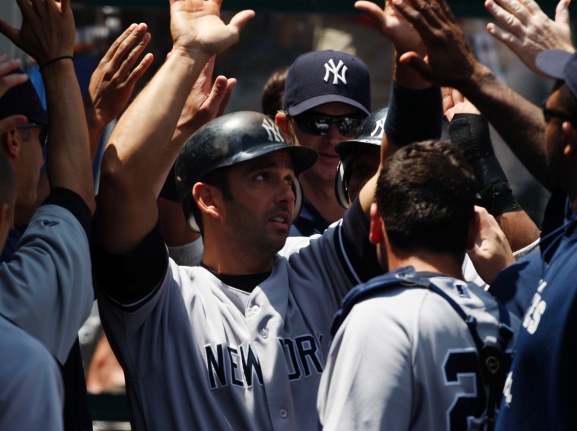 Scott Kazmir started the inning with two straight inside fastballs to Robinson Cano, the last of which caught him square on the backside. Two years ago that might have stung a bit more, but now Kazmir tops out at 90. The HBP to Cano crossed at 88. Kazmir went back to his fastball on the first pitch to Posada. This one clocked 89 mph, but more importantly caught all of the plate. Jorge did what any good hitter would do, sending it over the center field fence to give his team a 2-0 lead.
The second was the only good inning the Yankees put together. A batter after Jorge homered, Marcus Thames hit a shin-high changeup to the wall, Granderson sacrificed him to third — and nearly got himself on base — Cervelli walked, and Jeter eventually scored Thames on a fielder's choice. Those three runs felt big at the time, like they were just the beginning. Kazmir got a handle of the game, though, and wouldn't score again until the sixth.
Biggest Pitch: Wood gives the Angels the lead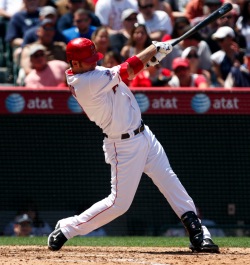 Through the first three innings it looked like Vazquez might get through the start without any serious damage. After recording the first out in the fourth, Vazquez allowed a single, hit a batter, and gave up another single. That put the Angels on the board and set them up with runners in first and second with one out. That turned into a bases loaded situation six pitches later, after Vazquez walked Mike Napoli.
The good news: hey, it's Brandon Wood, and he's barely hitting .100. The bad news: oh look, hanging curveball. The Vazquez pitch stayed high in the zone, and Wood smacked it to left. Marcus Thames tried to make a play, but just couldn't get to the ball in time. It fell right in front of him, then got behind him. Two Angels scored, giving them their first lead of the game.
Thames has hit well in his role as lefty masher this year, but he gives bak plenty of that production in the field. This is the second big run-scoring play that Gardner would have fielded. This is why defense matters. If Gardner makes that play, the Angels are held in check and the Yankees leave the inning with a lead. Of course, Thames had scored after a double earlier in the game, so it's not a universal positive. But Gardner has been far from a liability on offense lately.
Honorable Mention: Morales's blast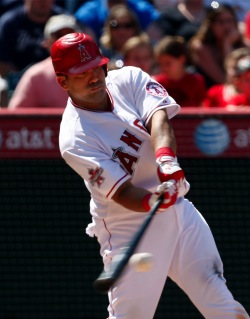 There seemed to be a bit of confusion to start Kendry Morales's at-bat in the seventh. Francisco Cervelli stood up and held out his arm, signaling for an intentional walk. This seemed like an odd maneuver. Morales hit well in the series, but he's a much weaker hitter from the right side. Runners stood on first and second, so to walk Morales would give the Angels another runner in scoring position.
Apparently Girardi changed his mind after the first ball and let Marte pitch to Morales. That seemed like the right decision. They needed just one more out, and it's probably not a good idea to walk the bases loaded when it forces two runners ahead. Marte didn't hold up his end of the bargain, though. After two fastballs outside to put Morales ahead 3-0. The dugout warned Cervelli that Morales will swing 3-0, but he went back to the fastball anyway, this time one in the zone low and away. Morales, guessing fastball all the way, laid into it and crushed it over the center field wall to ice the game.
After the game Girardi said that he screwed up, but I think the only thing he's guilty of is indecisiveness. I do not, however, think that an intentional walk was the right call.
Vazquez's issues continue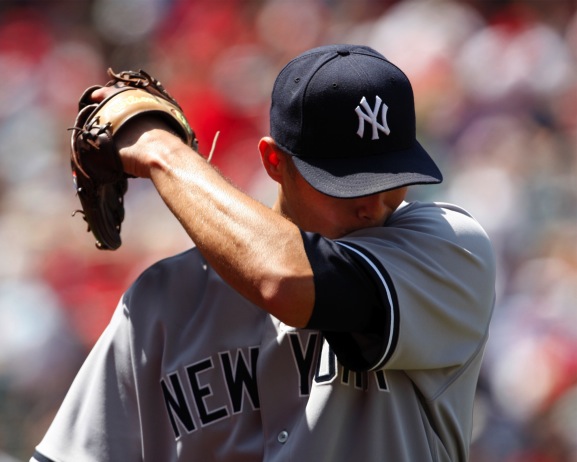 Vazquez threw 78 pitches through 3.2 innings, and only 29 of them were fastballs. This isn't necessarily a bad strategy, since Vazquez does sport a good secondary repertoire. But it appears that his fastball velocity is a bit down this year, and he clearly isn't commanding the pitch. Until he works out those issues we'll just have to hope for non-disastrous starts. I do have confidence that he can find what's wrong and correct it, as long as that problem doesn't require medical attention.
His next start doesn't come until Saturday, so he'll have a five-day breather between now and then. I doubt he'll miraculously round into form between starts, but he has to be better than yesterday, right? At least next weekend he won't have to face Bobby Abreu.
WPA Chart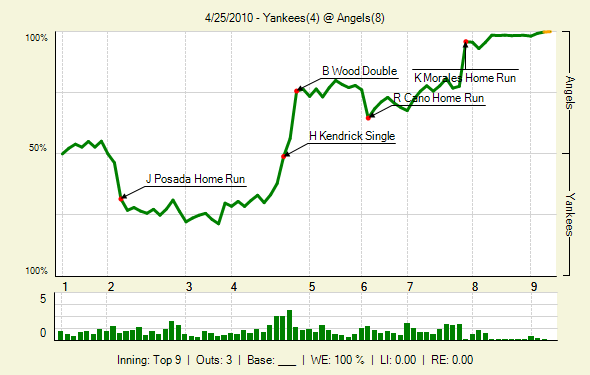 Ug-lee.
Next Up
The Yanks take tomorrow off to fly back east. They'll be in Baltimore on Tuesday, with Phil Hughes taking the mound. Kevin Millwood goes for the Orioles.