The Yankees and Red Sox played just one game last night, but it felt like two. It's not because it was a typically drawn out Yankees-Sox game, though it did clock in at three hours and 46 minutes. Instead, it felt like two games because while the Yankees looked solid through five innings, they fell apart later in the game. That rests mostly on the pitching staff, but there were also failures to capitalize in critical situations.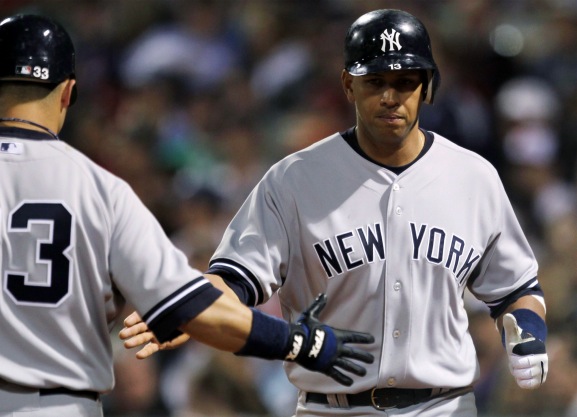 Biggest hit: A-Rod's 7th inning double
The Yankees scored seven runs last night, but the biggest positive swing in their WPA came on a hit that did not score a run. After the Red Sox tied the game in the bottom of the sixth, the Yankees sent the heart of their order to bat in the seventh to answer. Mark Teixeira drew a leadoff walk, setting up Alex Rodriguez. He was clearly looking fastball on the first pitch, and Ramon Ramirez served him one, straight and on the inside part of the plate.
The ensuing hit would have left just about every other ballpark in the league, but at Fenway it was just a dent in the Monster. Still, it left the Yankees in an excellent position to take the lead, which they did one batter later. Robinson Cano took a weak hack at the second pitch. Teixeira, already with a poor lead, didn't get a great jump toward the plate. Thankfully, Dustin Pedroia double clutched, allowing Tex to slide in safely.
Biggest out: Swisher's double play
Later that inning, after Jorge Posada singled home A-Rod and Curtis Granderson drew a walk, Nick Swisher came up with two on and one out. Hideki Okajima was pitching pretty poorly and the Yanks had him on the ropes. Swisher took two close pitches for balls to start the at-bat, putting him in good position. He hacked at a high fastball on the next pitch, fouling it off. Then he swung at a pitch in a similar location and grounded it sharply to third. Around the horn, inning over.
This is when the Yankees really needed to strike. Yes, the bullpen should have been able to hold the lead, but with Boston's reliever pitching so poorly they had an opportunity to make the endgame moot. Swisher's DP killed that rally. It didn't take the Red Sox long to erase what the Yanks had done in the seventh.
Biggest pitch: Pedroia's homer off Park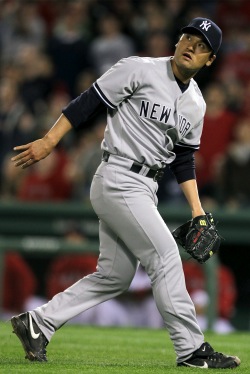 From the moment Chan Ho Park entered the game it was clear that he was having trouble controlling his pitches. His first three pitches, all fastballs, missed the target. Marco Scutaro sat on two more fastballs before slapping a 3-2 slider to center for a base hit. Jacoby Ellsbury, thankfully, looked at strike three. Then came Pedroia
Here's the sequence: Changeup low, called for a strike. Slider inside, ball. Fastball, high and in, ball. After the two straight inside pitches Jorge set up low and away, waiting for a fastball. Park delivered, but the ball sailed toward the spot of the previous pitch. So, in essence, Park delivered a second straight 90 mph fastball to the same spot. It's no wonder that Pedroia got his bat around on the ball, sending it high and over the monster for the tying runs.
Park allowed no home runs last season once he moved to the bullpen. There was no way that would last. I'm just stunned that he broke his streak so quickly.
Why leave in Sabathia?
It's easy to second guess a manager, so I won't say Girardi was wrong to leave in CC to face Youkilis in the sixth. But after Pedroia walked and Victor Martinez doubled to set up the Sox, I'm not sure CC was the guy to face Youkilis. Under normal circumstance he would be, but these weren't normal circumstances. It was the first game of the year, CC was up around 100 pitches, and Youkilis had already scorched one off him earlier in the game.
After the game Girardi said that the plan was to have Sabathia go through Ortiz, but at some point you have to make adjustments. Robertson could have come in at that point. Youkilis strikes out his fair share, and Robertson can deliver the strikeout pitch. He also fares well against lefties, lessening the concern of him facing Ortiz. Considering CC looked gassed and wasn't hitting his spots, I would have thought a call to the bullpen prudent there.
It's tough to argue with leaving in the ace, and again I don't think it was necessarily the wrong move by Girardi. But I did wonder why CC stayed in to face Youk, all circumstances considered.
Annoying moments
While plenty of moments annoyed me in this game, none was as frustrating as Youkilis's triple. Not because CC stayed in to face him, but because it would have been a double had Swisher not misplayed the ball. It was a complete misread. There was no chance he was catching it, but he still pursued it that way, rather than cutting backward and trying to stop it before it got to the wall. Pedroia and Martinez still would have scored, but Youk would have been standing on second, or maybe even first, rather than third. That loomed large two batters later.
Small quibble with Beltre's at-bat there. He's pretty bad at hitting breaking pitches. Over his career he's shown a much greater ability to hit fastballs than sliders and curves. So why serve him high heat on the first pitch? It seemed like a situation where dropping a curve for strike one would have worked. Did the Yankees have a different scouting report?
Who can forget Gardner's horrible throw on Scutaro's single to left? With two outs he didn't have much of a chance to get Drew at the plate, though it looked like he might have known that. I'm not sure where he actually tried to throw the ball, but it ended up where no one was standing. That allowed Mike Cameron to take third and Scutaro to take second. A hit from Ellsbury would have tied the game for the Sox. Thankfully, CC dropped a slider on him and ended the inning.
Joba in general was annoying. He pitched just 1.1 innings, but threw 32 pitches. He predictably went to the slider on a 3-2 count to Mike Cameron, and it dropped below the zone for ball four. Also, Joba's lucky that Pedroia laid off the first-pitch slider that got called for a strike. That was a hanger, and might have been Pedroia's second big fly of the night.
Finally, while Marte wasn't hitting his spots at all, Jorge has to catch that high fastball that allowed Youkilis to score.
Things that made me smile

Not to get too negative here, there were a number of moments that made me smile. Clearly, Jorge's homer off the Pesky Pole, followed by Granderson's long home run were great moments. Granderson's catch on Beltre's sac fly also brought a smile to my face. Yes, it cut the lead in half, but it was a fine play in center by Granerson.
Brett Gardner's at-bat against Josh Beckett in the fourth was, dare I say it, gritty. He took five straight pitches to draw a 3-2 count, fouled off two, and then slapped one to left to plate a run. The five straight takes to start the AB ended up working in Gardner's favor, though I do wonder why he didn't slap that 3-1 pitch to left.
The most enjoyable play of the game came just moments later. After Jeter singled home Swisher, the Yanks pulled the classic double steal. Jeter broke for second, and Victor Martinez bit, firing the ball down to second. Did he not know who was on third? Gardner broke for the plate immediately and scored without a throw. That's the kind of play we look out for in high school.
Next up
Day off today, though there's plenty of baseball to enjoy as the other 28 teams open their seasons. The Yanks are back against the Sox. This one's at 7:05 on YES.
WPA graph
Just because I love these things. You can check out the player breakdown at the FanGraphs boxscore.