The last five games hadn't exactly gone according to plan, but the Yankees had the right man on the hill Wednesday night to get things headed back in the right direction. CC Sabathia took the ball and carried the team into the 8th inning, and even though his final line wasn't pretty (7.2 IP, 11 H, 3 R, 3 ER, 2 BB, 5 K), he did exactly what an ace is supposed: he stopped the losing streak.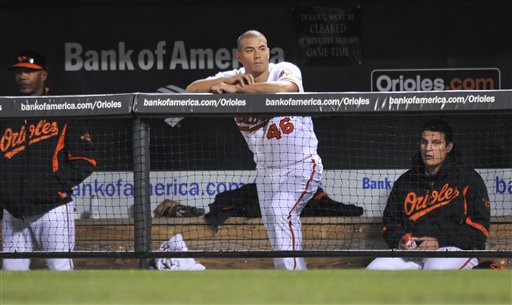 Biggest Hit: Nick Swisher's Triple
The Paul O'Neill Theory was on full display tonight, as the Yanks jumped out to an early 2-0 lead off Jeremy Guthrie after pushing some late-inning runs across in a loss the day before. They came back for more in the second, when Jorge Posada led off the inning by taking a pitch off his knee (more on that later) and Curtis Granderson followed that up with a sharp single to left-center (ditto). Eighth place hitter Nick Swisher, he of the .488 career wOBA at Camden Yards, stepped to the plate with a chance back Guthrie into a corner, and he didn't disappoint.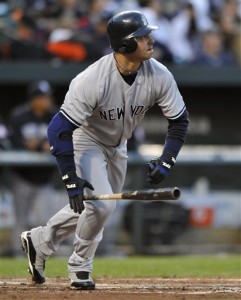 The Orioles' righthander broke out a first pitch changeup that missed away for a ball, but then dropped a slider and another changeup in for a 1-2 count. Guthrie throws his fastball 53% of the time in a 1-2 count, and Swisher must have paid attention to the pregame scouting report, because he jumped all over a 92 mph heater left up in the zone. The ball flew over centerfielder Adam Jones' head, hit the base of the wall, and ricocheted back into the outfield. The lumbering Posada and speedy Granderson scored, and Swisher slid into third without a play for his second triple of the season. The Yankees had built a four-run lead before Guthrie could record his fourth out, and their chances of winning already stood at 87.3% in the 2nd inning.
Swisher has already tied his career high with two triples this year, and you have to think he'll luck into another one at some point over the final 142 games.
Biggest Out: Matt Wieters' Strikeout
After giving up that early 2-0 lead, the Orioles tried their best to get it right back in the bottom of the 1st. Nick Markakis sliced a one-out double down the leftfield line and moved to third when Miguel Tejada singled two batters later. Baltimore had runners on the corners with two outs, and after seeing how quickly a lead could evaporate the night before, I can imagine Sabathia really wanted to bear down and escape the inning without allowing a run.
He started the Orioles' catching phenom with a sinking fastball on the outer half, but Wieters fouled it off. The next pitch was a big breaking slider that caught the inside of the plate for strike two. On the next pitch, Sabathia let go of a changeup a little too early and it sailed way off the plate for the first ball of the encounter. It's no secret that the change is CC's weapon of choice against righthanded batters, so he went right back to it for the fourth offering of the at-bat, except this time he executed the pitch. Wieters got caught out in front, and swung right through the pitch for the inning ending strikeout.
It sounds silly in hindsight given the wide margin of victory, but getting out of that inning without allowing a run was a big step toward putting this one in the win column.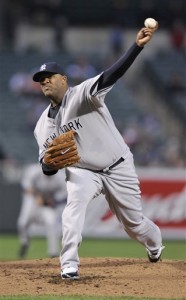 The Stopper
Like I said at the top, it wasn't always pretty for Sabathia, but he managed to give his team length and keep the Orioles in check while his offense went to work. Baltimore had runners on base in seven of the eight innings started by the Yankee ace, but they only scored three runs and left eight men on base. The defense helped by turning a pair of double plays, but that was possible because of Sabathia's 12-6 GB/FB ratio. It certainly wasn't his best outing, but the Yankees are paying CC to turn losing streaks into winning streaks, and that's exactly what he did on Wednesday.
Slump Busters
Curtis Granderson came into Wednesday's game riding an 0-for-17 stretch, but he said before the game that he wasn't concerned and it was just part of the normal ups and downs of a long season. The most well-spoken Yankee busted out of that slump in his first at-bat, taking the first two pitches off the plate before reaching out and slapping a 92 mph fastball from Guthrie into left-center for his first hit since the Oakland series. He tacked on another hit later in the game for good measure.
Nick Johnson didn't enjoy the same kind of multi-hit breakout as Granderson, but he still managed to find the outfield grass on a ball in play. Given that he missed a few days with a stiff back, it's easy to forget that Johnson picked up a hit in his last start in Anaheim, and he had a nice little stretch of reaching base in three consecutive plate appearances and four of five. The batting average is still an ugly .143, but he's getting on base 38.5% of the time and has shown signs of waking up lately.
Now we're just waiting on Mark Teixeira to get it going. May is only two days away.
Happy Moments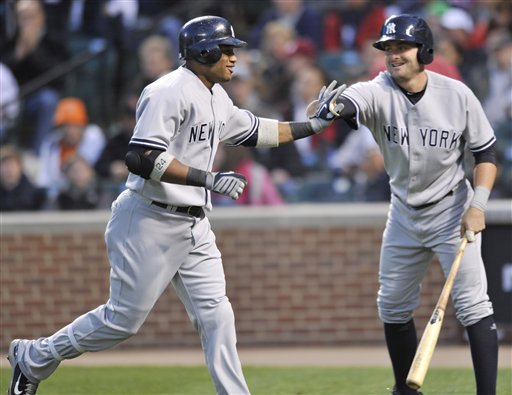 What more can we say about Robinson Cano? The guy went 2-for-5 with his sixth homer of the year in this game, bumping his triple-slash line up to .390-.430-.701.  He leads the American League in batting average by 22 points and all of baseball by 17 points, and it would take an 0-for-24 stretch for Cano's average to dip below .300. I know it's April, but that's utterly insane. If the Yankees didn't already contractually control his rights through 2013, I'd suggest that they lock him up before he hits the open market.
Road Swish. It truly is an awesome spectacle. Three hits tonight to boost his season line to .284-.385-.493, which has to be against some kind of unwritten rule regarding the maximum allowable offensive production of a guy hitting eighth. Slash-and-dash Brett Gardner behind him too; the Yanks' 8-9 hitters combined to go 5-for-9 on Wednesday. That's how you score eight runs across the first six innings of a game.
You know what else is awesome? That Sabathia gave up three runs in 7.2 innings, and the general feel is that it was a subpar start for the big guy. When's the last time we could say that about a Yankee starter? CC has really spoiled us, let me tell you.
Oh, and hey, it's Sergio Mitre! Good for him.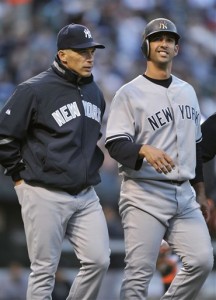 Annoying Moments
Not too many for me, but I don't know what's up with Jeremy Guthrie. The guy just loves hitting Yankees. I'm sure you remember him drilling Tex in elbow during the last week of Spring Training, giving the entire fan base a minor heart attack, and then on Wednesday he plunked Posada right above his right kneecap with a fastball. Jorge stayed in to run the bases, but he was lifted in favor of Frankie Cervelli after the inning. No tests are scheduled right now and Posada said they're going to wait and see how he feels tomorrow, but you have to believe the Yankees will be careful with their 38-year-old catcher. I would be pretty surprised if anyone but Cervelli was behind the dish Thursday night, no reason the push it.
WPA Graph
Nice and boring, just the way I like it. Individual breakdowns are available at FanGraphs' box score.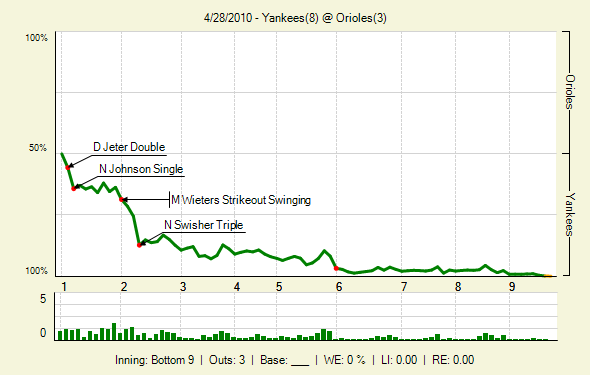 Up Next
Thursday night's rubber game with feature A.J. Burnett and one of the best young pitchers in the game, lefty Brian Matusz. First pitch is scheduled for 7:05pm, and it'll be broadcast on MLB Network as their featured game of the week.