With two days for the Opening Night loss to fester, the Yankees and their fans were champing at the bit for Tuesday's matchup. The Yanks and Red Sox played one of those good old fashioned back-and-forth affairs, and it was a typical game between the two rivals: drawn out and mentally draining. Both teams had plenty of chances to blow the game open, but it wasn't until one batter simply refused to make an on out that the decisive run was scored.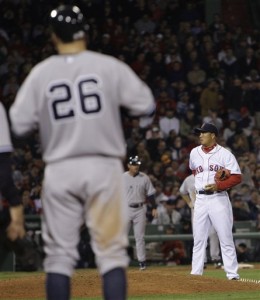 Biggest Hit: Nick Johnson's bases loaded walk
The biggest hit of the game wasn't even a hit, it was a wimpy little walk. Nick Johnson – a.k.a. The OBP Jesus – stepped to the plate in the 8th inning with the bases loaded and two outs, sporting a .444 OBP on the young season but zero hits. He drew a pair of walks in five plate appearances on Sunday, then drew another walk and was hit by a pitch in his first four plate appearances on Tuesday. Hideki Okajima was already 27 pitches into his night when Johnson  dug in, so fatigue was starting to come into the picture.
After three straight balls, NJ took a called strike before Okajima missed inside with a pitch, putting Johnson on base for the fifth time of the season and simultaneously walking in the go ahead run. It was the biggest WPA swing of the game, and he didn't even bother to take the bat off of his shoulders. Nick's cool like that.
Biggest Out: Marco Scutaro's double play
In terms of WPA, the four biggest outs record by Yankee pitchers were all three outs in the 8th inning and the first out in the 9th inning. I'm going to go back a little bit earlier for what I think was the biggest out of the game, Marco Scutaro's inning ending double play in the 4th. The Yankees trailed 3-1 at the time, and the Red Sox were poised to tack on some more runs after Adrian Beltre singled (again) and Mike Cameron took a breaking ball to the ribs.
A.J. Burnett had been in battle mode all night, pitching out of the stretch for what seemed like the entire game. He painted the outside black for strike one to the former A's utility man, then overthrew a fastball that was too high for a ball. His third pitch, a 95 mph two seamer down and in, tied Scutaro up, resulting in a harmless groundball to short that turned into an inning ending 6-4-3 double play. If Scutaro reaches base and turns the lineup over with less than two outs, things could have gotten out of hand quickly.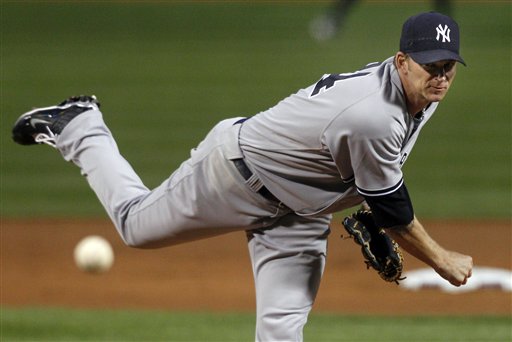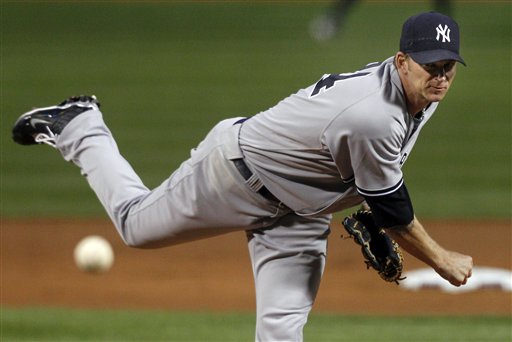 Pulling the starter an inning early
Second guessing calls to the bullpen comes with the territory of baseball blogging, and we saw a prime example of this Sunday night when CC Sabathia was left in even after he was visibly fatigued. Joe Girardi didn't make the same mistake tonight, lifting Burnett after five innings and 94 pitches, but more importantly, before he had a chance to work himself into trouble in the 6th.
Burnett's performance was okay – 5 IP, 7 H, 4 R, 3 ER, 1 BB, 5 K – servicable, but nothing to write home about. He didn't have a 1-2-3 inning all night, and he let the leadoff hitter reach base in the first four frames. Just two of those leadoff hitters came around to score, but starting 80% of your innings off with a baserunner isn't exactly a recipe for success. Burnett finished strong by striking out both Kevin Youkilis and The Corpse of David Ortiz swinging, but given his generally shakiness, it was time to get him out of there.
The old saying is that it's better to get rid of a player a year early than a year late, and that same concept applies to this game. Bravo to Girardi for getting Burnett out of there before he made another mess, one he may not have been able to wiggle out of.
Bullpen shenanigans
Once Burnett was out of the game, Girardi turned to old reliable, Al Aceves. The Mexican Gangster tossed up two perfect innings on just 23 pitches, but once the almighty 8th inning came around, Girardi went back into micromanaging mode. The same cast of characters that let the game get away on Sunday night were right back in there on Tuesday, though they escaped the inning unscathed after Joba Chamberlain struck out a pair and pumped his fists like drunken pledges on initiation night. It worked for this game, but the constant mixing and matching is painful to watch. The more relievers you use, the more likely it is that you'll find someone having a bad night.
Things That Made Me Smile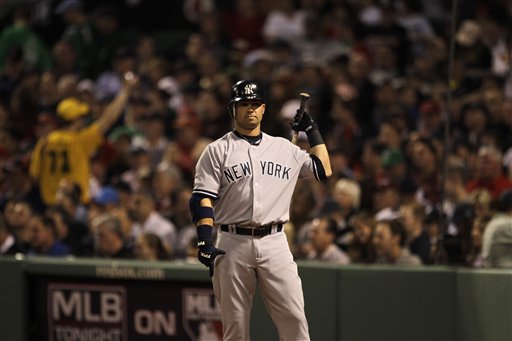 Nick Johnson gets all the attention for his plate discipline skills, but the other Nick put on an absolute clinic tonight. Swisher's first at-bat came with runners at first and second and one out, and he served a 94 mph fastball on the outer half into the rightfield corner for a game tying double. His plate appearance in the 4th lasted five pitches and ended when he took a curveball off his back foot. Leading off the 6th against Manny Delcarmen, Swisher took the first three pitches for a 2-1 count, then fouled a pitch off and took another off the plate to work it full. Two more foul balls later, he roped a double off the wall. In his final turn at the plate. Swish fouled off four 0-2 pitches and seven total (seven!) in an 11 pitch at-bat. The Yankees' 7th place hitter saw 30 pitches by himself on Tuesday, seven more than anyone else on the field.
Considering how much attention his defense received after Sunday's game, I suspect we won't hear a damn thing about Jorge Posada's fine work behind the plate tonight. He blocked several curveballs in the dirt with guys on base, and even called for a 3-2 curve with a runner on third, knowing if it got away from him it would cost the team a run. Yeah, he threw the ball into center on Jacoby Ellsbury first inning stolen base, but he shouldn't have been on base in the first place. He was though, and that's because…
The Marcus Thames Experiment got off to an inauspicious start when he misread a fly ball that led to a run in the first, and then he later compounded the damage by striking out looking to end the fourth. Needless to say, I was glad to see Girardi give him the quick hook and pinch hit Brett Gardner in the 6th inning. Although they didn't score in the inning, it was the right move. Thames has a very limited skill set, so getting a more useful player into the game once Jon Lester was out of there increased the team's chances of winning.
Faced the challenge of hitting in the fifth spot on the lineup, Robbie Cano continues to smoke the ball. He singled in the 2nd, walked to lead off the 4th, drove in a run with a sac fly in the 5th, and pushed a big insurance run across the plate with a solo jack in the 9th. Cano's hitting a cool .500 on the young season.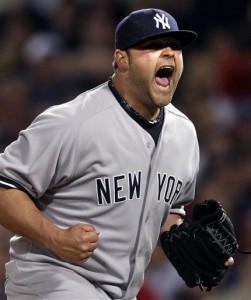 Joba Chamberlain's fist pump. I still think he should be a starter, but man, those are always fun. Two batters faced, two swinging strikeouts. It was good to see someone slam the door in a sticky situation after Sunday's debacle.
Annoying Moments
Even though they won, the Yankees squandered more than their fair share of opportunities. They leadoff man reached base in the 4th, 5th, 6th, 7th, and 8th innings, yet they only scored runs in two of those innings. As a team, they went just 3-for-14 with men in scoring position, though that doesn't include NJ's bases loaded free pass. Derek Jeter, Mark Teixeira, and Curtis Granderson went a combined 0-for-8 in those spots. That's three guys in the span of four lineup spots leaving ducks on the pond.
It's probably just a small sample size thing, but damn, Jeter's hitting a ton of grounders to short so far. He had three of them in the first game (one got through for a hit), and then three more this game. The Captain's calling card is serving the ball into right, but he has yet to put a ball in play to that field in this young season, instead hitting everything back up the middle, shaded towards the shortstop.
Damaso Marte throwing over to with Kevin Youkilis on first. The guy has 19 career steals in close to 700 games. How necessary was that? If that wasn't bad enough, he threw a sinker and Tex couldn't handle it, putting the tying run on second with no outs late in the game.
Next Up
These two teams are back at it tomorrow night for the final game of the series, with first pitch scheduled for 7:10pm ET. That one will be on YES and ESPN2.
WPA Graph
Who doesn't love these things? You can check out the individual player breakdowns at FanGraphs' box score.