With the bitter taste of Saturday's loss out of their mouths, the Yankees came back to work on Monday night, ready to feast on bottom-feeding Baltimore. The Orioles were coming off a three game sweep of the Red Sox, but New York had their ace on the bump. Almost everything went according to plan. It was a fairly clean win for a Yankee team that is rolling, but injuries to two important players put a damper on it.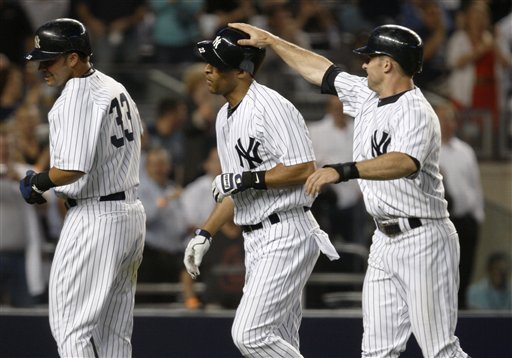 Biggest Hit: Welcome to New York, Randy Winn
Over the first four weeks of the season, fifth outfielder Randy Winn looked nothing but overmatched. He was 1-for-13 at the plate with a -57 OPS+ (yes, -57), and other than the occasional late-inning defensive assignment, he was mostly the forgotten man on the roster.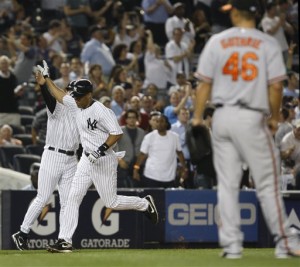 Needless to say, you can imagine the surprise when Winn came up with the biggest hit of the night. It wasn't some dinky single to the opposite field either; he turned around a 91 mph Jeremy Guthrie fastball up in the zone and sent it about 410 feet to right-center, beyond the fence and into the Yankee bullpen. Nick Swisher and Brett Gardner had been on base thanks to a pair of singles. So Winn's bomb turned a tightly-contested (and tied) game into a much more comfortable three-run Yankee lead.
It was Winn's first homer in 491 at-bats, dating back to last April when he took Max Scherzer yard. He might never do anything more productive in pinstripes, but for one night, Randy Winn was the hero.
Biggest Out: Nolan Reimold makes two outs on one swing
Much like his start last week, CC Sabathia wasn't his usual dominant self on Monday, but he was more than effective into the late innings. With that three-run lead still intact, Garrett Atkins led off the top of the 7th with a single to center. With CC's pitch count approaching 90, the bullpen started to stir.
Instead, Reimold did the Yankees a favor, hacking at Sabathia's first pitch, a 92-mph heater on the outer half that probably would have been called a ball. The grounder bounced down to Derek Jeter at short, who took it to the bag himself to start the 6-3 double play. Instead of having the tying run on deck with one out, all of a sudden Baltimore had that potential fourth run in the hole with two outs. It wasn't a big play to end a rally; it was a big play to prevent the rally from even starting.
All CC, All The Time
The Yankee ace was good but not great last time out, when he faced these same Orioles at Camden Yards. Sabathia improved upon that performance on Monday, firing eight innings with just one blemish – a solo homer to Matt Wieters and his facts. Using a variety of two-seamers and changeups, CC pounded the bottom of the zone and induced 16 groundballs to just six in the air. The strike zone was a tad inconsistent, but that's something everyone will have to deal with at some point during the season.
It was a relatively uneventful outing for Sabathia, which for him means eight innings of one run ball while battling his control at times. The guy is a machine.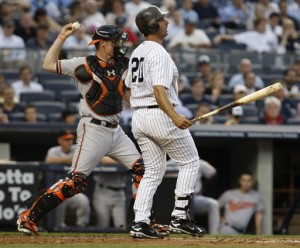 Posada Exits Early
The Yankees have experienced a mini-rash of injuries over the last few days, losing Curtis Granderson to a Grade II calf strain and Alex Rodriguez to some knee pain. Another important Yank went down on Monday night, as Jorge Posada had to exit the game in the 5th inning with tightness in his right calf. He went off to get an MRI, and is day-to-day with a calf strain.
Enduring the loss of Granderson will be hard enough, but if the Yankees lose Posada for any length of time … well, just look at what happened in 2008.
Mowhere To Be Found
The last three or four games have been especially taxing on the Yanks' bullpen, but two guys who hadn't worked all that much were Joba Chamberlain and Mariano Rivera. Neither had pitched since Friday, so they were well rested and ready to record the last six outs should the Yankees have the lead.
With Sabathia going eight strong, only one of the Yanks' end-game arms was going to be needed. With a three run lead in the 9th, everyone expects to hear Enter Sandman. Instead, Mo was nowhere to be found, and it was Joba who trotted out to the mound for the save opportunity. He pitched a scoreless and uneventful frame, but no one seemed to care. Everyone wanted to know what was going on with the greatest relief pitcher who ever lived.
After the game, Joe Girardi revealed that Rivera had been dealing with a sore non-throwing side, which was further described as a twinge in his flank. He said it was something Mo first experienced after his appearance on Friday, and at the moment we don't really know when he'll be available again. Could be tomorrow, but Girardi said he'd like to give him another day. It's just one injury after another lately.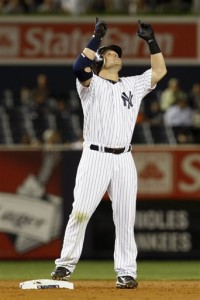 Happy Moments
How about this Nick Swisher character? The dude went 3-for-3 in this game, and is now eight for his last 12 with a couple of doubles and a couple of homers. The Yanks have only played ten games at home, but it appears Swish's massive home-road split from 2009 has stayed in 2009.
Brett Gardner reached base two more times, bumping his on-base percentage up to .424, the best on the team. In fact, the bottom three hitters in the order combined to go 5-for-8 with a walk, three runs scored, and all four runs driven in. Gotta love that circular lineup.
Annoying Moments
I sure hope Joe West was watching this game. Home plate ump Bill Hohn was certainly in no rush to signal balls and strikes back there. Furthermore, CC Sabathia had some trouble with Hohn's strike zone, verbally sparring with him in the 7th inning. Not often you see the big guy do that.
I mentioned that the bottom of the lineup did some major damage already, but the one through six hitters combined to go just 1-for-23 with a walk and three strikeouts. On most nights, the Yankees lose when that happens.
WPA Graph
Individual player breakdowns are available at FanGraphs' box score.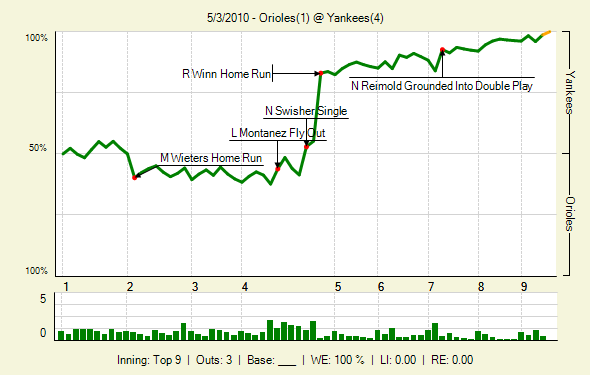 Up Next
Same two teams tomorrow night; rematch of last week's A.J. Burnett vs. Brian Matusz duel.