Coming off what was probably their biggest series of the young season, the Yankees rolled on in to Detroit to face a handful of former teammates and get back on the winning track. We saw some of that never-say-die attitude that was the trademark of last year's World Championship club, but ultimately they were unable to complete the comeback, losing back-to-back games for just the third time this season.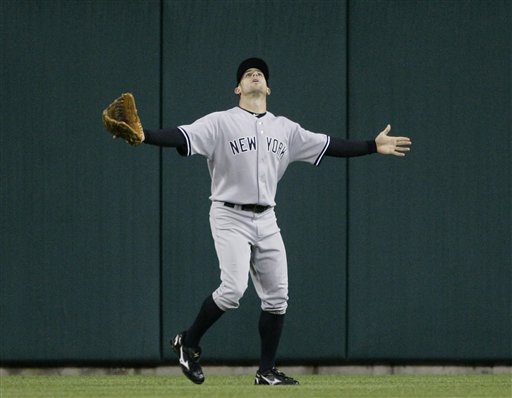 Biggest Out: Winn pops it up
As completely and utterly frustrating as this game was, the Yankees had more than one opportunity to tie this up in the 8th inning. With men on second and third, one out, and two runs already in, Randy Winn stepped to the plate against one of those former Yankees, lefty Phil Coke. A simple fly ball to the outfield would have tied the game with the lineup about the turn over.
Coke's first two pitches to Winn were down and well out of the zone, putting him a comfy 2-0 count. The Yanks' leftfielder was sitting on a fastball, which is usually what you do in that count, but normally you'd also hold up if the pitch almost hits you in the hands. Instead, Winn swung at a 92 mph high and tight heater, and popped it straight up to third baseman Brandon Inge. The run was unable to score, and sadly it was the third time Winn stranded a runner in scoring position in his four at-bats. The Yanks chances of winning went from a decent 41.5 percent to a slim 25.8 percent on the play.
Derek Jeter tried his best to atone for Winn's shortcoming, but Magglio Ordoñez's sliding catch robbed of him of a chance to be the hero.
Biggest Blunder: Two outs in the 1st
Thrust into a starting assignment because of Andy Pettitte's cranky elbow, the Yankees were hoping that Sergio Mitre could get off to a quick start with a painless 1st inning. He punched out two more former Yankees – Austin Jackson and Johnny Damon – on a combined ten pitches, though Ordonez ruined the perfect frame by singling into right. Miguel Cabrera posted a formidable threat at the plate, but teams have scored a run with a man on first and two outs less than 25% of the time this season.
After fouling off Mitre's first sinker, Cabrera hit on top of the second one, grounding to towards Alex Rodriguez at third. A-Rod ranged to his left to the knock the ball down after being unable to field it cleanly, but he quickly recovered to fire over to first. The throw short-hopped Mark Teixeira and ended up in the stands, sending Ordonez to third and Cabrera to second. It's an uncomfortable spot, but there's still two outs and a rookie hitter at the plate, so if Mitre bears down he should be fine.
He did manage to induce another ground ball, but Brennan Boesch pulled it just out of the reach of Teixeira at 1st, and in came two runs. In the span of seven pitches, the Yankees watched the game go from two outs and a potentially scoreless frame to down two with a man on first. Mitre escaped the inning and otherwise did a splendid job in his spot start, but the Yanks had to play catch-up right from the get-go.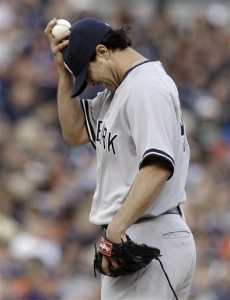 The Experience
Because he had spent the first month of the season in the bullpen, Mitre was expected to throw somewhere around 65-75 pitches on the night. If he completed five, Joe Girardi said he was literally going to do a cartwheel. He didn't quite get there, but Mitre was decent enough to keep the team in the ball game.
True to the scouting report, Mitre recorded seven of his 13 outs on the ground. Four others came on strikeouts, and just two were hit in the air. He fell victim to some bad luck in that first inning, with the error and seeing-eye grounder through the 3.5 hole, so it's tough to hang  that on him. After giving up another run in the second on a walk, single, sac bunt, and ground out, Mitre retired the next eight men he faced, needing just 28 pitches to do it.
His night ended when the sinker stopped sinking, and Johnny Damon deposited a 90 mph offering into the rightfield stands for his second homer of the year. At this time last season, Damon had nine homers. I don't know why I mentioned that. Anyway, Mitre's night involved 4.1 innings thrown, five hits, four runs but just three earned, and a pair of walks in addition to those eight strikeouts. As far as spot starts from your long man go, you couldn't ask for more.
Sad Moments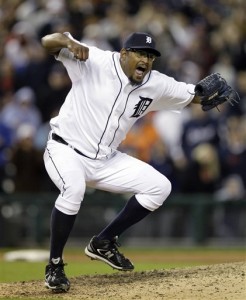 There's really too many to count. A-Rod's error in the 1st stands out the most to me. Then there was Teixeira's check swing double play with two men on to end the 5th. Le sigh. Also, Randy Winn swinging at Zumaya's first pitch immediately after he walked Gardner to load the bases. I hate to keep dumping on Winn, but damn dude, the pitcher's the one in trouble there, don't help him out.
Boone Logan. What purpose does the guy serve? He faced two lefties tonight and they both reached, and overall he's allowed 11 of the 26 batters he's faced to reach base. That's a .423 on-base percentage. The only thing the guy has going for him is the arm he throws with, yet Girardi seems to love him.
Jose Valverde. Get a grip man, no need for a first pump after every strike.
Happy Moments
This might have been the most frustrating loss of the season because the Yankees squandered so many chances (they had men on the 1st, 2nd, 5th, and 6th innings, yet scored zero runs), but there were still some things that made me smile. Brett Gardner beating out the double play in the 2nd, for example. His grounder to Inge was tailor made, but as soon as the third baseman double clutched, you knew he had no chance at two. You gotta love that.
Joel Zumaya came into the game with 23 strikeouts and zero walks in 18.1 IP, but the Yanks coaxed a free pass out of the flamethrower. The culprit? Gardner, of course.
How about Joba Chamberlain? Guy was en fuego this game. He went 96-97-97-97 to leadoff man Scott Sizemore in the 8th, and struck him out on three swings and misses. His first pitch to the next batter, Adam Everett? Try an 86 mph curveball for a called strike on the outer half. All told, Joba threw 14 pitches, got five swings and misses on his fastball, and hit 98 three times in Everett's at-bat. It's the best he's looked probably since 2007.
David Robertson looked better as well. He's still off a bit, but it was good to see him limit the damage after allowing a two out single. It's a start.
And finally, May Tex lives on. Another game, another jack.
WPA Graph & Box Score
Individual WPA breakdowns are available at FanGraphs, and here's the MLB.com box score.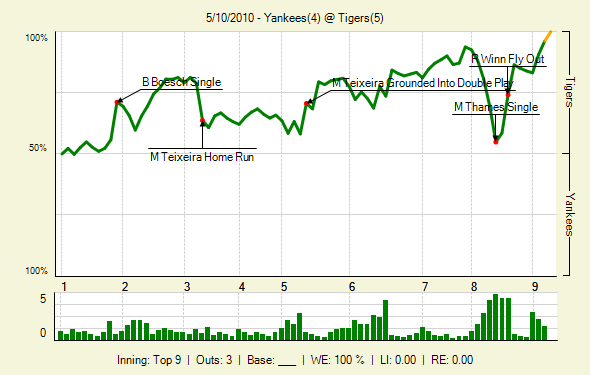 Up Next
Same two teams tomorrow night, as Javy Vazquez looks to get back on track against Rick Porcello and his 7.50 ERA (4.63 xFIP). The forecast isn't great, so a rainout is very possible.