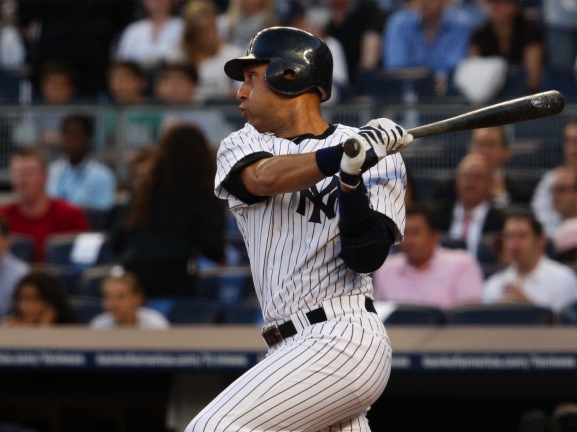 The Yankees seemed poised for one of those late inning comebacks we grew so used to in 2009. Down 5-2 and facing the AL-best Detroit bullpen, the Yankees quickly loaded the bases with none out. Hope abounded when Marcus Thames grounded one just out of Adam Everett's reach. Brett Gardner brought home a run on a chopper and reached safely himself (the Tigers took the out at second), leaving the Yanks with two opportunities to bring home the tying run. They did not capitalize.
While we can excuse Randy Winn's pop up — no one expects much from him anyway — Derek Jeter's at-bat was a bit of a disappointment. It wasn't so much because he made an out. Most major leaguers make outs in more than 3 out of 5 plate appearances. It was the heartbreaking way he made the out. He worked an excellent at-bat against Ryan Perry, running the count full. He got a fast fastball and did what he does best with that pitch. He drove it to right with authority. There was no doubt that Gardner would score and give the Yanks their first lead of the game. The only problem was that Magglio Ordonez made a sliding catch, killing the opportunity and leaving Jeter 0 for 5 at the plate.
That dropped Jeter's numbers to .286/.324/.436, a .336 wOBA, which is certainly disappointing for the Captain after his stellar 2009 season. His performance last night prompted many comments regarding his production and his age. Jeter has still produced above average numbers, but we've come to expect more from him. We might get more, too. Apparently, many forget that just last season Jeter got off to a slow start, only to pick up the pace once the weather got warmer.
That line-out was Jeter's 142nd plate appearance of the season, or about 20 percent of his season if he stays healthy. At this point last year he actually produced similar numbers. Through 30 games in 2009 he had 142 PA, same as this year. In that span he hit .266/.338/.406, a wOBA of around .350. That's a bit better than last year, mainly because of his higher OBP. This year he's walked a bit less, but has also hit for more power, which somewhat offset each other.
From his Game 31 through his game 153, Jeter hit .352/.423/.480 in 574 PA. He walked in 10.5 percent of his plate appearance during that span, compared to 8.5 percent through Game 30. His power did drop a bit, but Jeter has never relied on power. He hits singles the opposite way, draws walks and takes pitches. He hasn't done much of the latter two so far this year, but as we saw last year, he can turn it around pretty quickly.
The beginning of 2010 has not looked pretty for Jeter. But, before we declare that he looks his age and that he's slowing down, let's remember what we were saying at this time last year. Jeter proved the naysayers wrong then, and I'm confident he'll do it again this year.