Less than 24 hours after Derek Jeter almost single-handedly led the Yankees to the victory, they returned to the park hoping, praying, begging for Javy Vazquez to give them some kind of good start. Not just for the purposes of winning on Saturday, but also for some peace of mind going forward. Instead, the Yanks' starter responded with his worst outing the season, and somehow exited the game a bigger question mark than when he came into it.
Biggest Mistake: A.J. Pierzynski's double
After surviving Javy Vazquez's latest meltdown (more on that later), the Yankees mounted a comeback with a four run 6th inning off former Padre Scott Linebrink. With nine outs to go and six of those presumably in the hands of Joba Chamberlain and Mariano Rivera, all the Yanks had to do was neutralize Chicago's 3-4-5 hitters in the 7th.
David Robertson retired the resurgent Andruw Jones before Paul Konerko dropped a double into right, but the second out of the inning came when Mark Teahen grounded out weakly to third. Carlos Quentin represented the third out of the inning but was intentionally put on base (more on that later) to set up the lefty-on-lefty matchup.
Damaso Marte trotted out of the bullpen to face Pierzynski, he of the .203 wOBA this year. The Yankees' lefty setup man has made a habit out of entering a game and immediately making things interesting, and he promptly missed wide with a slider for ball one. Jorge Posada called for a fastball outside, and even though it was just a little off the mark, it was still a pretty good pitch. Pierzynski just went out and got it, sending it out to left-center and over the heads of Brett Gardner and Randy Winn, who were playing relatively shallow for the ChiSox's powerless catcher. Both Konerko and Quentin chugged around the based to tie and give Chicago the lead, respectively.
He faced just two batters, and didn't even made that bad of a pitch on the big blow, but Marte reduced the Yankees chances of winning in this game by 31.6% all by himself, almost the same as Vazquez believe it or not.
Honorable Mention: Intentionally walking Quentin
Like I said, Robertson was ordered to intentionally walk Quentin following Konerko's double to create a force at (almost) any base and set up the Marte-Pierzynski duel. It actually wasn't supposed to be a free pass from the start, but Robertson buried a curveball in the dirt for ball one and missed high with another curve for a 2-0 count. That's when the order to put him on intentionally came. I can't help but wonder if the whole "walk him … oh no wait … pitch to him" situation with Kendry Morales last weekend played a part here. Did Girardi not want to second guess himself and instead go with the conservative move?
Anyway, the reason this is a blunder is because Girardi intentionally put the go-ahead run on base, which is quite simply poor strategy. The advantage gained by bringing in Marte to face Pierzynski was minimal because Pierzynski has been terrible against literally everybody this year. And it's not like Quentin has been tearing the cover off the ball either (.323 wOBA). There's no reason to give a poor hitting team like the White Sox free baserunners, especially in the late innings of a one run game.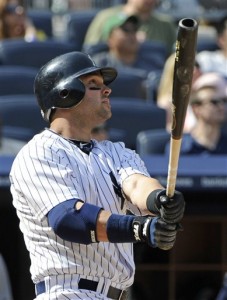 Biggest Hit: Nick Swisher's homer
Despite the hole created by Vazquez, the Yankee offense continued to wear down John Danks, sending him to the showers after five innings and 118 pitches thrown. He faced 23 total batters, but 19 (!) of them saw at least four pitches in their plate appearances and 16 (!!!) saw at least five pitches. Yankee batters fouled off a ridiculous 26 pitches when Chicago's starter was on the mound.
So after all that work, Linebrink found himself pitching with a three run lead to start the 6th. Marcus Thames, Curtis Granderson, and Brett Gardner slapped three consecutive singles with one out to trim the lead to two, and Derek Jeter plated another run with a ground out to third.
With the tying run on second, Swisher came to plate after breaking an 0-for-11 skid with a well-placed groundball single an inning earlier. After Linebrink missed well off the plate with a changeup, Swish jumped all over a 92 mph hitmeball left out over the plate and sent it into the Yankee bullpen. After being down 5-1 earlier in the contest, the Yanks' rightfielder capped off a four run inning with a two run bomb that gave the Yankees their first lead of the game. The homer bumped the Yanks' chances of winning from 37.9% to 69.3%, so yeah, it was a biggie.
Biggest Out: Swisher's double play
Swisher giveth, and Swisher taketh away. Three innings before giving the Yankees the lead with the above-mentioned homer, Swish faced a two on, no out situation with a chance to get his team back into it while Vazquez was tossing up a nice picket fence (one run in the 1st, one run in the second, one run in the third). Of course he worked the count full, it's what he does, but Danks pulled the string on a 3-2 changeup when Swish was looking fastball. The result was a tailor made 5-4-3 double play that killed the rally before it even had a chance to start.
Oy Vey Javy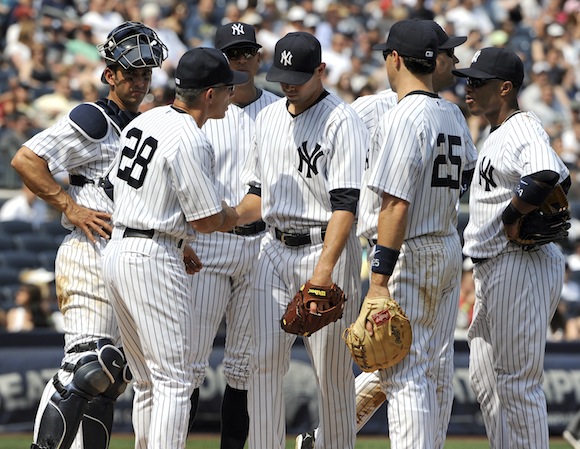 There's no getting around it now. Vazquez isn't just the weak link in the rotation, he's the weak link on the 25-man roster. No one expected him to repeat last season's ace-like performance, but we all figured that he would be a league average pitcher that gave the team bulk innings from the back of the rotation. After five abysmal starts in as many chances, all Vazquez has done is approximate what some Triple-A scrub could have accomplished. Not even a AAAA player, a AAAer.
Javy recorded just nine outs on Saturday, allowing eleven men to reach base (seven hits, four walks) and giving up three homers, two to Andruw Jones and one to Zombie Mark Kotsay. Just 46 of his 83 pitches found the strike zone, and only 29 of those pitches were fastballs. Vazquez threw just 18 fastballs for strikes all afternoon. Eighteen. That's a completely unacceptable number, especially against a team as offensively challenged as the White Sox (.313 team wOBA).
I don't know what the problem is, and I'm not going to pretend to make an educated guess. Vazquez's next start lines up perfectly with Thursday's off day, and at this point I can't see how the Yanks wouldn't skip his turn. Not only would it keep him away from the Red Sox next weekend, but it'll also give him a chance to catch his breath and try to get back on track. The Yankees are 1-4 when Javy starts and 14-4 when anyone else does, so they're no desperation yet. Progress would be nice, though.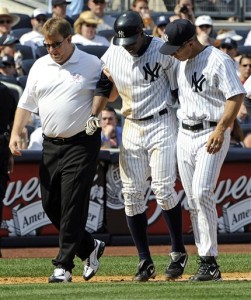 Down goes Granderson
The loss is a loss, one of about 65 the Yankees will suffer this season, but the big blow is the injury to centerfielder Curtis Granderson. While rounded second when going first to third on a single in the 6th inning, Grandy came up lame and limped into third. He was immediately removed from the game and eventually found his way into the Carl Pavano Memorial MRI tube (/GAKIII'd). The results are not good – he has a Grade II strain of his left groin, and has already been placed on the disabled list.
In the best case scenario, he'll miss 2-4 weeks, but it could easily be longer. Like obliques, groin injuries can linger if not taken care of properly, and the last thing the Yankees need is to have this hampering Granderson all season. I'll be stunned if we see him before June.
Annoying Moments
Too many to count, really. Granderson's injury created some lineup havoc, which led to the Yankees losing their designated hitter late. Joe Girardi micromanaged the living daylights out of this game, which is annoying enough, but that decision to pinch run Ramiro Pena for Alex Rodriguez in the 9th is almost comical. You're gaining about half a step total going from first to home on a sprint, and it left no one on the bench should the pitcher's spot come up in a 9th inning rally (unless Girardi was willing to burn Frankie Cervelli with Posada's recent knee issue). It struck me as a completely unnecessary move that was made only for the sake of making a move. "Hey look! See, I'm trying…"
It would also be nice if Joba wasn't just relegated to the 8th inning. A few four or five out outings won't kill him.
Also, what kind of crap was that with Ozzie Guillen making Javy change his glove? You know he only did it to get in his head. Eh, whatever. I guess Ozzie has to do whatever he can to get his team out of last place.
Happy Moments
As frustrating as this game was, it was good to see the team fight back after falling into that big early hole. Their M.O. last season was to battle right down to last at-bat, and so far this year's club has shown that same resiliency. Vazquez was awful, but his teammates picked him up and got him off the hook.
Watching Jorge Posada start to walk back to dugout on what should have been strike three but was called ball three was good for a laugh, though he did end up striking out on the very next pitch. That about sums it up.
WPA Graph
So close … yet so far. You can find individual player breakdowns at FanGraphs' box score.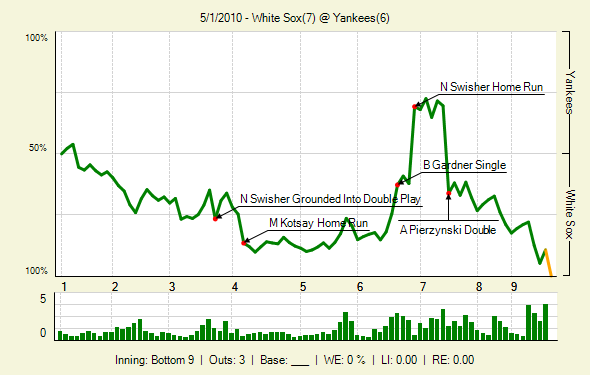 Up Next
Tomorrow's rubber game features Phil Hughes and Mark Buehrle in another matinee, 1:05pm ET.