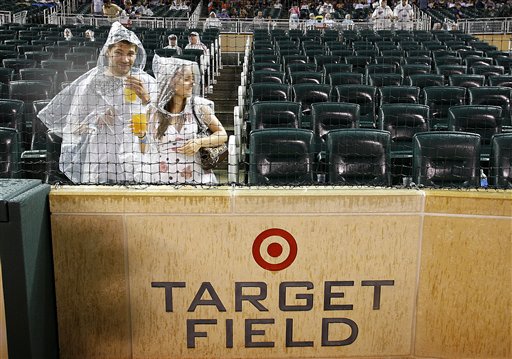 For the first time in who knows how long, a Minnesota Twins home game was delayed by rain. That delay turned into a suspended game after the Yanks and Twins played through about four innings of steady downpour. It was just too much by time the 6th inning rolled around, so the umpires called for the tarp. The rain just never let up.
Early on, it looked like the Yankees were stuck with the bad version of A.J. Burnett. He put two men on base in both the 1st and 2nd innings, but managed to escape unscathed thanks to some well placed ground balls. Burnett settled down very nicely after that, retiring nine of the final ten batters he faced with a well-placed bunt single by Denard Span representing the only blemish. He threw just 75 pitches in five innings work, getting seven ground outs to just two fly outs, and he gave the team exactly what they having been getting of late.
As for the offense, well it still looked pretty stagnant. Brett Gardner slapped a single in the 1st only to be erased on Mark Teixeira's double play ball two pitches later. Alex Rodriguez led off the 2nd with a single, but was taken off the basepaths when Robbie Cano grounded into a double play immediately after he reached. After a Derek Jeter single and a four pitch walk to Gardner to kick off the 4th, Teixeira swung at the first pitch (first damn pitch!) and popped out to foul territory. A-Rod stuck out on a pitch at his eyes, and Cano flied out harmlessly to center to end the threat.
It truly was a microcosm of the last week for the Yankees. They had opportunities to make something happen, but just didn't capitalize. They're stuck in some kind of rut and it's the ugliest, most frustrating brand of baseball I can imagine. Scott Baker threw just 50 pitches in his five innings of work because 11 of the 17 men he faced saw no more than three pitches in their at-bat. The Yankees don't roll like that. They're supposed to work the count and grind away at-bats, not give in on pitcher's pitches. Until they get back to doing that, they're going to continue to be inept offensively.
The game will be resumed tomorrow after at 5:05pm ET, and my guess is that Sergio Mitre will be on the bump unless the Yanks open up a lead in the top half of the 6th. The regularly scheduled game will then start at 7:10pm ET, or a 30 minutes after the conclusion of the first game, whichever comes later. Nothing like using the bullpen twice in one day.