Last night was supposed to be a big ticket. World Series rematch. Halladay vs. Sabathia. And while it did live up to the billing, at least in a Yankees fan's view, it wasn't the pitching duel that we had envisioned. Halladay was a little off with his command and the Yankees took advantage. Ten baserunners turned into six runs, and when Halladay left he had as many earned runs as innings pitched.
Biggest Hit: Gardner splits the outfielders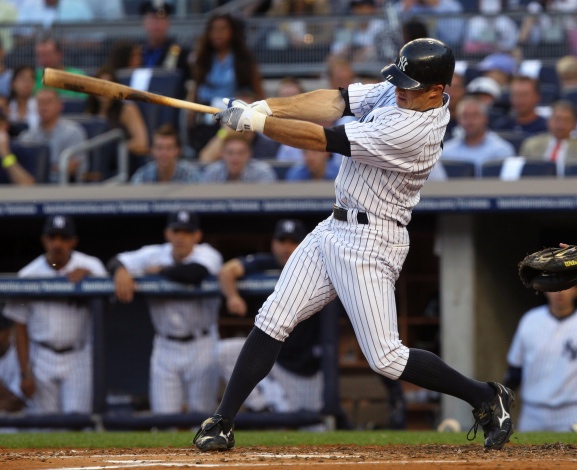 In the first he looked like regular ol' Roy. It took him just 10 pitches to retire the Yankees in order. Even in the second he got Robinson Cano to ground out on the second pitch. But then Swisher worked a 3-1 count and singled on a cutter over the middle. Jorge Posada followed with a Halladay rarity, a four-pitch walk. Then came Brett Gardner.
Halladay worked Gardner away, first with a curveball low, then a cutter on the outside corner, and then another curveball low. Back to the cutter he went, but like Swisher's it was right over the plate. Gardner lined the pitch between Victorino and Werth, so precisely that neither was very close to it. Victorino bobbled the ball after retrieving it, but it didn't matter much. The ball was hit far enough for even Jorge Posada to score from first base. That opened up the scoring, giving the Yankees a 2-0 lead.
Biggest Pitch: CC works out of a jam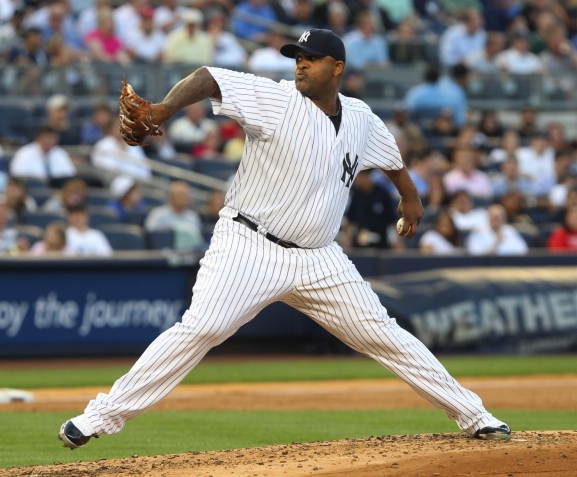 After sailing through the first three innings, Sabathia fell on hard times in the fourth. He took a ball off the pitching hand and then seemed to fall apart a bit. The Phillies cut the lead to 5-3, and then threatened again in the fifth. For the second straight inning Sabathia faced a bases loaded situation. But this time he had two outs, and just Raul Ibanez to retire.
Sabathia went right at Ibanez with three fastballs. The first went up and in for a ball, and the second went to the opposite corner, still outside the zone, for ball two. Again with the fastball, this one up and away. Ibanez got on top of it, chopping it right to Cano at second. Crisis averted.
Overall CC's night looked good. He still struck out seven in his seven innings, allowing just five hits and walking two (one intentional). The only blemish on his record was the bases loaded, none out situation in the fourth. Outside that he looked a lot more like the Sabathia we saw in April. Well, at least he looked that way from the grandstands.
Miscellany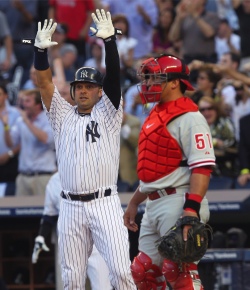 This was only the ninth game in his career in which Roy Halladay has allowed three or more home runs. It was the fourth time that the Yankees did it. In fact, they did it twice last year, exactly a month apart, July and August 4.
I really wanted Ramiro Pena to do something tonight, so I could say that Ramiro Pena owns Roy Halladay. He was 2 for 6 with two doubles, including one to break up a no-hitter, last year. Maybe that's why Halladay plunked him in the first. Anyway, Pena went 0 for 2 off him the rest of the way, though he did come close on a ball to right, and he did line one right at Ryan Howard.
Curtis Granderson? I'm a fan. With his 2 for 5 night he's now hitting .276/.358/.551 since returning from the DL.
Graph and box
Here's the boxscore. Here's the WPA breakdown. Here are the video highlights.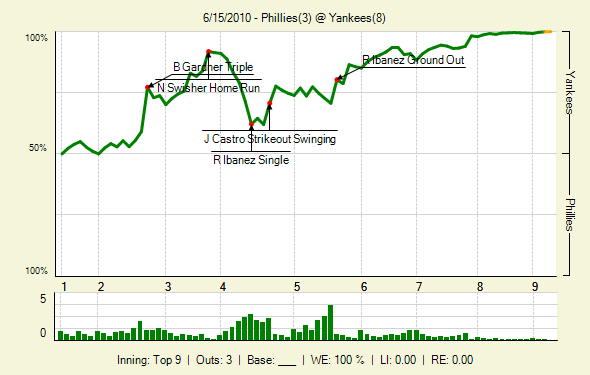 Next up
The Phillies changed things up so we don't get to see old lefty vs. older lefty on Wednesday. Instead it will be A.J. Burnett vs. Jamie Moyer tomorrow night.