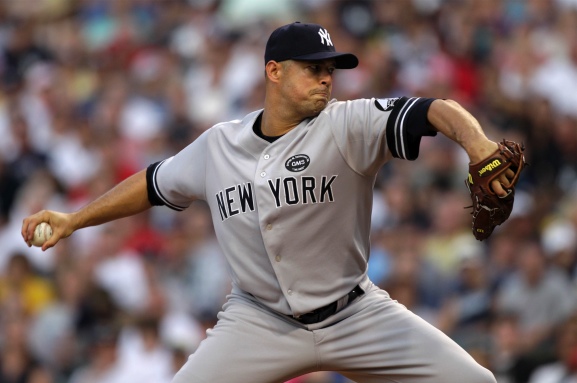 Last time through the rotation Javy Vazquez blew through the Angels' order, using just 37 pitches to record the first 12 outs. This time it took him 45 pitches to record those first 12 outs, but the difference was that he kept cruising after that. He completed the seventh and even came out for the eighth, using 102 pitches (64 strikes) to keep his team within striking distance. It seems like he's doing that in almost every game now. That's quite a change from the beginning of the season.
At this point we can draw a few conclusions about Javy's season. For instance, he's clearly lost a bit on his fastball. In good starts and in bad he's averaging around 89 mph, after averaging around 91 mph for most of his career. That has led to a number of changes in his numbers, including an decreased strikeout rate, increased walk rate, and increased home run rate. Of course, some of that is attributable to his ugly first five starts, which he has put behind him. It warrants a bit closer look to see what has changed since the beginning.
Home runs stand out the most, because they do the most damage. Javy has surrendered 18 of them this year, which has led to a career-high rate of 1.51 per nine. Eight of those came in his first five starts, meaning he has surrendered just 10 in his latest 13 starts, a much more palatable number (1.07 per nine). Opponents are putting the ball in the air frequently, 47.4 percent, a number that, if anything, has gone up as he's gotten better.
The added fly balls do have a side benefit. While ground balls suppress extra base hits, fly balls suppress base hits in general. The AL is hitting .231 on groundballs, but is hitting .222 on fly balls (.142 BABIP because of the sac flies). This helps explain Javy's .255 BABIP. It might seem unsustainably low, and I do suspect that we'll see something of an uptick in it. I'm not sure when that will happen — after all, he does have a .221 BABIP in his last 13 starts.
His walk rate, 3.45 per nine, is quite high for him, but again comes mostly from the beginning of the season, when he displayed no command of his fastball. In his last 13 starts he has walked 2.79 per nine, still a bit above his normal numbers but understandable given his change of scenery and diminished fastball. Those facts also have affected his strikeout rate, which is at just 7.23 per nine. There's little chance he recovers those lost strikeouts, but it seems he's made some other adjustments.
In terms of pitches, it seems he has all but ditched the slider. While it rated at 3.0 runs above average last season, it was the worst of his four pitches. This year it rates at 0.2 runs above average, better than his curve and change, which rank in the negatives. Yet this could be more indicative of how pitch type values measures runs above average. In his first five starts he threw his slider 16.1 percent of the time, mixing it well with his curve and change. He threw it for strikes, 62.7 percent, and got batters to swing and miss on 12 percent of them. Yet something just wasn't working with it.
In his last 13 starts he has cut down on the slider usage greatly, throwing it 10.6 percent, less frequently than all of his other pitches. He has gone more to the change and the curveball. The change has become his weapon of choice, as he's deployed it 19.8 percent of the time and has seen a 14.8 percent whiff rate. As for the slider, he's seeing fewer swings and misses, 9.5 percent, as he throws it less often, but he's also seeing fewer of them, 14.6 percent, put in play. Back when he was throwing it more often opponents put it in play 21.3 percent of the time.
This is not, in other words, the Javier Vazquez who contended for the Cy Young last year. He's not the guy who will strike out more than a batter per inning and refuse to issue the free pass. He's not the guy with four lights out pitches who will go to any one in any situation. Instead he's a veteran who's learning to survive with diminished stuff. It caught him off-guard earlier in the season, and it took him five starts to finally realize his limitations. He's made those adjustments, though, and it shows in the results. Javy might not be a top of the rotation starter, but he provides stability to these Yankees.