Following yesterday's touching tribute to George Steinbrenner and Bob Sheppard and Nick Swisher's walk-off hit, today's game felt much more routine. Mickey Rivers got things started off with a walk-off hit of his own in the Old Timer's Game, but the current Yankees couldn't carry that momentum into their game against the Rays.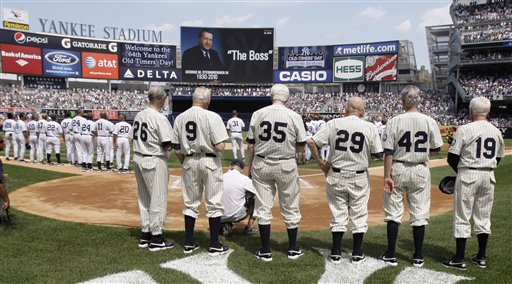 Brignac's Career Day
Once upon a time, Rays' infielder Reid Brignac hit .321/.376/.539 split between High-A and Double-A, putting himself on the prospect map in 2006. Of course, he hasn't exceeded a .760 OPS since, including this year in the big leagues. He started today's game hitting .265/.329/.365 with just two homers, so naturally he went 3-for-5 with two long balls in this game. The first was the more damaging of the two homers, a 2nd inning shot off A.J. Burnett that increased Tampa's lead to three. The second homer was a garbage time three run job off Dustin Moseley.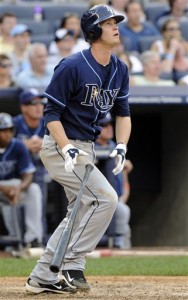 The Rays would push ten runs across against a sorry trio of Yankee pitchers, with Brignac driving in five. It was just his fifth career three hit game and first career multi-homer game, so good for the kid. Hopefully that's the last time I ever tip my cap to him.
What is this, 2006?
Burnett started Saturday's game off fine, retiring the first two batters he faced before back-to-back hits gave Tampa the lead. Fine, whatever. It happens. Next inning, more of the same. Two quick outs, hit batter, then Brignac goes deep. Burnett then made an error trying to barehand a dinky little comebacker before escaping the frame, and he was so frustrated that he slammed his pitching hand (his pitching hand!!!) against a clubhouse door and hurt himself. The lacerations took away whatever shaky control he had to begin with, and he was out of the game before recording an out in the 3rd.
So on comes Moseley. He needed 75 freakin' pitches to put eight men on base in three innings of work, and as you can imagine, his ERA now accurately reflects that performance. Chad Gaudin came in to finish things off, throwing the final four innings while giving up a pair of runs. The Yankees were down 4-2 when Burnett exited the game, but the Rays really mopped the floor with the Yanks mop-up men, washing away any hope of a comeback.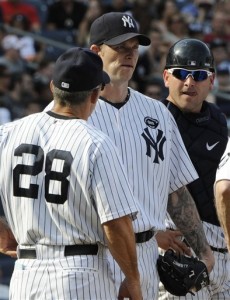 As I was watching the game, I thought to myself  "I can't believe I'm watching Dustin Moseley pitch for the 2010 Yankees, this has a 2006-2008 vibe," and it really did. Another team's retread trying to soak up the middle innings after a stinky outing by the starter. Thankfully these kinds of games have been few and far between this season, which is a lot better than what we suffered through a few years ago, but still. When Sergio Mitre returns next week, I assume GM Brian Cashman is just going to flip a coin to determine who gets designated for assignment. Heads it's Moseley, tails it's Gaudin.
Miscellaneous
Rays' starter Jeff Niemann was very wild in the early going, walking the bases loaded before Brett Gardner singled in a pair of runs in the 2nd. He settled down after that, retiring 15 of the final 20 batters he faced. Jorge Posada and Mark Teixeira each took him deep for solo shots, but they were too little, too late.
The silver lining of this one: Posada's starting to swing the bat a little better. He went 2-for-5 with a homer today after going 1-for-3 with a walk and a homer yesterday. Posada hit just .215/.348/.336 in 132 plate appearances after coming off the disabled list month, and the obvious possible reason for the improvement is the All Star break. The four days off probably gave the 38-year-old some time to heal up and recharge the battery. Whatever it is, hopefully he keeps it up.
Oh, and in case you missed it, Tim McCarver compared the Yankee front office to Nazi Germany. Ross has the video.
WPA Graph & Box Score
Never had a chance. MLB.com has the box score, FanGraphs the other stuff.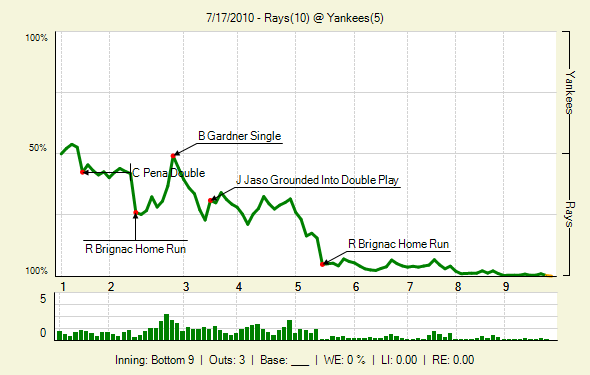 Up Next
Tomorrow's rubber game matinee features a pair of All Star lefties in Andy Pettitte and David Price. That should be a blast. The Yanks are still up two games on Tampa in the division, 5.5 up on Boston, so they're guaranteed to start their series against the Angels on Tuesday in sole possession of first place regardless of what happens between now and then.