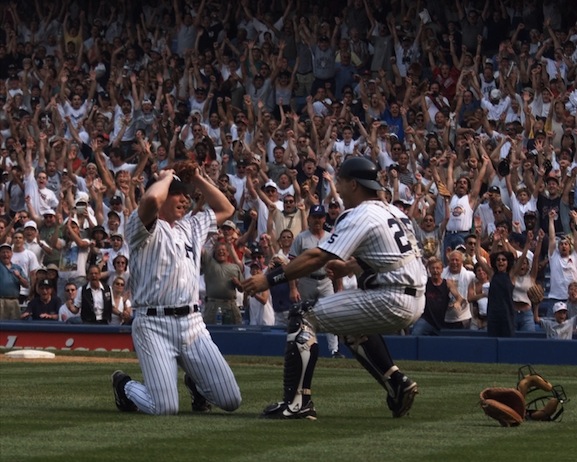 Eleven years ago, David Cone took the mound in an Interleague match-up against the Montreal Expos. Like today, it was a stifling hot Sunday, and Cone twirled a gem of a game. Facing a lineup of young players who hadn't seen him mix arm angles and pitch speeds before, the Yanks' righty was perfect. He never once went to three balls on a single batter, and he struck out 10. When Orlando Cabrera popped out to Scott Brosius, the celebration began, and the losing pitcher that day was a kid named Javier Vazquez.
Today, Andy Pettitte won't have to be perfect to beat the Tampa Bay Rays, but he doesn't have much room for mistakes. The offense shouldn't be a problem; after all, Tampa hits .244/.331/.390 against southpaws. Rather, it's the opposing pitcher who will be tough to beat. David Price takes his heat to the stadium today in what could be a pitching duel for the ages.
Price is 12-4 this year with a 2.42 ERA, and he has truly come into his own as a starter this year. Opponents are hitting .223/.297/.343, and he allows fewer than a home run per nine innings. The Yanks have faced Price once this year and lost, despite scoring three runs off the lefty.
Pettitte, though, is no small beans himself. He's 11-2 with a 2.70 ERA, and opponents are hitting .234/.295/.360 against him. Runs could be at a premium today. For Pettitte, today's outing could be one of redemption. During his last time on the bump against Tampa, the Rays knocked him around for six runs in five innings, and he allowed a season-high three longballs in that May 20 start.
A win today ups the Yanks' first place lead to three games; a loss brings Tampa to within a game. It's as big a game in mid-July as one might find. It starts at 1:05 p.m. and will be on YES in the New York area and TBS nationwide. The lineups, please:
Derek Jeter SS – Hitting just .245/.322/.337 over his last 305 plate appearances
Nick Swisher RF
Mark Teixeira 1B
Alex Rodriguez 3B
Robinson Cano 2B
Jorge Posada C
Marcus Thames DH
Curtis Granderson CF
Brett Gardner LF
Andy Pettitte P
Game Notes: Per Joe Girardi, the team has no long man today. Dustin Moseley threw 75 pitches, and Chad Gaudin tossed 52 in the Yanks' loss last night. I'd prefer to see Moseley DFA'd with Ivan Nova or Romulo Sanchez recalled, but Girardi says Chan Ho Park or Boone Logan could go multiple innings today if need be…A.J. Burnett reportedly apologized to teammates behind closed doors for his outburst that led to hand lacerations. No word on if he also apologized for his 8.15 ERA over his last eight starts.