With the bitter taste of Joba Chamberlain's 8th meltdown still in their mouths, the Yankees showed up to Safeco Field on Sunday as a team on a mission. CC Sabathia shut down the Mariners deep into the game, the offense piled on runs early and often, and the final result was an 8-2 win that seemed far more lopsided than that. Both Tampa Bay and Boston won, so the Yanks' lead in the AL East remains at two games.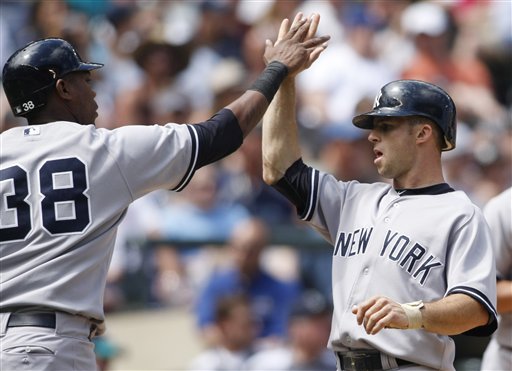 Biggest Hit: Take Your Pick
The Yanks offense was rather relentless today, pounding Mariners' starter Ryan Rowland-Smith for six runs in just four innings of work, and it could have been a whole lot worse if not for some great outfield defense. A pair of errors by Seattle's defense led to a pair of Yankee runs in the first, but singles by Mark Teixeira and Jorge Posada helped as well. They scored two runs in the 1st, one in the 3rd, three in the 4th, and two in the 5th.
Tex finished the day with four hits, Posada and Marcus Thames with two each, and Brett Gardner reached twice on walks. Yankee hitters attacked early and often, capitalizing on errors, balls lost in the sun, wild pitches, you name it. I also remember no fewer than five balls caught right at the wall by Mariners' outfielders, two off the bat off Robbie Cano, so the score could have been even more one-sided.
CC on Cruise Control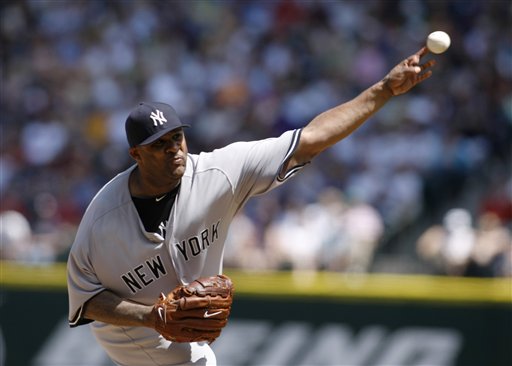 It doesn't get much better than CC Sabathia when he's on his game. The big lefty skated right through the first five innings of this one, retiring 11 in a row before Michael Saunders, Ichiro, and Chone Figgins touched him up for singles to lead off the 6th. A line out to short and a double play later, the threat was over and Sabathia would tack on another scoreless inning for food measure.
At the end of the day, CC's line sat at 7 IP, 6 H, 1 R, 1 ER, 1 BB, 1 K, but he was much better than that line indicates. The Mariners didn't really hit anything right on the nose, and most of the outs were routine fly balls or weak grounders on the infield. He needed just 96 pitches in those seven innings, though Joe Girardi opted to give CC a little breather and pull him early even though there was plenty of gas left in the tank.
Sabathia is now 8-0 in his last eight starts, and his ERA has dropped all the way down to 3.09. As good as Andy Pettitte, Phil Hughes and Javy Vazquez have been, the Yankees need CC to be than dominating workhorse at the front of the rotation, and that's exactly what he has been for the last two months.
Miscellany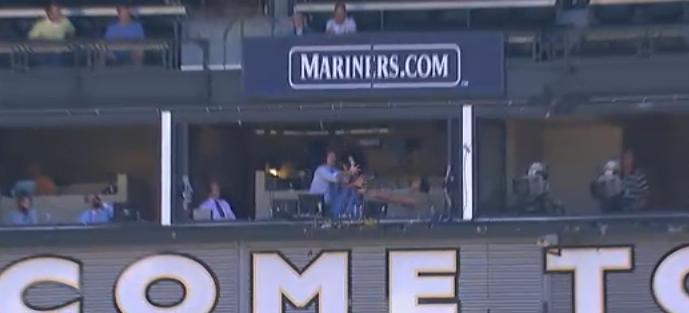 Derek Jeter ripped two balls into the right-centerfield gap, legit extra base hit shots. Of course one was caught by Franklin Gutierrez, but that's besides the point. The Cap'n had two extra base hits (both doubles) total in his previous 109 plate appearances before those two rockets. Hopefully this a sign of what's to come in the second half.
Big ups to Tex for scoring a run with his  hustle. He made it to second when Michael Saunders lost a lazy fly in the sun, moved over to third on a foul pop behind first, then scored on a wild pitch. That's the kinda stuff you expect Brett Gardner to do, not the big and slow Mark Teixeira.
Meanwhile, I can't let Alex Rodriguez go for squaring around to bunt when Tex was on second. Yes, the ball almost stayed fair, but there's never a reason for that man to bunt. Ever. Swing the damn bat. He hits cleanup for a reason, because he's good at hitting the ball far, far away. Stick to that, let the scrawny middle infielders worry about the small ball nonsense.
Marcus Thames hit his first homer since that walk-off shot at the expense of Jonathan Papelbon back in May. Yes, there was a disabled list stint mixed in, but that's a long time.
Curtis Granderson singled and sent a ball to the wall (for an out), and heads into the break having gone 7-for-16 with just one strikeout in the four game set. It hasn't been a great year for the Yanks' centerfield, but at least he can head home for a few days feeling good about himself.
And finally, nice play by John Flaherty on that foul ball (above).
WPA Graph & Box Score
It's always a good thing when the green line hugs the bottom of the graph for five-plus innings. MLB.com has the box score, FanGraphs all the other cool stuff.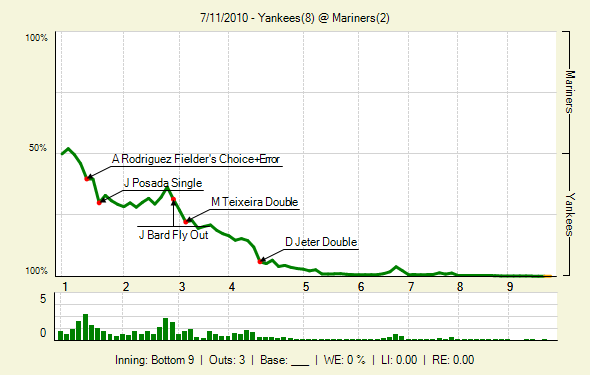 Up Next
The Yankees get to enjoy an extra long four day All Star Break, and will begin the second half of the 2010 season in a big way: at home against the Rays. Sabathia will get the ball in that game too, technically starting back-to-back games, and will face Jamie Shields. It'll be as big as mid-July series get.