The Yankees just don't seem to lose games like this. Whenever they're playing with a heavy heart, the Bombers always manage to come out on top. They're not just wins either, they're memorable wins that remind us just why we love baseball and how lucky we are to be Yankee fans. On a night when the team honored the late George Steinbrenner and Bob Sheppard, there was no better way to feel.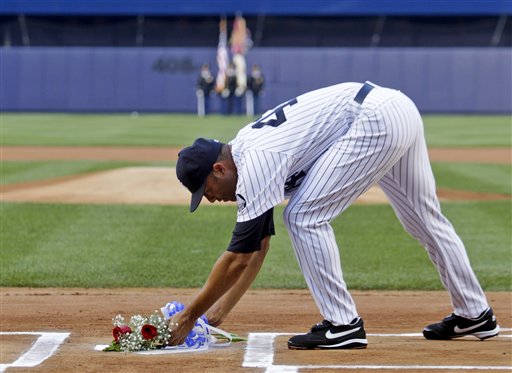 Biggest Hit: Send Swish
In a game like this, it's hard to decide what exactly the biggest hit was. WPA obviously says it was Nick Swisher's walk-off single, but we can't discount his game-tying homer in the 8th inning either. You really can't say enough about what the first time All Star did on Friday night. Remember, he hit another ball to the wall that Gabe Kapler made a great catch on, but of course we can't forget the two defensive blunders (missed fly ball, throw to the wrong base), though I'm going to cut him some slack on the fly ball since the wind likely played a factor. The Yankee rightfielder was tremendous, he carried the team on his back in the late innings and gave a performance that we'll remember for years to come.
In the end, Swisher posted a 0.725 WPA in this game, which I'm willing to bet is the highest mark by a Yankee this season.  It's fitting that an Ohio State guy shined on the day that Steinbrenner, born and raised in Ohio, was honored.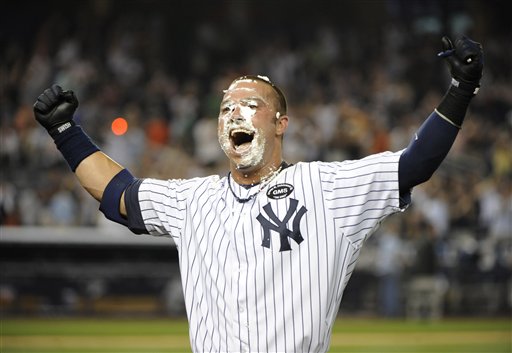 Biggest Out: Bossman Gets A Little Lazy
Considering how much trouble CC Sabathia was in on Friday (more on that later), the biggest out record by a Yankee pitcher didn't even come on a pitch. After B.J. Upton led off the 9th with a broken bat aided single to third, the Rays' sometimes enigmatic centerfielder got caught napping at first, and was picked off by the great Mariano Rivera. It was Mo's first pickoff since 2003, just the fifth of his career, and it decreased Tampa's chances of winning by close to 15%.
You can't say enough about the job Mo did either, he was simply fantastic. The crowd was on their feet in the 9th, and it seemed like a win was inevitable once he recorded out number three.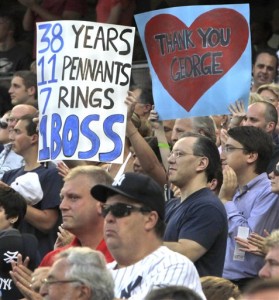 The Fans
I wasn't in attendance tonight, but you were able to feel the somber mood just by watching on television. The pre-game tribute to the Boss and Sheppard was simple and elegant, but it was more than appropriate. The crowd seemed to be very unsure of what to do after that, it felt like everyone just wanted to explode in cheers while at the same time remaining quite and respectful.
As cliche as it sounds, you know George would have wanted the fans on their feet and rooting for these great Yankees. They certainly were doing that by the end of the game, with good reason. I'm proud of my fellow fans, they did a great job of honoring the legacy of two tremendous Yankee legends.
Miscellany
CC Sabathia certainly wasn't great in this game, but he did what aces do when they aren't right: he kept his team in the game and put them in a position to win. His only 1-2-3 inning came in the 1st, so he was pitching in and out of trouble all night. The Yanks are now 9-0 in his last nine starts. Can't complain about that. Nope, not at all.
Robbie Cano and Jorge Posada going back-to-back in the 6th was when the Yankees really seemed to wake up. A lot of people are going to remember this game for George, Sheppard, and Swish, but those two homers off a cruising Jamie Shields were enormously important.
Curtis Granderson singled off a lefty to start the 9th inning rally. Yay. I don't agree with pinch-bunting (pinch-bunting!!!) for Juan Miranda with Ramiro Pena after that, but I'm in too good of a mood to let it bother me. I'll let you off the hook today, Joe Girardi.
David Robertson was in full-on beast mode in his inning of work. Three batters, 12 pitches, three strikeouts. Vintage D-Rob right there. Shades of last July.
Was it just me, or did it sound like the YES crew tinkered with the crowd microphones during the break? I know the game was broadcast on My9, but I assume they use the same equipment. The sound was very clear, and the ball seemed to crack extra loud when coming off the bat. Maybe Cano, Jorge, and Swish just hit those pitches on the sweet spot. Either way, I approve.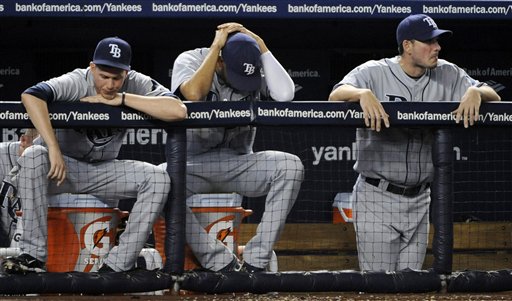 The Yankees are now three games up on the Rays in the AL East and 6.5 up on the Red Sox, and are guaranteed to finish this series in sole possession of first place regardless of what happens on Saturday and Sunday.
WPA Graph & Box Score
Here's the box, here's the rest.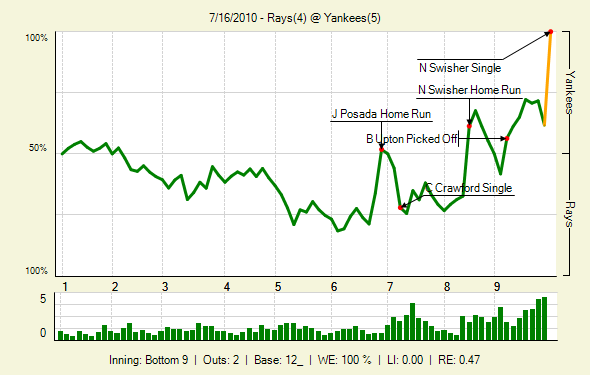 Up Next
Old Timer's Day! Tomorrow afternoon the Yanks' will hold their annual celebration of the franchise's great history, and I'm sure there will be even more Steinbrenner and Sheppard tributes. The fun starts at 2pm ET, the actual game two hours later.