Javy Vazquez's last trip to Oakland was his first good one of the year. While he didn't make it out of the sixth, he did hold the A's to one run in the first five innings. He appeared to run out of gas in the sixth, giving up two runs on a homer, though the Yankees had already scored six by then. This time around went even better, with Vazquez finishing seven innings and allowing just one run. The Yanks offense didn't get much off of Ben Sheets, but it was enough to complete a 3-1 victory.
Biggest Hit: Tex widens the lead
Remember when Tex started May on a hot streak and everyone said hey, look, Teixeira's back? It looks like it's happening again. With a 1 for 4 night that included a home run, he is now 8 for his last 18 with three walks, four doubles, and a homer. So Tex is back. Until he isn't.
Heading into the later innings the Yankees needed runs. They held a 2-1 lead, but with the way the bullpen has been struggling lately the Yanks can always use more runs. Unfortunately the offense has been slumping a bit. They did have a number of hard-hit balls off Sheets, but many of them found a fielder's glove. Mark Teixeira had a solution to that problem.
With none on and one out in the sixth Ben Sheets got working against Tex with fastballs, mostly away. On the last one he caught a bit of the plate and Tex whaled it over the center field wall to extend the Yankees' lead. It wasn't much, but it provided the more-comfortable two-run lead.
Biggest Pitch: Vazquez quells the mini-rally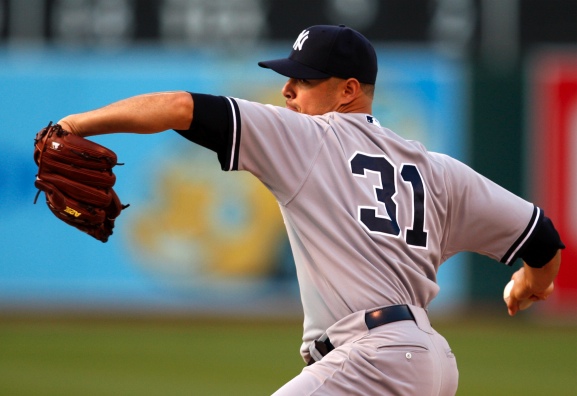 Javy Vazquez had one of his best starts of the season, despite the lack of strikeouts. The A's did manage to put the ball in play, but few balls were particularly well-struck. As a result, they didn't have many baserunners during Javy's seven innings, just five. Only once did they put two men on base in the same inning, the fourth, when Jack Cust walked and then beat Derek Jeter's leaping throw to second. That put runners on first and second with two down.
Gabe Gross worked a 2-1 count, but then fell behind when he fouled off the next two pitches. With the count 2-2 Vazuez delivered a high fastball and Gross got on top of it, grounding it to Cano and ending the threat. That was the last time in the game the A's would have a runner in scoring position.
Miscellany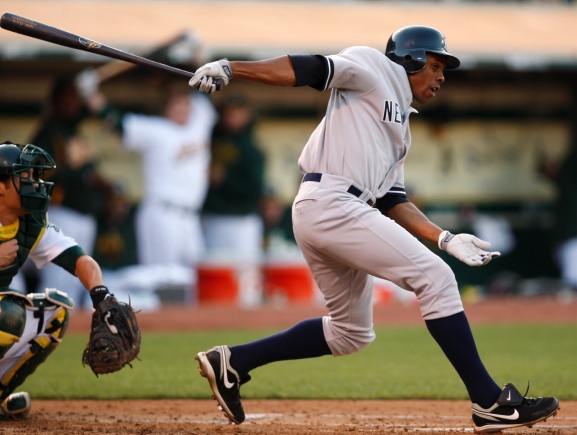 Francisco Cervelli is a lucky dude. He made weak contact three times yesterday, and the one time it went for a hit was when the Yanks had a runner on third. Luck of the BABIP. I'll take it.
Joba's last seven innings: 7 H, 2 R, 2 ER, 4 BB, 8 K. That's a pretty good start right there. I think we make too much of the times he does give up runs. Because, contrary to what 2007 Joba™ may lead you to believe, he's going to do that from time to time.
With Mo having pitched in four of the first five days this month, I expect he'll be unavailable tomorrow night. Gotta score runs against Cahill, which many a team has struggled at this year.
Oh hey, 2 for 3 with runners in scoring position.
Graph and chart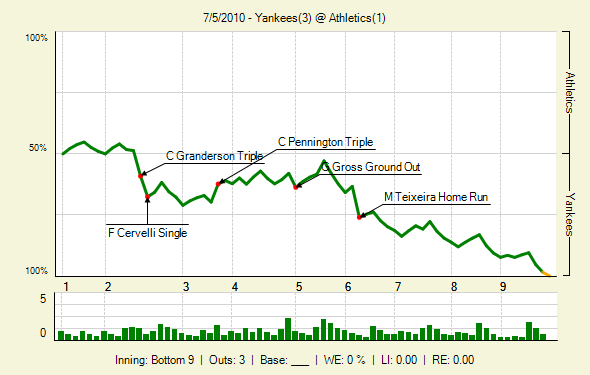 More at FanGraphs. Also, the box score.
Up Next
CC's back on the mound to face the aforementioned Cahill. It's Game 2 in the run of five straight 10 p.m. starts.