There are few things in baseball more frustrating than stranded baserunners, blown leads, and losing in extra innings, and yet Friday's game against the Blue Jays managed to hit the trifecta. Sadly, it was more just of the same from a team that suddenly features only two sure things (CC Sabathia, Mariano Rivera). The Yankees are 7-8 in their last 15 games, a 76 win pace over a full season, and they look every bit the part. Boston took down the Orioles, trimming the Yanks lead in the AL East down to a half-game.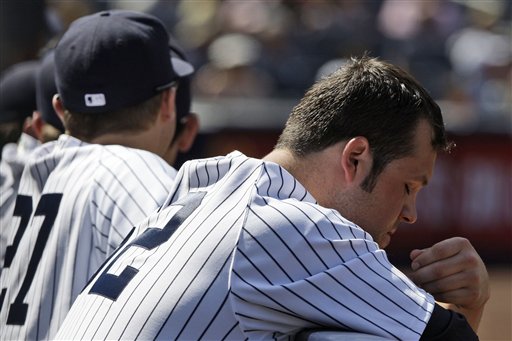 I Was So Sure That First Inning Run Would Hold Up
As has been the theme for the last week or so, the Yanks were all about squandering opportunities in this game. The 1st inning started with walks to Derek Jeter and Nick Swisher, who then moved over the second and third on a Mark Teixeira ground out. Alex Rodriguez got a run with a sacrifice fly, but Swisher was stranded at third. Yay.
The 3rd inning started in much of the same way: single by Jeter, walk to Swisher, and then a walk to Teixeira to load them up with nobody out. Teams are expected to score more than 2.4 runs in that situation, and you figured the Yanks could best that with the 4-5-6 hitters coming up. Instead they got a big fat goose egg. A-Rod struck out after being up 2-0 in the count, swinging through an 82 mph changeup and a 91 mph fastball for strikes two and three. Robbie Cano followed that up by swinging through three straight fastballs up and in and out of the zone for just his seventh three pitch strikeout of the season. Jorge Posada spared everyone the embarrassment of three straight strikeouts, grounding out to second to let the obviously off-his-game Brett Cecil off the hook.
But wait folks, there's more. With the score still standing at one-love, Posada singled and Curtis Granderson walked to lead off the 6th inning. With two hits already to his name, Frankie Cervelli stepped the plate in what appeared to be a bunting situation. "You have a slow runner at second," said Joe Girardi after the game. "You have a lefty on the mound that's falling off toward third base. It's got to be a perfect bunt. Cervi's got two hits off this guy. Lefties are hitting .180 (against him) and there's a left-hander (Brett Gardner) on deck. The wind's blowing in. A sac fly is going to be difficult." Sounds like fine reasoning, and you all know I despise the bunt, but sure enough Cervelli clanked a 1-1 fastball into the ground for a 5-4-3 double play. Posada would be stranded at third.
The Yankees really didn't put up much of a fight after that. Just one of the final 16 batters the Yankees sent to the plate after Cervelli's GIDP reached base, and Posada was the only Yankee to make it to second base (and beyond) after the 4th inning. Blue Jays pitchers threw five pitches in the 7th, nine in the 8th, 11 in the 9th, 14 in the 10th, and 13 in the 11th. That's a total of 52 pitches to record the final 15 outs. They went 0-for-8 with runners in scoring position, and haven't picked up a single hit in their last 19 at-bats with RISP dating back to who knows when.
Over their last 38 offensive innings, the Yankees have pushed nine runs across. Nine. That's a 2.13 ERA if you were a pitcher. Granted, there's no shame in losing to Cliff Lee and Felix Hernandez, but the constant non-capitalization of opportunities is something that dates back to the series in Arizona. They let Dontrelle Willis off the hook then, and let Brett Cecil and his six walks off the hook here. I know teams go through slumps, but we're talking about complete offensive ineptitude here. Guys are obviously pressing, others are giving at-bats away, and of course there's basically four automatic outs in the lineup every night because of the lack of a real designated hitter.
The Yankees are hitting .245/.332/.405 a a team since June 1st, a forgettable .323 wOBA. That's like having nine Cliff Pennington's in the lineup for over a month. Yeah, exactly. No more excuses, no more tipping your cap to the other pitcher, man the frig up and get the job done.
A.J. Escapes From Eiland Of Doom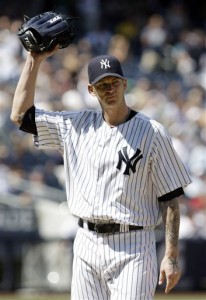 How's that for a pun? Or is that even a pun? I dunno, whatever. Either way, there was some silver lining in this game, and that was Burnett's return to being an effective starter. We all know his June was ugly and we all looked every which way for an excuse, and blaming the absence of pitching coach Dave Eiland fit. Sure enough, A.J.'s first start with Eiland back in the fold went rather swimmingly. Maybe there was something to the narrative after all.
With a fastball that topped out at 95 on the nose and a curveball that actually dropped off the table instead of hanging out to dry for the first time in the month, Burnett escaped a two on, two out jam in the 2nd with a strikeout and a two on, no out jam in the 3rd with a pair of harmless fly outs and a ground out. He cruised from that point on. The Jays went down 1-2-3 in the 4th, and just as easily in the 5th when a Fred Lewis baserunning mistake resulted in a 6-1 double play following a hit by pitch. Burnett retired 13 of the final 16 batters he faced, striking out six total.
We're not completely out of the woods yet, because A.J. did walk three, hit another batter, and recorded just three outs on the ground against nine in the air. Whatever Eiland did with him over the last few days, well bravo. The Yanks are going to need Burnett to not just take the ball every five days, but to take the ball pretty deep into games to avoid the tragedy known as the middle relief corps.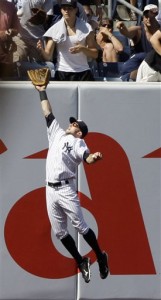 Schtuff
I don't even know where to start. I guess with the bullpen.
Yeah, I know Joba Chamberlain's peripherals are pretty damn good, but this was the sixth time he's allowed the opponents to score in his last 18 appearances. Keeping the opposition in check just two out of every three appearances simply isn't good enough for a late inning reliever. I don't know what the Yankees do with him from here on out, but there's only so much longer they can can tolerate this.
I know it's only been three months, it's time for the Chan Ho Park era to come to an end. This friggin' guy has allowed runs in four of his last five outings, and in 11 of his 19 outings overall. Wanted it to work, was a big fan of the signing, but sorry, it's just not happening.
Is there any better example of Nichols Law than Cervelli? He can't hit (.208/.283/.245 since May 20th even with Friday's 2-for-4 effort), can't block pitches in the dirt (three got by him on Friday), can't throw runners out (28 steals in 35 attempts, 80%), what exactly does he contribute? His .375 BABIP fueled April was fun while it lasted, but now he does nothing. If he's going to play once or twice a week as the backup catcher, fine. But having him in the lineup every day so Posada can DH is ri-damn-diculous.
Big ups to Granderson for his catch in the 4th and to Gardner for his catch leading off the 8th. Easily the highlights of the day.
WPA Graph & Box Score
The lolpen strikes again. Here's the box score, here's all that other stuff you probably don't look at anyway.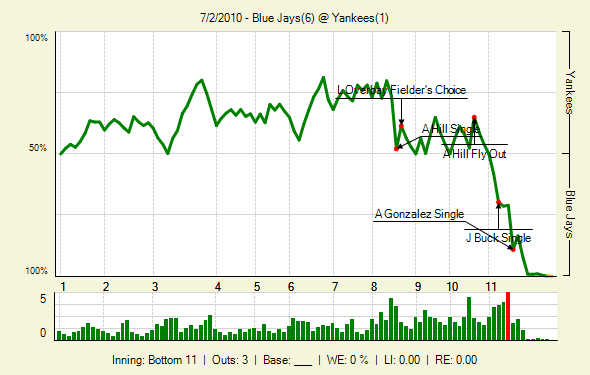 Up Next
Third day game in a row tomorrow, featuring a matchup of lefthanders: Andy Pettitte vs. Ricky Romero. Over/under on runs scored by the Yanks is set at 3.5.