Fresh off a frustrating loss to yet another rookie pitcher, the Yankees showed up to the park on Wednesday with payback on their minds. After a 42 minute rain delay stalled first pitch, Fausto Carmona, the Indians' All Star representative who is having a legitimately good season (3.59 tRA coming into this game), couldn't make it out of the third before the Yanks hung a seven spot on him. The final score was as lopsided as you'd expect. Both the Rays and Red Sox won their games, so the lead over those two teams in the AL East remains at two and seven games, respectively.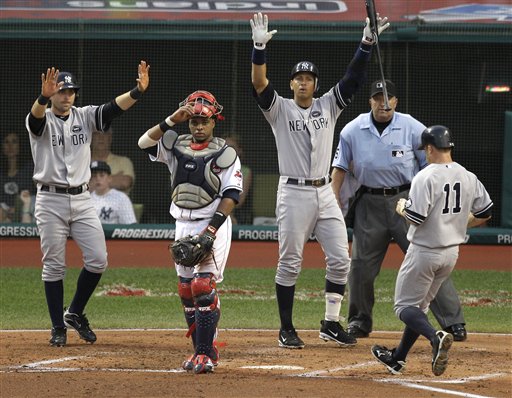 Biggest Hit: Take Your Pick
It's always good when you can't decide which hit was the biggest of the game from an emotional standpoint. That usually means the Yanks won in a big way. WPA says that Mark Teixeira's two run 2nd inning single (through the teeth of the shift!) to give the Yanks a 4-0 lead was the biggest hit of the game, but Brett Gardner's run scoring single earlier that inning to make it 2-0 was pretty close, ditto Alex Rodriguez's 1st inning single to open the scoring. All three improved the Yanks' chances of winning by about ten percent.
Tack on runs were provided by Curtis Granderson (triple in the 3rd), Robbie Cano (solo homer in the 4th), Nick Swisher (single in the 3rd), and Gardner again (double in the 3rd). Aside from the score, the big offensive story of the night is how the Yanks simply wore Carmona out. The Indians' righthander threw just 16 pitches while giving up a run in the 1st, but the Bombers forced him to throw 36 pitches in the three run 2nd inning before making him throw another 21 in a three run 3rd while recording just two outs. The Yanks' batters were patient, fouling off tough pitches and making Carmona pay when he made a mistake. It was vintage Yankee offense.
Moderately Good A.J.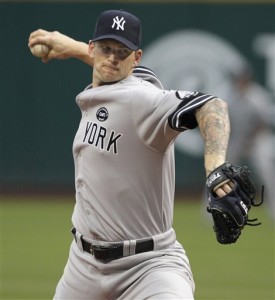 A.J. Burnett provided five scoreless innings in his last start before an extended rain delay cut his outing short, but he continued to roll right into this game. Even though the leadoff batter reached base in each of the first five innings, just one Cleveland baserunner made it to third base while Burnett was on the mound, and the righty navigated through trouble thanks to seven strikeouts, six ground balls, a pair of double plays, and a baserunner gunned down trying to steal.
It certainly wasn't Burnett's best outing – a better team makes him pay for all those leadoff runners – but after a dreadful June he finished July with 11 consecutive scoreless innings and a dead even 2.00 ERA in five starts. He's certainly not out of the woods yet, but at least A.J.'s going in the right direction now.
Gallimaufry
So it looks like Joba Chamberlain's new role is 7th inning fireman in blowouts. He entered the game with a man on first and one out in the 7th inning, proceeded to balk the runner to second before escaping the jam on two fly balls hit relatively deep (not to the warning track, though) to right. Joba threw eight fastballs and two sliders, hitting 97 mph three times and 96 twice. Still lots of work to do here, folks.
Sergio Mitre finished things off with two scoreless innings with a quarter of his 20 strikes (32 pitches overall) coming on swings and misses. I'm sure the Indians' batters were looking to just get this one over with, but that's still nice to see.
While on the subject of the bullpen, I know it's been a sore spot all season, but I don't see why Burnett had to go back out to start the 7th with his pitch count already at 105. Same deal with CC Sabathia last night, who ended up throwing over 120 pitches. It's okay to take the foot off the gas every once in a while, especially with an eight run lead. Those bullets are best used at another time.
Derek Jeter and Nick Swisher combined to go one-for-nine with a walk tonight. The other seven regulars combined to go 12-for-30 (.400) with six extra base hits and a walk. That'll do.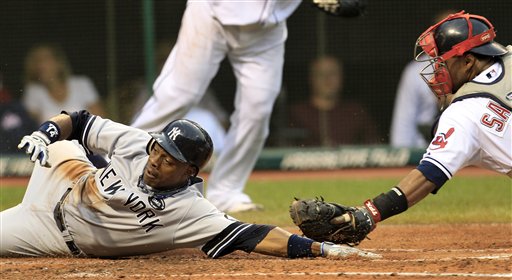 Big ups to Granderson for that great slide hooking around Carlos Santana to get the plate for the Yanks' second run in the early going. Thing of beauty. Bet you didn't know the Grandy man is hitting .339/.375/.559 over the last three weeks or so.
Two days later, and Ken Singleton is still calling him "Shin-So Choo." Grinds my gears. Oh, and speaking of grinding my gears, how about that douche grabbing the foul ball from the kid in the 4th inning? I have no tolerance for that crap, be an adult and put a smile on some kid's face. You shouldn't even have to think about it.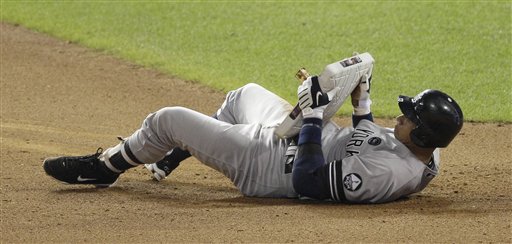 A-Rod didn't hit his 600th career homer tonight, but he did go 2-for-5 with the RBI single and a booming double. He literally took the base with him on the two-bagger, rolling on his back with the base in his hands (as you can see above). Alex will give the whole milestone homerun thing another go tomorrow.
WPA Graph & Box Score
Solid, I'll take it every time. MLB.com has the traditional box score, FanGraphs the new age stuff.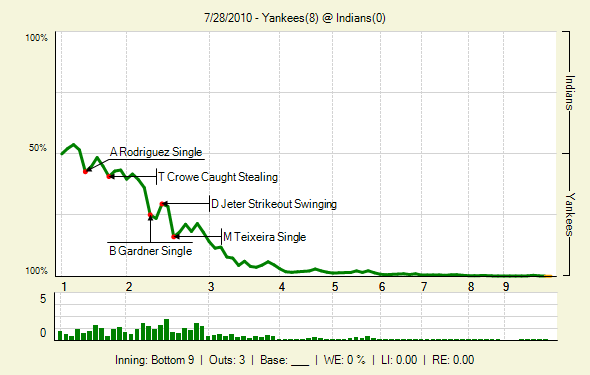 Up Next
The Yanks will try to take three-of-four for the second straight series when they send Dustin Moseley to the mound for his first start of the season tomorrow. Based on Mitre's usage tonight, I assume Chad Gaudin will be Moseley's caddy. He'll be opposed by Mitch Talbot. Fitting that the Yanks will face the former Ray before heading to St. Pete for the weekend.