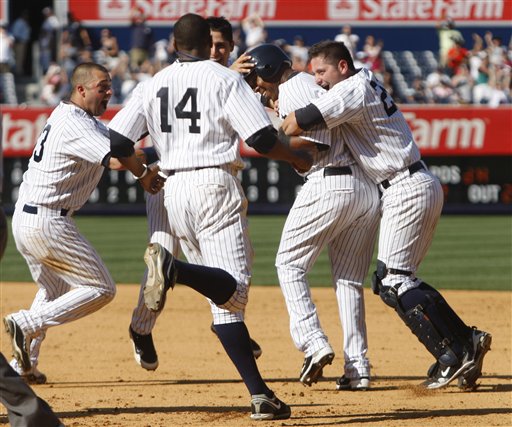 One year ago today, Jorge Posada hit a walk-off single on Independence Day to give the Yankees a win over the Canadian Blue Jays. Once again on Independence Day, this time after Jorge left the game with a sprained ring finger, the Yankees walked off against their foreign rivals. It was Marcus Thames today, delivering the second Yankees walk-off of the year. He had the first one, too.
The Yanks were the beneficiaries of the sun, as Brett Gardner's game-tying inside-the-park home run came on a ball that Dewayne Wise should have caught, but just did not. That kind of made up for Wise's home run, though, one of Phil Hughes's mistakes during the game. The game was capped when Thames pinch hit for Ramiro Pena in the 10th and smacked an RBI single that scored Robinson Cano from second.
Here's the quick-quick recap.
The good
Another huge day for Teixeira. He was 3 for 4 with a double and two RBI.
Gardner keeps up his hot hitting with a 2 for 4 day that included a walk and the already mentioned inside the parker.
Swisher went 3 for 5, a nice break after his mini slump.
No runs by Joba.
Two walks for Cano.
Nice way to work out of the jam by David Robertson. If he can cut down on the walks he'll be quite the effective reliever.
The bad
The homers by Hughes.
The golden sombrero by Granderson. He's now 1 for his last 17.
Up Next
Westward, ho! The Yanks head out for three against Oakland and four against Seattle heading into the All-Star break. That's six 10 p.m. starts followed by a 4 p.m. start next Sunday. Yippee!