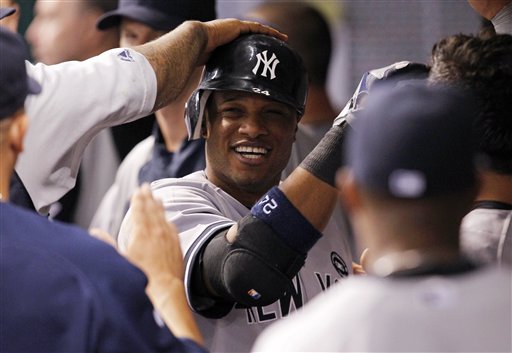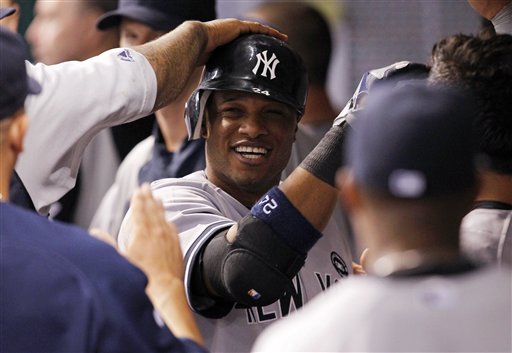 After a long day of trade rumors and wondering what exciting news the next Twitter refresh would bring us, the Yankees and Rays played a rather important game on Saturday night. If Tampa won, not only would they have clinched the series win, but they also would have pulled into a tie for the AL East lead. The Yankees made sure that didn't happen.
Down two in the 6th, Mark Teixeira unloaded on a Matt Garza fastball, completely unloaded on it, sending the ball into orbit to tie the game at three. An inning later, with the Yanks down one, Nick Swisher connected on the hangiest of hanging curveballs, parking it a few rows back in rightfield to again tie the game. The score remained that way until the 9th inning, when the Yankees' MVP did what he's been doing all season long. Robbie Cano, already 2-for-3 on the day with a pair of booming doubles, took a Rafael Soriano fastball down and in and deposited it where the sun don't shine. Well, the sun doesn't shine anywhere in that place because of the dome, but you get the point. Cano's monster shot gave the Yanks their first lead of the game, and ultimately helped reclaim their two game lead in the division.
I'm going to recap this game bullet point style because it's been a long day, but here's the WPA Graph and box score. Cano's homer checked in at .371 WPA, not as high as you'd think. I don't need no stinkin' math to tell me it was one of the Yanks' biggests hits of the season, if the not thee biggest. Anyway, on to the notes…
Javy Vazquez wasn't great, but he was good enough to win. The gopher ball to Matt Joyce was probably his biggest mistake of the game.
Speaking of Joyce, I suspect he has now earned the "Yankee Killer" tag. He and what, a couple hundred others?
The Yanks had six total hits in this game, and zero singles. Cano doubled twice and homered, Tex homered, Swish homered, and Derek Jeter doubled. I guess if you're only going to average two hits for every three innings, they might as well go for extra bases.
Big ups to Boone Logan for throwing three pitches and getting two outs against two dangerous hitters in John Jaso and Carl Crawford to end the 7th.
Even bigger ups to David Robertson for throwing a perfect 8th innings with two strikeouts against Tampa's 3-4-5 hitters on just a dozen pitches. Dude's straight money right now.
Not a great debut for Lance Berkman – 0-for-4 with a strikeout – but who cares, he'll be fine. It was nice having a little extra length in the lineup, no? Made a noticeable difference towards the bottom of the order.
One of these days Alex Rodriguez will get his 600th homer, I swears it. The Yanks will be back in the Bronx to face the Blue Jays and Red Sox tomorrow, so hopefully he gets it then.
The rubber game is tomorrow afternoon at 1:40pm ET. Regardless of what happens, the Yanks will return home Monday in first place. Each team is throwing their Opening Day starter, with CC Sabathia taking on Jamie Shields.