At long last, the Yankees were able to come to the park on Wednesday and look forward to their first off-day in close to three weeks. They had gone 11-8 in the first 19 games of this 20 games in 20 days stretch, and their attempt to make it a dozen wins fell short when the offense was stymied by a lefthander that wouldn't beat himself with walks or give in and throw fastballs in fastball counts. It's never fun going into an off day with the bitter taste of defeat in your mouth, but that's what the boys will have to do after this one.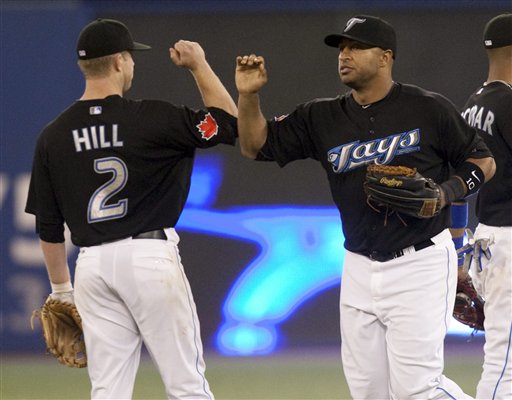 Cy Cecil
It's like clockwork. If the opposing starter features good offspeed stuff, the Yanks seem to be completely incapable of a) working the count, or b) putting together prolonged rallies. The only real damage they did in this game came when Marcus Thames (Mr. Thames to you) connected on a sinker that didn't sink, sending it deep to left for a two run homer in the 4th. But that was it against Brett Cecil.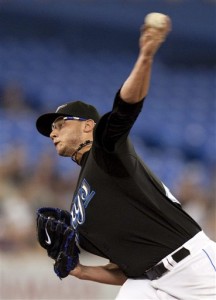 The 24-year-old southpaw faced the Yanks two prior times this season, and much like those two outings, he took the ball deep into the game and keep the Bombers off balance by mixing his pitches like a seasoned vet. Cecil's 106 pitches were broken down into 47 four-seam fastballs, 24 sliders, 18 sinkers, 12 changeups, and five curveballs. He needed 16 pitches to navigate the 1st inning and then another 20 for the 2nd, but after that he settled in and clicked on the cruise control. A total of 54 pitches were thrown from the 3rd through 7th innings, and just three of the final 17 men he faced managed to reach base. The Yanks made just four outs in the air against him, with the other 19 coming either on strike three or a ground out.
Cecil has now made three starts against the Yanks this year, and his composite line is 22 IP, 16 H, 4 R, 4 ER, 9 BB, 15 K, 33 GB, 20 FB. That's a 1.64 ERA and a 1.14 WHIP. Against everyone else, he's posted a 4.21 ERA and a 1.25 WHIP. One of these days the Yanks will figure him out, but it certainly wasn't happening Wednesday night.
Worst Start Of The Season
In a season full of strong outings and encouraging development, Phil Hughes had his worst start of 2010 in this one, giving up five runs and failing to complete five innings for the first time all year. His five walks tied a career high, and his numbers of pitches per inning went 27, 21, 26, and 28, and of course he only recorded two outs in the fourth. The velocity was fine (averaged 93.7, topped out at 95.9) and he struck out plenty of batters (six, including a whopping 19 swings and misses), but there's more to life than just that.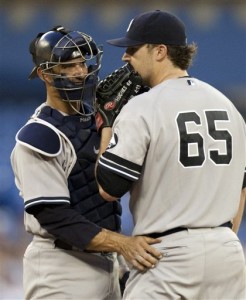 The problem tonight was the same as it's been basically all summer: Hughes had trouble putting batters away. He got two strikes on 18 of the 22 batters he faced, and yet a dozen of those batters still reached base. In fact, the first ten Jays that reached base all had two strikes on them. We bitch and moan about more curveballs (Hughes actually threw 25 tonight) and more changeups but the solution isn't that simple, and we have to remember that this isn't a problem unique to Phil. A ton of 24-year-old's working on their first full season as a starter in the AL East go through this, and it's something that should improve with time and experience.
The end result was Phil's worst start of the season, which is actually pretty damn amazing since we're now in late August. Hughes has now thrown 39 innings more than last year and 72.2 more than he did in 2008, so there's a decent chance that fatigue is becoming a factor. I'm sure (hopeful) the team has a plan on place to give him a little bit of a breather in September, they're going to need him to be effective right down to the bitter end.
Leftovers
I guess if there was a silver lining in this one, it was Javy Vazquez's work in relief. He threw 55 pitches across 4.1 inning, allowing just two hits (one an Aaron Hill solo homer) and a walk while striking out a pair. His velocity bumped 90 mph, but I'm not going to deem him cured after 13 outs in low leverage long relief work. The Jays made some loud outs against him, including at least two to the warning that I thought were out off the bat, so Javy's still got plenty of work ahead of him.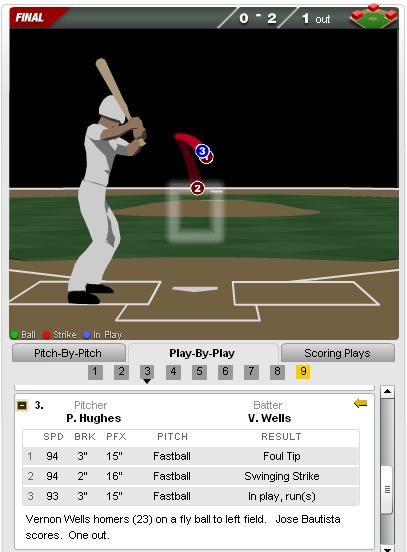 You know, I didn't even think the pitch that Vernon Wells hit for his homer was all that bad(right). PitchFX clocked it at 92.9 mph and it was up and well out of the zone, almost at Well's eye-level, really. He just straight up muscled it out. Frustrating? Yes. Massive pitching and game calling fail? Nah. Dems the breaks.
Even though they combined to reach base just two times, Derek Jeter and Curtis Granderson managed to see 49 pitches between the two of them, which is exactly what you want to see from the top two hitters in your lineup. Jeter worked a ten pitch walk to put the tying run on base with two outs in the 9th, but Grandy made the final out of the game on a fly ball to deep center. Dems the breaks.
Mark Teixeira managed to make five outs on six total pitches in his first three trips to the plate, killing potential rallies by clanking into a pair of double plays. Again, dems the breaks.
Austin Kearns drew a pair of walks, Brett Gardner reached base three times, and even Eduardo Nunez got in on the action with a pair of single, so the bottom third of the order certainly isn't to blame for the offensive ineptitude. In addition to the homer, Mr. Thames also singled and is now hitting .309/.401/.493 on the season. Love it.
Not sure I like the roof opening after the top of the first. Granderson knocked one about 400 ft to dead center as the second batter of the game; would it have gone out with the roof open? We'll never know, but it seems kinda sketchy to do it mid-inning.
Are you ready for the mother of all nitpicks? Why did it take Kearns four (!!!) pitches to take second base on a defensive indifference with two outs in the 9th inning? You've got to go on the first pitch to eliminate that force at second as soon as possible. The other team isn't even going to bother to try to throw you out in that spot.
If you're curious about the biggest WPA swings in this game, they were Thames' homers (+.103) and Tex's GIDP with two on and one out in the 5th (-.092). Nothing crazy.
The Yankees are now just 5-7 against the Jays this season (2-4 in Toronto), and that absolutely has to improve down the stretch. They still have six more games to play against these guys. Thankfully the Rays got creamed by the Angels while the Red Sox split a doubleheader against the Mariners, so the Yanks remain tied with Tampa for the AL East crown while holding a five-and-a-half game lead on the Wild Card spot.
WPA Graph & Box Score
MLB.com has the box, FanGraphs the other stuff.
Up Next
For the first time since August 5th, the Yankees will enjoy a day off on Thursday. They'll then head to the Windy City to take on the White Sox for three games, starting with A.J. Burnett vs. Freddy Garcia.