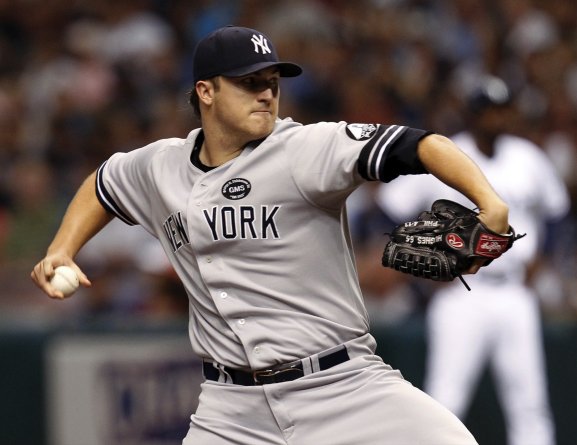 As the first inning of last night's game unfolded, one of the quirks of Phil Hughes' 2010 campaign came to the forefront. The Toronto Blue Jays' hitters were fouling off pitch after pitch from the Yanks' young right-hander, and the Jays' offense simply wore down Hughes.
When Phil's night ended rather abruptly with two outs in the fourth inning, he had thrown 102 pitches, and they weren't half bad. The Pitch f/x gun — seemingly a few miles an hour too fast in Toronto — had him averaging 93 and touching 95 last night while he added in 25 curve balls and just a pair of change-ups. Of the 102 pitches he threw, he induced a whopping 19 swing-and-misses, but Blue Jays' batters knocked out 25 foul balls. Out of the 66 strikes he threw, 39 percent of them were fouls, and Hughes was forced to make mistakes.
The real problem though came with two strikes. Despite the six strike outs, Hughes had problems putting the Blue Jays' hitters away. Of the 26 foul balls, 13 of them came with two strikes, and 11 of those 13 came in the first two innings of the game. Fred Lewis' at-bat to start the Toronto half of the first was indicative of Hughes' problems. Lewis fouled off the first pitch, took the second for a ball and then fouled off the third. Ahead 1-2, Hughes couldn't get Lewis, a Punch-and-Judy hitter who would, at worst, hit a double, out. Another ball, two fouls and a fourth ball — all fastballs — led to a leadoff walk, and Lewis would come around to score.
Similar sequences would repeat for the 3.2 innings of Hughes' start. The first-inning Vernon Wells at-bat went foul, foul, foul, ball, foul, ball, triple. Vernon Wells may not be the hitter he once was, but show him enough low-to-mid 90s fastballs and he'll tee off on it. The second-inning Aaron Hill at-bat, in which Hughes walked a guy with a .276 on-base percentage, went ball, foul, foul, foul, foul, ball, foul, ball, foul, foul, ball. It's a little bit of a problem.
For Hughes, this foul ball epidemic has been a season-long concern. Prior to his start last night, his 34 percent foul ball strikes percentage — the number of foul balls divided the number of total strikes — was tops in the Majors and seven points above league average. At the same time, his strikes looking percentage sits at 24 percent, and he's last out of all Major League starters to qualify for the ERA title.
The numbers are all well and good, but the trick lies in figuring out what they mean for Phil Hughes. First, it's clear that he has a live fastball. It's marked at 1.19 runs above average per 100 pitches. He can throw it for strikes, and he can blow it by hitters. But he also suffers at the bats of Major Leaguers who are particularly adept at making contact with fastballs. Where Hughes suffers and where the foul ball problem comes into play is with the deuce. His curve ball this year is rated at -1.75 runs below average per 100 pitches, and last night's game did nothing to solve that problem. He can't seem to throw the curve ball for strikes — hence the low called strike rate — and when it does land in the strike zone, it gets hit hard.
For the Yankees and for Hughes, 24 and rounding out his first season as a full-time big league starter, this strike problem is an envious one to have. In a nutshell, Phil Hughes is throwing too many strikes with his fastball, and he will have to develop better breaking pitches and a more reliable change-up. The need for an outpitch is a drum I've beaten many times this year, and last night's outing showed us why. The Yankees have seemingly been stymied of late by pitchers with average-to-great change-ups, and if Phil Hughes can find consistency with his curveball and a slow pitch to match, his ability to get the fastball into the strike zone will do wonders for his long-term success.