I posted the following at MLBTR on Thursday, but it's relevant to the Yankees so I'm going to syndicate it here for discussion purposes …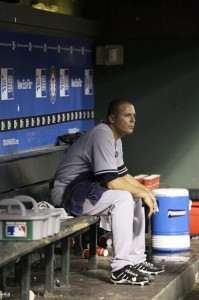 The Yankees haven't offered a single free agent, Type-A or B, arbitration in either of the last two years because they were afraid of getting stuck with an unwanted player at an unwanted price (had they accepted), but it stood to reason that they would make such an offer to righthander Javier Vazquez. As one of the game's few true workhorses with a long track record, he was all but a lock to decline arbitration after 2010 and seek a multi-year deal (perhaps his last) elsewhere. Now four months into the season, suddenly that scenario doesn't seem as likely.
Vazquez's season has been quite the roller coaster. The 34-year-old posted a 9.78 ERA in his first five starts, a 2.75 ERA in his next 11, and then a 6.43 ERA in his last five outings. The team has indicated that he's currently battling through a "dead arm" period, and last night Vazquez himself acknowledged that he's got a lot of miles on his arm and they may be catching up to him. Only Livan Hernandez has thrown more innings since the start of the 2000 season, and Javy's fastball velocity is down noticeably this season.
In the grand scheme of things, Vazquez's strikeout (7.0 K/9) and walk (3.5 BB/9) rates this season are among the worst of his career, and he's on pace to throw slightly more than 176 innings, which would be his lowest total since 1999. Still, he's well on his way to being a Type-A free agent after the season, but given his underwhelming performance and that aforementioned workload, an arbitration offer becomes a much riskier proposition.
With an $11.5MM salary this season, the Yankees would have to consider the possibility of Vazquez accepting arbitration and receiving a salary upwards of $13MM next season. We laugh at the idea of the Yanks having a budget, but that could put a serious dent in the payroll with the team expected to heavily pursue Cliff Lee.
When the Yankees re-acquired Vazquez from the Braves in the offseason, they apparently considered two draft picks part of the package since he comfortably projected to be a Type-A free agent. It's easy to understand why they'd think that following a season in which he placed fourth in the Cy Young voting, but as it tends to do, time may have changed things.
* * *
That's the dumbed down version of the situation awaiting the Yankees and Vazquez after the season, but you all know what's going on. Personally, I wouldn't offer him arbitration because there's so much risk involved right now. Javy's clearly not the guy he was White Sox any more, let along the guy he was with the Braves last year. The velocity's down, he's obviously very aware of it, and the potential of getting stuck with him for $13M+ next year (even on a one year deal) is too great for my liking.
I like draft picks as much as anyone, especially when you're talking about next year's epiphany draft, but I like not overpaying for declining players even more. If Vazquez can't find a multi-year deal on the open market, which is not out of the question given the current market and economy, he'll accept arbitration like Carl Pavano and Rafael Soriano did last year. I wouldn't risk it, but that's just me.