Every five days the Yankees have one of the top five pitchers in the league take the mound for them. It's not only a great feeling, but after the pitching drought of 2004 through 2008 it is a privileged feeling. Sabathia again worked his magic, holding the A's to just one hit in eight innings. That was easily enough for the Yankees to win this game and complete their second straight sweep of the A's.
Biggest Hits: Yard
Did the Yankees players really care about Dallas Braden's antics in April? Even if they did then I doubt they do now. We're months removed from the incident. Even if it had happened yesterday, it's still just a pitcher who embarrassed himself by acting like a clown over some nonsensical unwritten rule that many former players can't even recall. So whatever. Maybe the Yanks wanted to pound the kid more than usual. Maybe they just approached the game like they would any other game.
Braden did pitch well through five innings, allowing just one run on two hits and two walks while striking out four. The one run came in the second when Braden made a big mistake to Jorge Posada. Gameday lists it as a sinker at 83 mph, and it was right down the middle. Jorge blasted it to the biggest part of the park, but it went out anyway. That was the only run they'd actually need, but in the second inning you always want to tack on. The Yanks wold have to wait three more innings for that to happen.
Curtis Granderson was supposed to get the day off, but Nick Swisher went and injured his knee in the first. That set up Granderson to face a lefty. He grounded out on the first pitch in his first trip, but the second Braden-Granderson meeting got cut short. Braden appeared a little uncomfortable after delivering a pitch and had to leave the game. A's manager Bob Geren opted to go with another lefty, Jerry Blevins, as his replacement. He started off well, picking Derek Jeter off first. But his at-bat against Granderson got a bit drawn out.
On the seventh pitch Blevins dealt a fastball belt high inside, and Granderson crushed it to double the Yanks' lead. He came up again the next inning, this time with a runner on first and two outs. The righty Mike Wuertz got a called strike on the outside corner, but then came in with his third best pitch, a changeup. Wuertz, as you might recall, has a nasty slider that he normally throws more than half the time. He didn't go there this time, and Granderson punished a high, inside pitch for his second homer of the game. That again doubled the lead, which was in good hands with CC on the mound.
Biggest Pitch: CC stifles the threats
It's hard to believe given the game's result, but this game wasn't as well at hand in the early innings. The Yanks weren't putting many men on base, and when they were they weren't advancing them. They had the lead and their ace was on the mound, but even an ace gives up runs here and there. The A's had some opportunities, but Sabathia gave them nothing.
In the third the A's had their first chance to get on the board. Posada had an easy play to get Cliff Pennington on his way to first, but he made a terrible throw that got far enough away that Pennington could take second. Coco Crisp advanced him to third on an out, giving the A's a chance to tie the game without a hit. It was up to Rajai Davis. That should tell the entire story. He swung at the first pitch, a slider breaking towards him, and popped it up to the first base side. Kurt Suzuki then struck out, leaving Pennington standing on third.
The A's went quietly in the fourth, but then finally got a runner on base again in the fifth. Landon Powell walked with one out. It might not seem like a big deal, but considering Sabathia had allowed just two balls to reach the outfield at that point it was relatively significant. That brought Pennington back to the plate. He quickly fell behind 0-2 and then grounded a slider right to Eduardo Nunez. It went around the horn and ended the inning.
Miscellany
In case you missed it between the game and now, Swisher hurt his knee and is day to day.
The outfielders had a boring day. Sabathia allowed just three balls to reach them all day. Albaladejo gave them a reprieve in the ninth when he induced two fly outs, one to left and one to right. No Yankee center fielder touched the ball yesterday.
Granderson went 1 for 2 with a homer against lefties. That was his 31st hit in 137 PA against left-handed pitching this year. Last year he had 33 hits in 199 PA against LHP. Last year he hit .183/.245/.239. This year he's hitting .246/.285/.365. That's not great — not good, even — but an unquestionable improvement. Since the swing tweaks he's hitting .288/.366/.603.
You know who else has been on a little tear? Jorge Posada. He's 17 for his last 50 (.340) with eight walks (.450 OBP) and eight extra base hits (.680 SLG).
CC Sabathia certainly is making a Cy Young push. With yesterday's performance he lowered his ERA to 3.02 and his FIP to 3.54. He also crossed the 200-inning mark for the fourth consecutive season. The fewest number of innings he has pitched in a season is 180, when he was a 20-year-old rookie.
Graph and box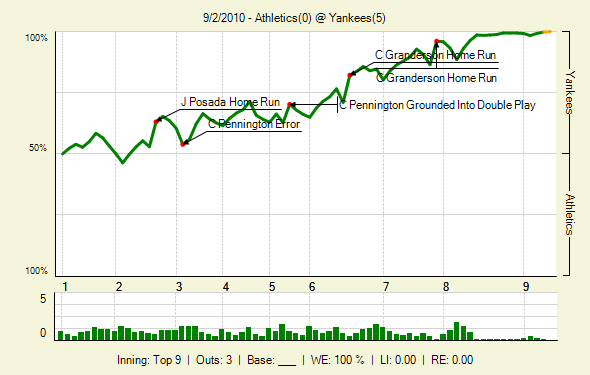 More at FanGraphs. The box score, too, looks pretty.
Up Next
Day Game 2 of 5 tomorrow afternoon as Brandon Morrow makes his final start of the 2010 season. Ivan Nova goes for the Yanks.