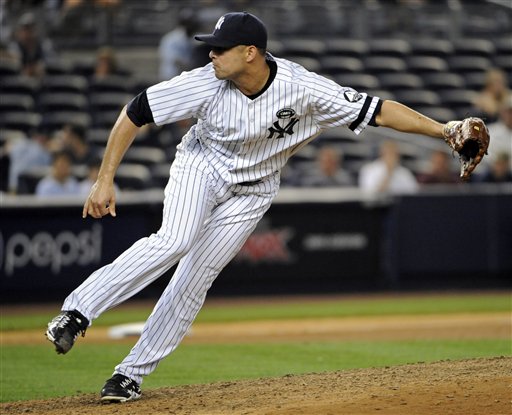 It's very easy to get greedy in baseball. A player gets a hit in his first at-bat? How about he makes it 2-for-2 next time up. The bullpen has thrown ten scoreless innings over the last three games? Why not make it 11. The Yankees have won seven straight games? Let's make it eight. It's much easier said than done, but the Yankees have a chance to win that eighth straight game this afternoon, which would be their longest winning streak since coming out of last season's All Star break with eight straight.
Making his long-awaited return to the starting rotation (depending on who you ask) is Javy Vazquez, who allowed four hits and struck out eight in nine innings of long relief since his last start. Hopefully some rumored mechanical tweaks have helped him rediscover his stuff and a fastball that seems to have disappeared without explanation. It is a classic trap game for Javy though, because if the Yanks lose he'll get the blame even though it's extremely difficult to win eight in a row in this league. Dustin Moseley, who forfeited his rotation spot to Vazquez, is available out of the bullpen.
The Yankees had a seven game winning streak halted by the Blue Jays on this exact date last season, but the good news is that Roy Halladay won't be around to one hit them this time around. Here's the starting nine, which originally featured Nick Swisher. He was a late scratch when his sore left knee stiffened up during pre-game warm ups.
Gardner, LF
Jeter, SS
Teixeira, 1B
Cano, 2B
Thames, RF – yikes, I assume Austin Kearns hand is still bothering him from yesterday's hit by pitch
Berkman, DH
Granderson, CF
Nunez, 3B
Cervelli, C
And on the bump, it's Javy Vazquez.
Yet another day game, though that's not terribly odd on a Saturday. It's those Friday afternoon games that get you. This one is scheduled to start a little after 1pm ET and can be seen on YES. Enjoy.