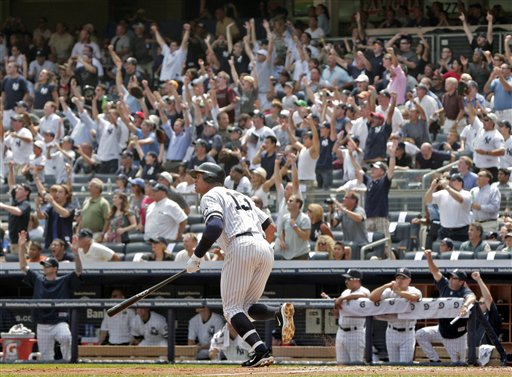 Alex Rodriguez has been a lot of things in his time with the Yankees. He's been a hero, a goat, unclutch, a stat-padder, a PED cheat, injured, the guy that's dating Madonna, the MVP (twice), and a World Champion, but above all, he's been a monster player on the field at all times. Even in 2010, statistically the worst full season of career, Alex has managed a .274/.345/.516 (.368 wOBA) batting line, which is a career year for most players. A 13th consecutive season of 30 or more homeruns seemed impossible just a week ago, but a recent binge that produced four homers in eight at-bats has him right on the doorstep.
Yes, there's still seven years and $184M left on his contract and chances are the back-end of that will be ugly, but right now Alex is giving the Yankees everything they've asked of him. His very presence in the batter's box changes the game and more often than not his swing does as well. Last night's seventh inning two-run, opposite field homer against the wind to give the Yanks their first lead in four games was his latest masterpiece. Back in May he singlehandedly put an end to a four loss in five day stretch with a late inning grand slam against the Twins. Last season's postseason heroics are the stuff of legend, and that's the kind of groove Alex is in right now.
Since returning from the disabled list and an injured calf, A-Rod has hit .333/.415/.710 with eight homers in 19 games, and if you go back to before the DL stint, he's hit 13 homers in his last 29 starts. That his pushed him past for the 4.0 fWAR threshold (it's 4.1, to be exact) yet again, the 15th consecutive season he's been no worse than a four-win player. Those 15 seasons represent almost the entirety of Alex's career, which started in earnest with his age-20 season in 1996. It still feels like he just got here, but he's played 232 more games as a Yankee than as a Mariner.
At one point the Yanks' record without A-Rod in the lineup this season was something like 13-0 or 13-1, but no one in their right mind thinks the team is seriously better off without him. That win-loss record is a fluke, a perfect example of the randomness of baseball. The drop off from Alex to his replacement, whether it be Ramiro Pena or Cody Ransom or Miguel Cairo, has always been enormous and noticeable on the field. After the embarrassment of the PED revelations and the hip injury last year, any semblance of ego or selfishness is gone, and A-Rod been 100% focused on the team since. New Yorkers love giving people shots at redemption, and he's done a rather marveous job of redeeming himself since last spring.
Robinson Cano has been the Yanks' best player this season, but A-Rod has been the team's greatest player since the moment he first put on the uniform in 2004. Even at 35-years-old, he's a force at the plate and far-and-away the guy every Yankee fan wants to see at the plate in a big spot. How times have changed. It seems foolish to laud a player when he figures to be around for so many more years, but Alex is no ordinary player. He's an all-time great Yankee, and deserves to be recognized as such.