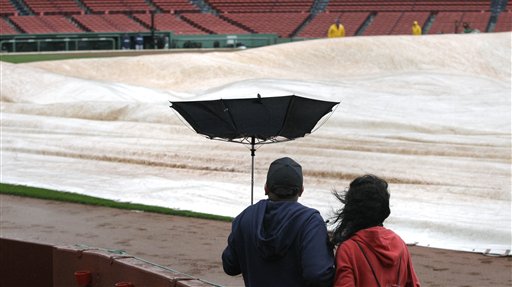 The Yankees are technically still alive in the AL East race, very much alive in fact, because both they and the Rays sport 94-65 records. Since Tampa won the season series and holds the tiebreaker, the Yanks need to win one more game than them this weekend, a tie is as good a a loss. Since the Rays are playing the frickin' Royals, that's not likely.
Either way, this weekend's series against the Red Sox is really nothing more than a tune-up before the playoffs. The pitchers have to get some work in, the batters make sure they stay sharp at the plate, and most importantly everyone needs to stay healthy. It's been raining all day in Boston, so the game is likely to be delayed a bit, but please, for the love of Mo, no one slip on the wet grass. Especially Andy.
Here's the lineup, which makes me smile…
Jeter, SS
Granderson, CF
Teixeira, 1B
A-Rod, 3B
Cano, 2B
Swisher, RF
Posada, C
Berkman, DH
Gardner, LF
And on the bump, it's Andy Pettitte.
Like I said, it's been raining all day and the game probably won't get underway until 8-8:30pm ET or so. Whenever it does, you'll be able to watch on YES My9 locally or MLB Network nationally. If you're looking for something to kill the time, the Mets are running out the clock on the Omar Minaya/Jerry Manuel era against the Nats, and there's also some preseason hockey going on (Rangers-Senators). Enjoy.