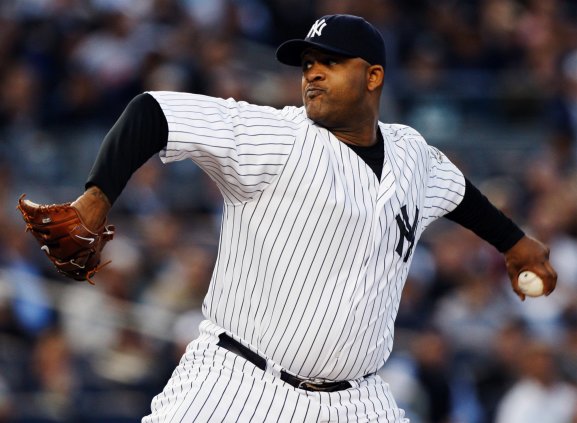 The Twins' lineup is not one the Yankees should underestimate. The team finished second in the majors in OBP, seventh in SLG, and fifth in wOBA. Yet, as Matt Klaassen of FanGraphs explained on Monday, looking at a team's overall season stats doesn't necessarily paint the whole picture. A good part of the Twins' numbers came from Justin Morneau, who was on an MVP-like tear before missing the second half with a concussion. He will not factor into the series. There are other factors, too, such as bench players. Some of them got playing time during the season so that starters could rest. They will not play much of a role in this series.
The best way to look at a team's offense, then, is to examine the strengths and weaknesses of its components. That will not only give us an idea of what they do as hitters, but will also help us see how they match up against the opposing pitcher. Tonight that will be CC Sabathia against the best the Twins have to offer.
In the bottom of the first Sabathia will face an immediate challenge. Denard Span might have had a poor 2010 season, but he's still a dangerous guy from the leadoff spot. He actually hits lefties a bit better than righties not only this year, but in his career. This year he has a .347 OBP in 243 PA against fellow lefties, but Sabathia has done a good job of keeping them off base, a .305 OBP to the 220 he's faced. Span has hit far better at home than he has on the road, which certainly bodes well for the Twins in the series. Sabathia has pitched slightly worse on the road, but the spacious Target Field should help him keep the ball in the park. Sabathia's ground ball tendencies also play to his favor against the leadoff man; Span has not gotten on base well against that type of pitcher.
While Span is the guy who can swipe a bag if he's on — he went 26 for 30 this season — Orlando Hudson is the Twin who can do the most damage on the base paths. Hi EQBRR of 2.2 leads the team even though he's not by any means a prolific base stealer. Thankfully for the Yankees, Hudson got on base this year at a lower rate than he has since 2005. He has hit a bit better at home, a .353 wOBA against a .324 mark on the road, but he hits lefties a bit worse than righties. He also hits ground ball pitchers better than fly ball ones, which could help him against Sabathia. Then again, the fastball and slider have hurt him this year, so perhaps Sabathia can keep him neutralized. He has hit changeups well, though, and Sabathia is apt to throw one to a righty.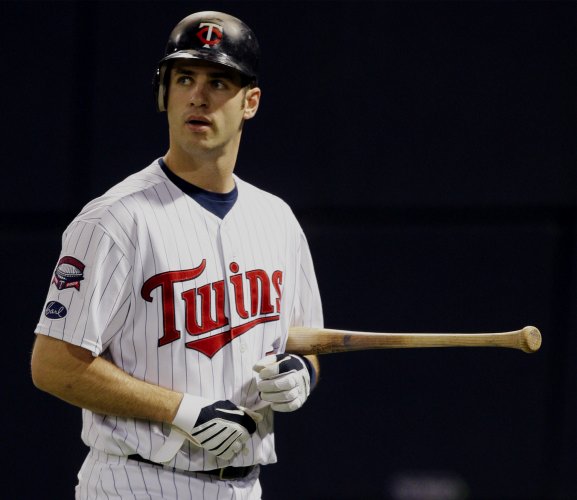 Even if Sabathia can keep Span and Hudson off base, he'll still have to deal with one of the league's more dangerous hitters. Joe Mauer's .373 wOBA is only disappointing when compared to his 2009 MVP season. He produced despite multiple injuries, the latest of which was a knee injury from which he just recovered. What hurts him in Game 1 is his lack of power both against lefties and at home. Just two of his nine home runs this season have come at home, and just one of nine has come off a left-handed pitcher. Still, he has hit .272 with a .342 OBP against lefties, so he can still produce. If the Yankees can keep him moving just one base at a time they'll be in good shape.
Where the Twins order used to feature Justin Morneau it will now feature Michael Cuddyer. That's a significant drop-off, especially considering Cuddyer's poor 2010 season. He immediately stepped up in July, following Morneau's injury, and produced a .376 wOBA on the month. But since then he's been much less productive. Yet he has still hit lefties well, a .376 wOBA, and has also produced at Target Field, a .340 wOBA. Both of these, plus his quality numbers against ground ball pitchers, are reasons he'll likely bat behind Mauer in Game 1, and likely Game 2 as well.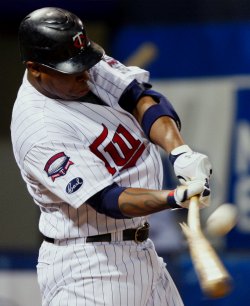 That leaves Delmon Young for the fifth spot. Can you believe he's just 24 years old? The time he spent in Tampa Bay feels like it was eons ago. Instead he's finally found his stride in Minnesota. He followed up a quality second half of 2009 with a very good 2010 season that included career highs in BA and ISO. As expected he produces better against lefties, a .390 wOBA, but he doesn't have much of a home/road split. He also hasn't hit ground ball pitchers that well this year. During the course of his career he has, but something must have changed this season.
In the final four spots Sabathia might have to worry most about a rookie. True, it's tough to write off Jim Thome, even if he battled back problems in September and he doesn't hit lefties as well as he does righties. Sabathia will have that advantage over him. Thome also has had trouble against the slider, a pitch that Sabathia will throw to a lefty in any count. He also hits relatively worse against power pitchers and ground ball pitchers, both of which describe Sabathia. Still, Thome has produced quality numbers at Target Field. Considering the alternatives, I'm certain he'll be in the starting lineup tonight.
Jason Kubel is another player who will likely bat higher in the order when a right-handed pitcher is on the mound. He actually battled wrist problems in September, but it appears he is back and healthy, having started every game since the 21st. He hits lefties particularly poorly, a .297 wOBA this year and .299 for his career. The slider has given him fits all year, so Sabathia has weapon with which he can retire Kubel. Jason Repko took most of the starts when Kubel was hurt, but there's little chance he starts in the series. His right-handedness might help, but he's actually been dominated by lefties this year and doesn't have good career numbers against them.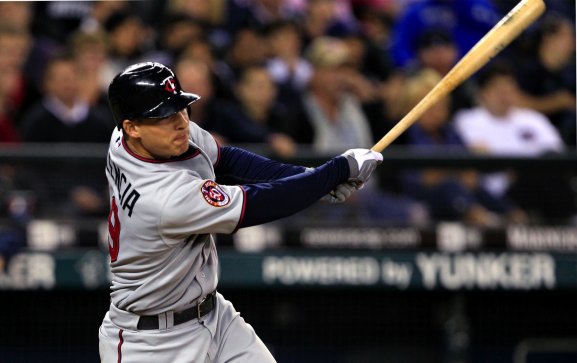 While he probably won't win the AL Rookie of the Year Award, Danny Valencia might be the most dangerous first-year player in the AL. In just 322 PA he produced 2.6 WAR. His .351 wOBA ranks sixth among AL third basemen with at least 300 PA, though that does put him third out of the four playoff third basemen. He's done an especially excellent job against lefties, a .424 wOBA in 111 PA, and he gets on base against ground ball pitchers more often than he does against fly ball pitchers. Valencia hasn't played against the Yankees yet, and I fear that he might become a thorn in their sides this series.
J.J. Hardy finishes things for the Twins. He was brought in with hopes that he'd return to his 2008 form, but that didn't happen. Instead he missed plenty of time to injury — nearly 50 days — and was largely ineffective when healthy. His .320 OBP is an improvement over 2009, but his power remains at the same, low level. He continues to play excellent defense, but his bat makes him the No. 9 hitter in this lineup.
In terms of hitters, the Twins don't have much on the bench. Drew Butera, Nick Punto, Alexi Casilla, Jason Repko, and Matt Tolbert likely won't play much of a role in the series beyond pinch running and playing defense. There doesn't seem to be any reason to use any of them otherwise. Maybe you'd see someone pinch-hit for a lefty if Girardi goes to Logan in the late innings, but I'm not sure that it gives the Twins much of an advantage. Their starting lefties against left-handed pitching inspires more confidence than a backup righty against a lefty.
The Twins' lineup has some potential issues against Sabathia, but it does appear as though they have a number of advantages. The guys at the top of their lineup haven't done a great job, but Mauer has gotten on base, if nothing else, against lefties and at home this season. He can set the table for the righties Cuddyer and Young, who seemingly back up well against Sabathia. The quality of hitters drops off after that, though, so the key will be working around those 3-4-5 hitters. That's probably true in every game, but particularly true here. Sabathia can certainly handle the hitters at the top and at the bottom. With a little careful planning and some luck he can definitely make it through this lineup and look like the ace he has been all season.