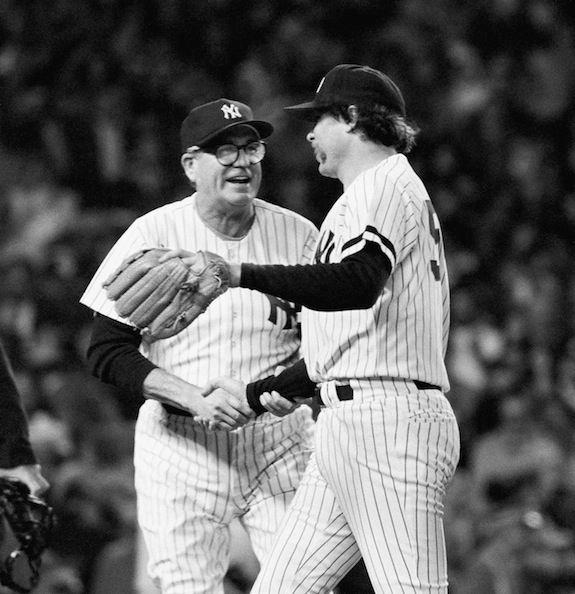 Clyde King, a long-time member of the Yankee organization who served as pitcher coach, manager and general manager during his tenure with the team, died yesterday at a hospital in North Carolina. He was 86 years old.
"Clyde was a loyal and dedicated friend and advisor to my father, our family and the Yankees organization," Yankees Managing General Partner Hal Steinbrenner said in a statement. "Although his baseball achievements were impressive and deserving, he also lived a rich and fulfilling life away from the game. Clyde was a man of great faith who cared deeply about his friends and family, and he served as a role model to so many of us who had the great opportunity to spend time with him. We mourn Clyde's passing with his wonderful wife, Norma, and the entire King family."
A good friend of George Steinbrenner's, King joined the Yankees in 1976 and worked for the organization for 34 years. He started out in the scouting department and served as the pitching coach in 1978, from 1981-1982 and in 1988. He even managed the club over the final 62 games of the 1982 season, replacing Gene Michael over the summer. The club went 29-33 on his watch. As a GM from 1984-1986, the Yankees went 274-211 but failed to make the playoffs. He resigned in October 1986, one month before the Yanks sent Doug Drabek to the Pirates for Pat Clements, Cecilio Guante and Rick Rhoden.
Following his decision to step down as the GM, King served as a scout and baseball advisory to the Boss. He worked in that role from 1989 up through the 2010 season and was often spotted in the owner's suite with George Steinbrenner. As a player, King pitched for the Brooklyn Dodgers and Cincinnati Reds. he went 32-25 over 200 games but walked more batters than he struck out in 496 innings.
King is survived by his wife of 64 years, Norma, their three daughters, eight grandchildren and one great-grandchild, and our thoughts go out to his family.