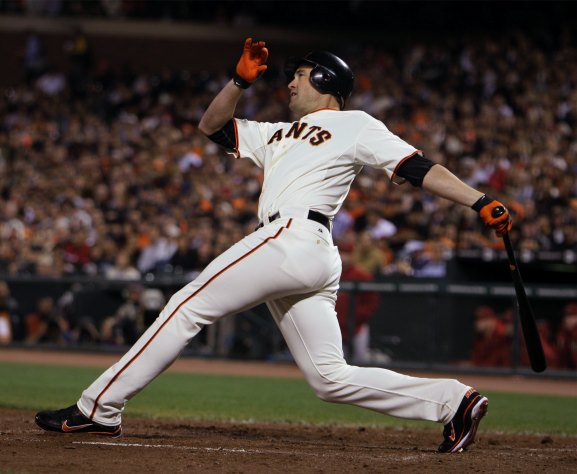 As Mike wrote earlier, Marcus Thames was one of the best finds of the 2010 off-season. The Tigers non-tendered him after a disappointing season in which he saw his greatest asset, his power, drop off considerably. For two months Thames waited for the right call, and he finally got it in February. The Yankees signed him to a minor league deal, though as we learned it might as well have been a major league one. Despite a poor spring the Yankees added Thames to the active roster. It was a move that would pay off better than anyone expected.
Part of Thames's allure was that he came so cheap. The Yankees paid him a base salary of just under a million for production that, according to FanGraphs WAR, amounted to about $2.3 million. Even with the performance bonuses Thames couldn't have reached that level. It was a great deal for a bench player, and it's something that the Yankees should seek to repeat this winter. Unfortunately, Thames himself probably won't present the same value. The Yankees could still bring him back on a reasonable one-year deal, but I'm sure they won't match a multi-million dollar or multi-year contract.
Unless the Yankees plan to pursue a righty outfielder and trade Brett Gardner, they'll again need a right-handed bat for the bench in 2011. Given the current payroll structure and the expected additions this off-season, they'll probably seek a bargain in the same mold as Thames: a veteran with historically decent numbers who is for some reason not gaining much attention.* The two obvious spots to look here are the free agent pool and the non-tender candidates.
*And you can forget Elijah Dukes.
It's too bad that Pat Burrell's resurgence in San Francisco will land him a solid major league deal, because he seems to fit the Thames mold. He had a poor season-plus in Tampa Bay before they released him, but found his groove once he started playing the field again in San Fran. Could he do it as a bench player? I'm not sure. But he'd be worth the gamble. But given the current outlook, he'll probably land a gig with an NL team, perhaps with those World Champion Giants.
It might be hard to remember, but Bill Hall was once a promising player. In 2005 and 2006 he produced wOBAs of .360 and .369 while playing good defense all over the infield. He produced a combined 8.7 WAR in those two seasons. But in 2007, with the arrival of top prospect Ryan Braun, the Brewers moved Hall to center field, a move he vocally opposed. He played solid D out there, but his offense tumbled. His wOBA for the next three seasons: .317, .297, .261. The Brewers eventually traded him to the Mariners, who traded him to the Red Sox last winter. Hall did improve, a .342 wOBA while playing every position except first base and catcher — he even pitched an inning. His versatility does make him an attractive target.
Andrew Jones has recovered his power over the past few years, but chances are he's in line for a bigger gig. But he has essentially played part-time in the past two years, either because of injury or slumping, so perhaps he'll take a bench role on a team like the Yankees, knowing that he'll get more time if Brett Gardner slumps or Curtis Granderson continues to hit lefties poorly.
Two familiar faces could also be options for the Yanks: Austin Kearns and Xavier Nady. I doubt the Yanks would bring back Kerans after his case of the whiffs in September, but there's still a chance. Then again, he hasn't posted an ISO north of .200 since 2006. Nady would be the true bounce-back candidate, since he had quite a horrible year in Chicago. He might even have to settle for a minor league contract, which would be even better for the Yanks.
Among the non-tender candidates there doesn't appear to be many attractive names. In fact, the best fit among them would be Jeff Francoeur. The guy can certainly hit lefties and play defense, so he wouldn't be the worst signing. I just don't think many fans would enjoy the idea of Frenchy on the Yankees, even if he sat on the bench most of the time.
After that there are possible trades, so the Yankees won't lack options to fill the bench gap. There are plenty of players available; so many, in fact, that I'm sure the Yanks can find one on a reasonable deal. After doling out two or three big contracts, they'll need that kind of value from the bench.