This post seemed inevitable, and sure enough the emails started trickling in not long after we learned that the Red Sox will decline to tender Hideki Okajima a contract before tonight's deadline, making Daisuke Matsuzaka's buddy* a free agent. With the Yankees in the market for a second lefty, wondering if Okajima was worth targeting was only natural. I'm here to tell you that hell no, the Yanks should avoid the guy.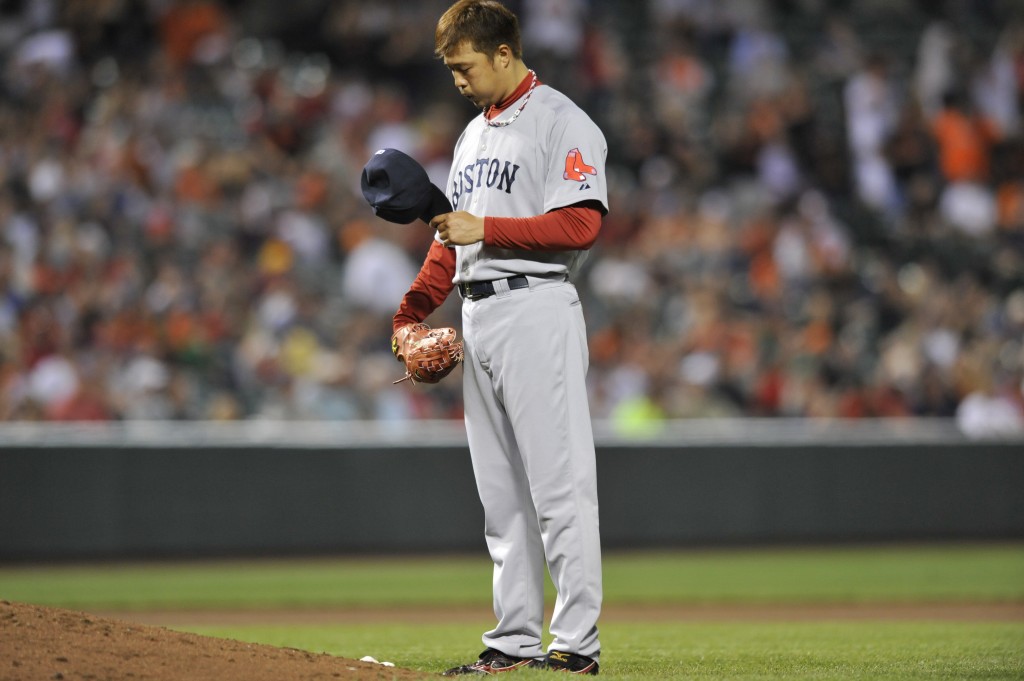 Okajima burst onto the scene in 2007 by allowing a solo homerun to the first batter he ever faced in the big leagues (John Buck) and then not allowing another run until late-May, 19 pitching appearances later. Okajima was an All Star that season and finished the year with a 2.22 ERA (3.33 FIP) and a rather studly 1.5 fWAR  in 69 innings of setup work, and of course a World Series ring. Even more impressive is that he was effective against both lefties (.302 wOBA against) and righties (.222) thanks to a split-change and funky don't-look-at-the-target delivery.
Although he wasn't as dominant the next year, Okajima did pitch to a 2.61 ERA (3.62 FIP) and 1.1 fWAR in 62 innings even though right-handers started to figure him out (.356 wOBA against compared to .259 vs. LHB). Things started to fall apart in 2009 (3.39 ERA, 4.20 FIP, .371 wOBA vs. RHB, .225 wOBA vs. LHB) and then the wheels came completely off in 2010 (4.50 ERA, 4.64 FIP, .381 wOBA vs. RHB, .314 wOBA vs. LHB). The league, it appears, has finally caught up to him after four seasons in the States.
There's a lot not to like about Okajima, starting with his stuff. His fastball, never great to begin with, averaged a career low 86.3 mph last season and he's using it more often than ever, basically two out of every three pitches. As funky as his delivery is, Okajima's not particularly good at hiding the ball since he comes right over the top (right). If batters can see a mid-80's fastball out of a pitcher's hand, they'll probably hit it not matter which way the guy's head is going, and unsurprisingly Okajima's heater was worth 2.8 runs below average in 2010, easily the worst mark of his career. His split finger has lost three inches of vertical break over the last two years, and it's gone from two runs above average to 4.4 below. The curveball's more than fine (1.52 runs above average in 2010), but that's all he's working with these days.
Another issue with Okajima is health after he missed close to two months with a back stiffness last summer, and then there's the homeruns (one for every 7.2 IP over the last two years). And sheesh, he's not even that great against lefties anymore. Like I said earlier, they got him for a .314 wOBA in 2010, below (in a bad way) the .304 left-on-left league average. Okajima's not outrageously expensive but $2.75M for a LOOGY (his 2010 salary) is less than ideal, and I assume he'll want a similar salary next year. Also, just think about what's going on here, a team in the process of overhauling a weak bullpen is cutting him loose because he was part of the problem, not the solution. Boston can surely afford him, this is all about performance.
I suspect that if Okajima had performed exactly the same way over the last four years for a team like the Padres or Royals instead of the Red Sox, no one would think twice about him. That's fine, there's nothing wrong with exploring possibilities, but let's just keep moving along, nothing to see here.
* Kay'd