Aside from the obvious (Cliff Lee, Derek Jeter, and Mariano Rivera), we know what the Yankees are looking for this offseason (lefty reliever, bench help) without knowing any real specific targets. That's fine, I'm sure even the Yanks haven't 100% decided on who to pursue yet. A new batch of free agents will hit the market tomorrow night, the deadline for teams to offer contracts or arbitration to players with less than six years of service time. If a player isn't offered a contract at this time, he simply becomes a free agent. The Padres have already let it be known that they're not going to tender Scott Hairston a contract simply because they either a) can't afford to, or b) don't want to pay him upwards of $3MM or more in his third time through arbitration. Luckily for the Yanks, he's just what they need.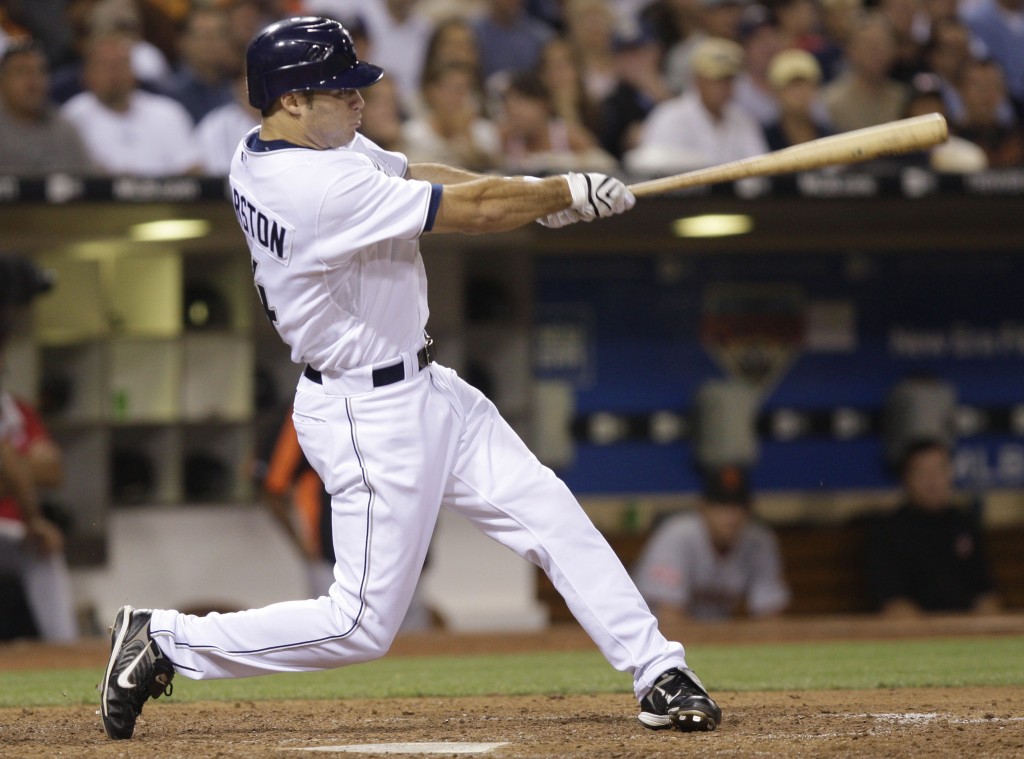 A legion of Yankee fans are enamored with Jerry Hairston because he helped the team to their 2009 World Championship, but his younger brother is no slouch himself. Once one of the game's top prospects with the Diamondbacks, Scott was ranked the 26th best prospect in the game prior to 2003 by Baseball America, and then the 34th best the next season. Back then he was a middle infielder (like his brother) and a career .322/.402/.571 hitter in the minors (with more walks that strikeouts!), so there were certainly plenty of reasons to be excited.
Unfortunately, things didn't work out for Hairston in Arizona; he posted a .303 wOBA in just about 600 plate appearances across four seasons, shifting from second base to the outfield. They dealt him to the Padres a few days before the 2007 trade deadline for minor league reliever Leo Rosales, and Hairston instantly became a hit in San Diego. His first three hits with the Padres were homeruns, one of which was a walk-off job against the Giants. He hit another walk-off homer a few weeks later, and overall Hairston put up a .406 wOBA and 1.0 fWAR in just 95 plate appearances after the trade.
Hairston clubbed 17 homers and put together an above average .339 wOBA in 2008 (2.2 fWAR), and he was again killing the ball for San Diego in 2009 (.390 wOBA, 2.2 fWAR again) before being dealt to the Athletics at midseason, when the Pads were out of it and looking for young players. He didn't do much with the A's, just a .279 wOBA in 248 plate appearances before being traded back to San Diego for Kevin Kouzmanoff (with a few others thrown in) after the season. Hairston was disappointing for the Pads in 2010, putting up a measly .290 wOBA in 336 plate appearances (0.4 fWAR), in part due to a hamstring strain.
The Yankees are presumably in the market for a lefty masher, someone that can fill the Marcus Thames role, and Hairston fits beautifully. He demolishes southpaws, with a .359 wOBA against them over the last three seasons. From 2008 through 2009, he tagged them for an even better .385 wOBA. He's not much against righties (.298 wOBA during that time), but hey, Thames wasn't supposed to be either. Hairston's power is very real, with an ISO close to .200 (.188 to be exact) during his career (.249 ISO in the minors). If we only look at the seasons in which he's been a full-time player, it's a .192 ISO. Although Hairston hasn't maintained his mammoth minor league walk rate in the bigs, he's certainly not a hacker.
A lot of Hairston's struggles in 2010 can be attributed to his abnormally low batting average on balls in play, which came in at just .236, the seventh lowest among batters with at least 300 plate appearances. His batted ball profile didn't change much at all, with line drive, ground ball, and fly ball rates right in line with his career totals. There's nothing that suggests an underlying performance issue. Sometimes things just don't break right. The more serious problem is that Hairston's been on the disabled list exactly once in every season since 2005, but never for an extended period of time (39 days maximum). He's had strains in his shoulder, oblique, biceps (twice), and hamstring, so durability is a very real concern. I guess you have to take the bad with the good, and hope some improved conditioning leads to fewer aches and pains.
Defensively, Hairston is capable of manning all three outfield spots and manning them well, though the vast majority of his experience has come in left and in center. With UZR/150's in the sevens in each spot (+7.2 in LF, +7.7 in CF career), he's not just adequate defensively, he's an asset. I'm sure that if push came to shove, he could move back to infield in an emergency as well. Unlike Thames, who was simply awful in the field, Hairston can provide value on both sides of the ball, which is ideal for a bench player on a team with only three non-backup catcher reserve spots to play with.
Who knows, maybe the Yankees can pull a package deal and sign both Scott and Jerry Jr. to come off their bench next season; much was made about how happy the two were finally playing together last season. I wouldn't count on it, Jerry's going to get offered a better opportunity elsewhere and he'd be foolish not to take. Scott absolutely fits what the Yanks are looking for at the moment though, and it shouldn't take much money to sign him. The $900,000 they gave Thames last season probably works, maybe up it a bit since he's a more complete player. Either way, a fantastic bench/platoon player is about to hit the market tomorrow, and I sure hope the Yanks pursue him.