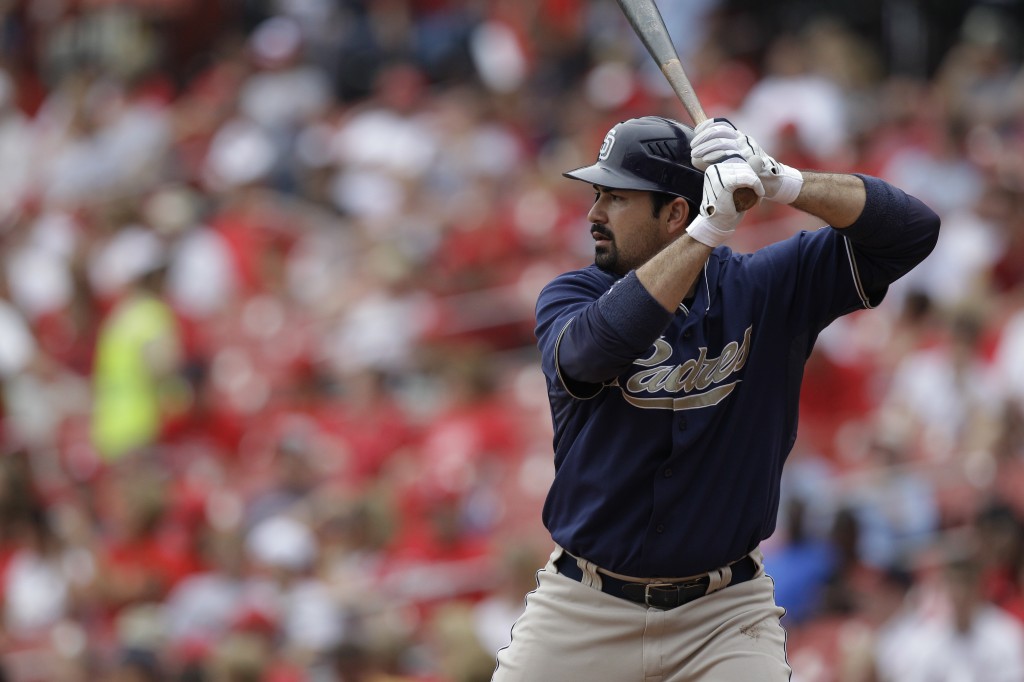 As I'm sure you are well aware, the Red Sox and Padres have agreed in principle to a trade that would sent All Star first baseman Adrian Gonzalez to Boston in exchange for a package of four prospects. A contract extension is holding everything up, but it's only the matter of time before Gonzalez caves and accepts the millions of dollars Boston is throwing at his feet. The deal will undeniably make the Sox a better team not just in 2011, but for the next half-decade as well.
Still just 28, Gonzalez is a .285/.387/.523 hitter with 107 homeruns over the last three years, but outside of Petco Park he's hit .310/.390/.599 with 70 homers in just 282 games (40.2 per 162 games) during that time. Ready to be blown away? Here's Gonzalez's 2010 spray chart from Petco overlaid onto Fenway…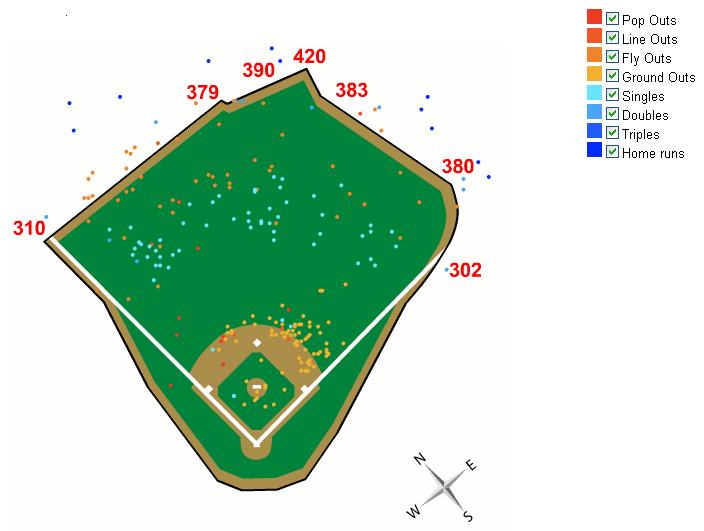 Yeah, that's nuts. I count about 18 non-homers that would have theoretically cleared the fence in his new park, but of course we can't assume that. It's just fun to look at, more than anything. Even if the Petco-to-Fenway transition adds just five homers to Gonzalez's output, that's a ton. About the only negative thing you'll fine in his game is that he's merely very good against southpaws instead of great (.258/.347/.440 over the last three years). Ultimately, as Marc at Red Sox Beacon puts it, the Sox just landed themselves a Joey Votto. Boston improved its team immensely, but then again we all knew they would this winter.
I fully expected to end up thinking the Padres didn't receive enough, but once I saw the names involved I thought it was actually a pretty fair trade. The Sox gave up their first, third, and sixth best prospects (according to Baseball America), two of which are top 100 guys. A corresponding Yankee package would have been something like Manny Banuelos, a better version of Brandon Laird, and Slade Heathcott. Plus there's the player to be named later, who may not be significant, but is still someone that holds some kind of value. All that for just one year of Gonzalez and the right to talk to him about a contract.
With Victor Martinez heading to Detroit, the Sox have already lost one of their best hitters this offseason. The Gonzalez pick-up also signals the end of the Adrian Beltre era as well, and he was brilliant for them in 2010. Kevin Youkilis will slide over to third base and most assume he'll be fine there, though he hasn't started more than 55 games at the position since 2003. When you add Jacoby Ellsbury, J.D. Drew, and David Ortiz to Gonzalez, the lineup suddenly becomes very lefty heavy, which can be a problem when you've got CC Sabathia, David Price, Brian Matusz, Ricky Romero, and Brett Cecil in the division. Nevermind mind the possibilities of Andy Pettitte and/or Cliff Lee.
Given how Gonzalez's current contract is structured, with just a $6.2M salary in 2010, Boston can still go out and sign a Jayson Werth or a Carl Crawford. Werth in particular would make sense, given the left-handed issue I just mentioned. Once the big money in Adrian's presumed contract kicks in after next season, Boston will have shed about $50M off its payroll in the form of Ortiz, Drew, Mike Cameron, and Jonathan Papelbon. Factor in healthy returns from Josh Beckett and Dustin Pedroia, and the Red Sox are getting monumentally better this winter.
In the end, there's nothing the Yankees can do but sit back and watch. Their offseason plans don't change at all; they still need two starters (one being Pettitte or his replacement) and a few spare parts here or there, but no major makeover. They don't need to make a move to answer Boston's pick-up of Gonzalez because it's not a game of one-upmanship. The Yankee lineup is good enough to win as it is. There's no getting around it though, life in the AL East just got a little tougher, but that's what we all expected to happen anyway.