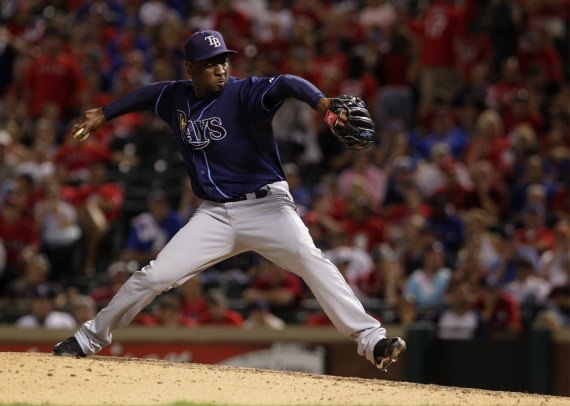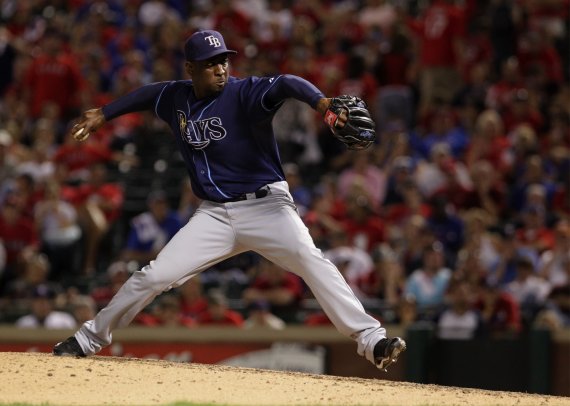 Regardless of the Yankees' stated disinterest, Rafael Soriano remains one of the most discussed players among Yankees fans and media. Without a viable starter on the free agent market or clearly available via trade, the Yankees have little recourse. They can, however, add a shutdown setup man and heir apparent to Mariano Rivera with Soriano. But as we've noted throughout the winter, there are factors that make acquiring Soriano a shaky proposition.
Today at New York Baseball Digest, Mike Silva tackles one of those issues: draft pick compensation. The Yankees would lose the 31st pick in the draft if they signed Soriano, and in a deep draft like this such a loss can be costly. Mike and I have butte heads before, but I think he lays out a solid argument here.
Back in March of '10, Moshe Mandel of the Yankee U recapped a John Sickels conversation with Yankees VP of Baseball Operations Mark Newman. In that column, Newman pointed out how they have relied on the international market, as well as risking lower draft picks on players that are signability issues, because the lower first round picks don't have the highest ceilings. Knowing that, I don't think the lack of a first round pick eliminates the Yankees from having a productive draft in 2011.
The Yankees will still have a top-50 pick, thanks to Javy Vazquez declining arbitration, so they could still get a decent front-end pick and then use their financial might in the later rounds. If the Yankees can get a lights-out setup guy and a potential future closer, might that be worth sacrificing one pick — a pick that Newman indicates that the Yankees don't value as greatly as other teams?
My problem with signing Soriano, though, doesn't so much center on the draft pick issue. When signing a premium free agent, the first round pick is a known tax. It might sway my opinion when it's a mid-level player, but Soriano is clearly an elite relief pitcher who has succeeded while closing games for the AL East champs. That certainly has value to the Yankees. But the Yankees aren't paying for the Soriano who terrorized opponents in 2010. They'd be paying for the Soriano from 2011 through 2014. That changes the equation.
Since the start of the 2006-2007 off-season, 10 fairly high-profile relievers have signed contracts of three years or more. The list of success stories is pretty thin.
Justin Speier: After superb 2005 and 2006 seasons with the Blue Jays, Speier got four years from the Angels in November of 2006. He had a quality first year, a 2.88 ERA, but after that he completely fell apart: 5.03 ERA in 2008 and 5.18 in 2009. He didn't even play the final year of his contract.
Danys Baez: Despite a horrible 2006 season, Baez still managed a three-year contract from the Orioles for 2007 through 2009. Unsurprisingly, he was horrible in 2007. Then he needed surgery and missed 2008 before a decent, but still not very good, come back in 2009.
Chad Bradford: He wasn't a closer, but he was still a useful reliever for many, many years. In 2005 he had a 3.86 ERA, and in 2006, with the Mets, he dropped that to 2.90. That led to a three-year contract. While he was decent in the first year and good in the second, he was pretty terrible in 2009.
Scott Schoeneweis: I'm not sure how Schoeneweis got three years, but he was terrible enough that I'm comfortable with ignoring him here.
Mariano Rivera: Needs no explanation.
Francisco Cordero: He turned a lights out 2007 into a four-year contract with the Reds. He's been decent, and in 2009 he was excellent, but he hasn't exactly been great enough to justify the contract. He very well might be the best comparable for Soriano.
David Riske: At least Speier had one good year in Anaheim. Riske was flat horrible his entire time with the Brewers.
Damaso Marte: We're all too familiar with this one.
Francisco Rodriguez: He's actually been quite good, off-field issues aside. Maybe he could act as a comparable for Soriano as well, but he definitely had more of a track record when he hit free agency.
Brandon Lyon: He had a good first year in Houston, though we need a bit more data before we can consider it a success.
The point, made concretely, is that even previously good relievers can collapse at any time. Soriano could certainly help the Yankees if he progresses in the same way as Francisco Cordero, but at that point is he worth the salary and the draft pick? This is where I'd say I lean towards the leave him alone camp. The signing would be risky enough without losing the draft pick. Adding in that factor has me opposing a Soriano acquisition.
Silva's counterpoint: why not a one-year deal? That would certainly reduce risk. But if Soriano gets hurt, or has terrible luck, as we've seen with a number of relievers previously, the loss of the draft pick hurts that much. I'm not saying that's probable, but it's certainly within the realm of possibility. I'd actually feel a bit better about losing the draft pick over a multiyear deal than a one-year deal, since the Yanks can still get some value out of Soriano in later years of the contract if he flops in the first.
Who's going to give Soriano multiple years? I'm not sure. But Boras has his way of working magic. After all, he got a team with an incumbent third baseman to sign a third baseman to a six-year, $96 million deal. I don't think Soriano's settling for a one-year deal this winter. He'll get his multi-year deal. I'd just rather that not come from the Yankees.