Dave asks: Now that Pujols has given the Cards an ultimatum regarding his contract, can we start imagining him with NYY? Who's a better 1B – he or Teix? Didn't he used to play other positions? Couldn't he handle one of the outfield corners, or perhaps share 3B/DH with A-Rod (keeping both fresher)?
We've already gotten a swarm of emails about the possibility of Albert Pujols joining the Yankees in the next year or so, and those emails don't figure to stop anytime soon. This post is going to serve as our default answer to that question barring any significant changes to the situation, so I suggest bookmarking it.
The idea of Pujols in pinstripes is drool-worthy. He's the best player in the game and the most devastating hitter on the planet, and he'll hit the free agent market at essentially age 32 (his birthday was a week or two ago, so at the start of the 2012 season he'll be 32). He should still have a few seasons of super-elite production ahead of him, and even once he starts to slip, Pujols will still be one of the game's best. But we've seen this movie before.
Three seasons ago a 32-year-old Alex Rodriguez hit the free agent market after opting out of his contract. He was coming off an MVP-winning 2007 season, when he hit 54 homers with a .449 wOBA in 158 games. He owned a .416 wOBA and two MVP awards in his first four years as a Yankee, playing in no fewer than 154 games in each season. That production and his relatively young age led to the mammoth ten-year, $275M contract.
That contract is now the mother of all albatrosses. A-Rod hasn't played in more than 138 games in any of the three seasons since signing it, and his production, while still fantastic, has slipped down to a .393 wOBA since then, including .363 in 2010. He needed hip surgery barely 18 months after signing the contract, an issue severe enough that it will need to be monitored for at least the next few seasons, if not the rest of his career. With seven-years and no less than $184M left on the contract, the Yankees need to hope that their third baseman avoids injury and remains productive to at least break even on the deal. Getting surplus value is pretty much out of the question now.
This is nothing against Alex, he's a great player, it just goes to show the risk associated with giving gigantic contracts to 30-somethings. He had played in 154+ games every year from 2001 through 2006, but he's visited this disabled list in each of the three seasons since, and that doesn't include all the added rest needed for his hip. It just goes to show that no matter how durable a guy is, things can change quickly once they start to get up there in age.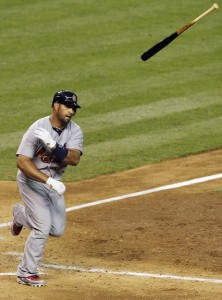 Pujols is no different, and in fact he's been battling an elbow issue for the last few years. He finally had surgery to correct it during the 2009-2010 offseason, but it still gave him trouble this past September. He might not get an A-Rod deal, but at the very least he'll get Mark Teixeira's contract, and probably more since he's just straight up better than Tex. Giving out another humongous contract to a guy in his 30's is pretty much the last thing the Yanks need right now, especially if he's not a pitcher.
And that's the other thing too, what happens with Tex if you sign Pujols? You can't trade him because a) he's got a full no-trade clause, b) no other team is taking on that contract, and c) eating like, half the money left on it just for the sake of moving him is a terrible idea and a massive waste of resources. I guess you could use one guy at first and DH the other, but you're then wasting one guy's defensive skills, which the team is paying for and are excellent. You can't move Tex back to third (moving A-Rod to DH) because he hasn't played the position since 2003 and has a grand total of 99.2 big league innings there. Pujols has the elbow problems and has been a full-time first baseman since 2004, so moving him isn't much of an option either.
I'd love love love to see Pujols in the middle of the Yankee lineup, with Robbie Cano batting ahead of him and A-Rod and Tex behind him, but it's the definition of overkill. You're going to compromise roster flexibility well into the future, tying up about $90M annually in THREE players (all corner infielders in their 30's, too), and all for what amounts to a DH upgrade. I fully expect the Cardinals to re-sign Pujols at some point this calendar year, but even so I can't imagine the Yankees getting involved. I'm certain his agent will bring them up just to drive up the price, but there's just no fit. The Yankees can afford it, but that's doesn't mean it's the wisest idea.