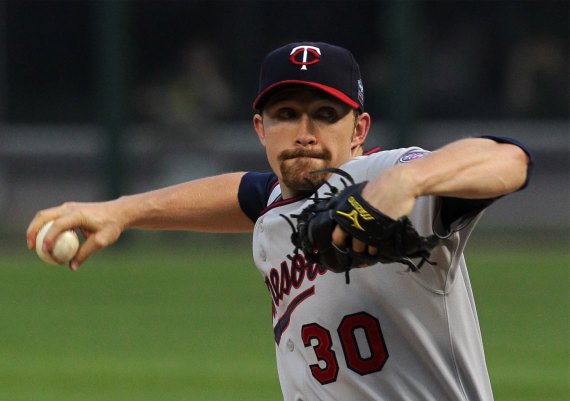 Reggie C. writes: What about the possibility of acquiring Scott Baker from the Twins? He's a potential buy-low candidate. Baker probably isn't as good as his '09 stats, but he can't be as bad as '10? If Pettitte retires, is Baker an option?
To this point in the off-season I've thought about a lot of potential fills for the back end of the Yankees rotation, but until Reggie's email I hadn't considered Scott Baker. Let's take a look at his case.
In 2008 Baker was the Twins' best pitcher, but since then he's declined a bit. He went from a 3.45 ERA and 3.79 FIP to 4.37 and 4.08, and then 4.49 and 3.96 in 2010. Last year was a particularly rough one. After getting lit up for six runs in 4.2 innings against Cleveland — against Cleveland in mid-July his ERA stood at 5.15. After a rough first half, that was not the start he needed to the second half. Then, after he recovered and posted a 3.28 ERA over his next eight starts, he sat out almost three weeks with right elbow soreness. He returned to pitch well in his final two starts, but was relegated to the bullpen in the ALDS.
Baker's problem during the past two seasons has been home runs. During his 2007 and 2008 campaigns his homer rate hovered around one per nine, which, while not great, is acceptable — especially for a fly ball pitcher such as Baker. In the last two years that has been up around 1.2 per nine. That becomes a bit more troubling when we factor in Baker's home park last season. Even with the comfy confines of Target Field he still gave up more than his share of homers. Even worse, lefties hit more fly balls off him than righties, which bodes poorly for his chances at Yankee Stadium.
Still, just because Baker hasn't been lights out in the past two seasons doesn't mean he hasn't been serviceable. He pitched 200 innings in 2009 and 170.1 in 2010, and in both seasons his ERA outpaced his FIP. This isn't to say he's due for a regression, but when we examine other factors it appears more likely. For instance, the Twins had a 69.3 percent defensive efficiency last season, 16th in the majors and 9th in the AL, while the Yankees converted 71.1 percent of balls in play into outs, second in the majors and the AL. Looking just at the outfield, Minnesota had a -3.1 UZR while the Yankees had 7.6. In other words, had Baker pitched for the Yankees in 2010 I suspect his BABIP would have been a tick lower than .329.
My favorite aspect of Scott Baker's game is his low walk rate. Over the last three seasons Baker's walk rate is just 2.21 per nine, which puts him behind just 14 other pitchers (three of whom are currently his teammates). The low walk rate certainly helps mitigate the home run issue, since it means fewer runners on base. Baker's WHIP did jump this year, but that was probably due to the BABIP spike. Again, I suspect that the Yankees' superb outfield defense would have made some degree of difference there.
Would the Twins be willing to deal Baker? They do have Francisco Liriano, Carl Pavano, Brian Duensing, and Kevin Slowey for the rotation, with a few other options, including Nick Blackburn, able to fill the fifth spot. Baker is signed to a relatively team friendly contract; he'll earn $5 million this season and $6.5 million in 2010, followed by a $9.25 million team option in 2013. There have been indications that the Twins would be willing to trade Kevin Slowey if they re-signed Pavano (and we'll examine Slowey's case next week), so I wonder if they'd dish Baker for a package of prospects. After all, the team payroll is over $100 million for the first time ever, and they might want to shave a few dollars here and there.
I'm not sure what I would give up for Baker, but I do think he's a fit for the Yankees' rotation. The fly ball tendencies are a bit scary. He might let a few more baseballs leave the park at Yankee Stadium, but he does have a low walk rate and a good outfield defense to help mitigate those concerns. Unfortunately, considering Baker's track record and his contract, I fear that the asking price will be one of the Bs. The Yanks will need those guys if they want to avoid having rotation issues like this in the future.