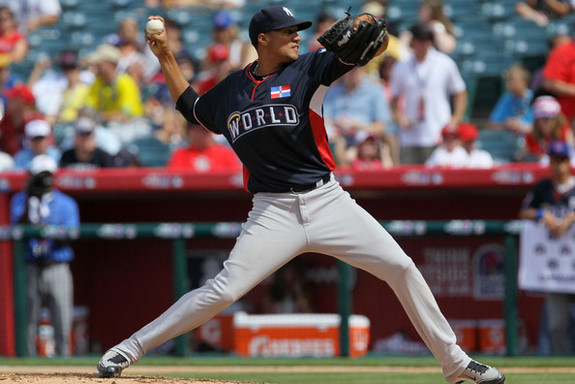 Hector Noesi | RHP
Background
The Yankees signed Noesi out of his hometown of Esperanza in the Dominican Republic when he was a 17-year-old way back in 2004. He was signed by then scout and the team's current supervisor of Dominican scouting Victor Mata, who has also signed players like Gary Sanchez, Ivan Nova, Jose Ramirez, Eduardo Nunez, and the Melkys (Cabrera and Mesa) through the years. I can't find any info on Noesi's signing bonus, so we're out of luck there.
Pro Career
Noesi didn't start his professional career in the United States until the 2006 season, when he threw just seven impressive innings (11 K, 1 BB, 0.49 FIP) with the team's rookie level Gulf Coast League affiliate. A 50-game suspension for violating the Minor League Drug Prevention and Treatment Program delayed the start of his 2007, but once he served his time he was assigned to Low-A Charleston. Noesi made five starts with the River Dogs (20 IP, 4.60 FIP) before going down with an elbow injury. He had Tommy John surgery soon thereafter, which kept him out until the second half of the 2008 season. Noesi threw 48.2 (essentially rehab) innings with the GCL team and the short season Staten Island Yankees after coming back from surgery, posting a 3.55 FIP.
Four full years after originally signing, Noesi was finally healthy and able to begin his career in earnest in 2009. The Yankees sent him back to Charleston to start the year, where he made eleven starts and seven relief appearances (75.2 IP, 2.09 FIP) before earning a midseason promotion to High-A Tampa. Noesi made nine starts in Tampa to close out the season, pitching to a 2.57 FIP in 41.1 IP. He had effectively pitched himself back onto the prospect map after the long injury layoff, and was rewarded with a 40-man roster spot after the season to avoid exposure to the Rule 5 Draft.
Noesi opened the 2010 season back with Tampa, but he wasn't there long. He made just eight starts (43 IP, 2.20 FIP) before getting bumped up to Double-A Trenton, where he made 16 starts and one relief appearance (98.2 IP, 2.99 FIP). Noesi pitched so well that he earned a spot in the Futures Game, where he allowed a single to current big leaguer Logan Morrison in his scoreless inning of work. Another promotion came his way in August, and he finished off his season by making three starts with Triple-A Scranton (18.2 IP, 3.20 FIP). Overall, Noesi's 2010 campaign featured a 2.80 FIP in 160.1 IP. Over the last two years, he's pitched to a 2.57 FIP.
Scouting Report
Long and lanky at 6-foot-2 and 175 lbs., Noesi stands out for his command and a delivery that is both simple and fluid, two things that are not mutual exclusive. Although control is typically the last thing to come back following elbow surgery, Noesi has unintentionally walked just 51 batters in 326 innings since returning from TJ (1.41 uIBB/9), a testament to how well he can command the baseball. He has also been perfectly healthy since the elbow surgery, leading the farm system in innings pitched in 2010 and holding his velocity deep into games.
Noesi's best pitch is lively fastball with a little boring action in on righties, routinely sitting at 90-93 mph and touching as high as 96 the last few years. He backs that up with quality changeup, his second best offering, and he also throws both a slider and a curveball. Neither of the two breaking balls is even an average big league pitch right now, and Noesi doesn't command any of his offspeed pitches as well as he does his fastball. He helps himself by fielding his position and holding runners well.
Here's some video of Noesi from this past June, and there's plenty more on Mike Ashmore's YouTube channel.
2011 Outlook
The Yankees do have some questions at the back of their big league rotation, so Noesi will be part of a group of upper level arms that will get a very long look in Spring Training. More than likely he'll be assigned to Triple-A Scranton to start the season with a callup possible at pretty much any time. He's almost guaranteed to make his major league debut at some point during the 2011 season, and it could come as either a starter or reliever.
My Take
Noesi's grown on me over the last two years, and I'm pretty sure it's obvious as to why. The performance is outstanding and he's now knocking on the door of the big leagues, a combination you want to see in a prospect of any caliber. The ability to command a fastball with some giddy-up is far too uncommon, and Noesi has that part of the game down to a science. His ceiling will be limited to a back of the rotation starter until one of his breaking balls steps forward and becomes a go-to pitch, but he still has plenty of time to work on that. If nothing else, Noesi will be serious competition for Nova and Sergio Mitre in Spring Training, and he'll be one of the first called up whenever an arm is needed in some capacity. On the other hand, he's a prime piece of trade bait as a cheap, workhorse type starter.