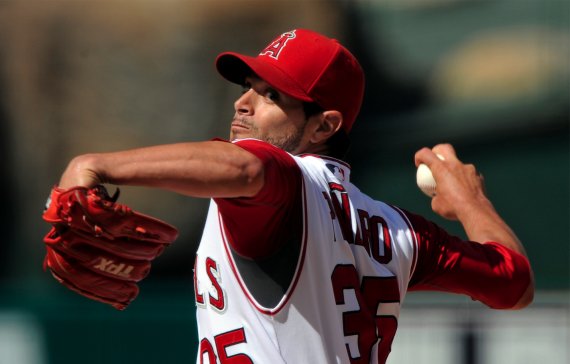 On yesterday's RAB Radio Show Mike and I discussed the Angels as they relate to the Yankees. It was just a year ago when the two teams faced off in the ALCS, but since then the Angels have taken a bit of a hit. They finished 80-82 last year, and now, after failing to sign any impact bats this off-season, they find themselves as also-rans in the AL West, where the Rangers and the A's looking like the top contenders. While that likely won't prompt the Angels to make a move now, it could make some of their players available during the season. One guy Mike and I discussed yesterday was Joel Pineiro.
At some point in the mid-00s Pineiro became an afterthought. A 12th round draft pick in 1997, Pineiro never really produced spectacular numbers in the minors. It wasn't until 2000 that he really made a splash, when he produced a 2.80 ERA in 61 Pacific Coast League innings. That earned him the No. 80 spot on Baseball America's Top 100 Prospects. He continued to pitch well by PCL standards in 2001, eventually earning a call-up to the bigs. After absolutely dominating — a 2.03 ERA in 75.1 innings — he was in the show to stay.
After two excellent seasons, Pineiro dropped off. In 2004 he pitched poorly before missing the final two months with an elbow injury. A shoulder strain caused him to miss the beginning of the 2005 season, and when he came back he was pretty terrible. In 2006 it was more of the same, and Pineiro actually shifted to the bullpen at one point. There were talks around the deadline of the Yankees swapping Shawn Chacon for Pineiro, but that didn't pan out. After the season the Red Sox signed him to be the closer, and we all know how that worked out. They traded him to the Cardinals, which is where the real story begins.
Pineiro had always been a decent ground ball pitcher. From 2002 through 2004 he was in the top third of the league in ground ball rate. That gave him hope with Cardinals' pitching coach Dave Duncan. In 2008 the experiment didn't go so well, as Pineiro posted a 5.15 ERA and 4.71 FIP in 148.2 innings. But the next year everything seemed to click. His ground ball rate jumped from the mid- to high-40s all the way to 60.5 percent. That caused his home run rate to dip. Combined with a pristine walk rate, 1.14 per nine, he put together a very good season: 3.49 ERA, 3.27 FIP, 3.68 xFIP. It was lucky, too, because he was headed for free agency.
There was a faction of fans, I'm not sure how large, who wanted the Yankees to sign Pineiro last off-season. The team needed a fourth starter, and even if we boosted Pineiro's 2009 ERA to reflect the realities of the American League, he still would have been one of the best fourth starters in the league. I took the case against him. This was a guy who had exactly one good season in the last six. There wasn't even a season where his peripherals made his results look better. It screamed of fluke. How would he fare without Duncan's tutelage?
As it turns out, Pineiro would have greatly helped the Yankees in 2009, even if he had suffered the same oblique injury that limited him to 23 starts. Again he kept his ERA below 4.00, 3.84, and had a FIP and xFIP to match. He kept the ball on the ground, 54.9 percent, and had a walk rate that ranked eighth in the majors among pitchers with at least 150 IP. That's not to say the Yankees made a mistake by trading for Vazquez rather than signing Pineiro; the warning signs were considerable. But now that he has experienced a second straight year of success, and by using the same arsenal, I think he'd make for a decent trade candidate.
The main factor for Pineiro is the ground balls. While Yankee Stadium might not be an overall hitters' haven, it is favorable to left-handed batters, particularly when it comes to home runs. Right-handed pitchers can have problems, then, as Phil Hughes realized in 2010. But the ability to keep the ball on the ground can help mitigate that issue. The Yankees might not have the best infield defense, but then again they had pretty terrible infield defense when Chien-Ming Wang pitched, and he did pretty well for himself. Pineiro's ground ball tendencies make him a good fit for the rotation.
The Angels won't let him go cheaply, of course. Pineiro is attractive not only because he has just one year left on his contract, but also because he will earn just $8 million in that one year. Another quality season will likely earn him Type A status, so the Angels aren't just going to give him away. Since they're so far below their normal payroll level as it is, they have no incentive to sell off anything now. That could mean a high asking price, which is why the Yankees should consider Pineiro with an eye towards the deadline. He won't be a cheap acquisition then, but he'll be cheaper than now.
Of course, Pineiro isn't the best pitchers with whom the Angels could part. There's Dan Haren and Jered Weaver, plus the always promising Ervin Santana. But I think that considering their situations — they're under contract for the next few seasons — Pineiro will be the easiest to pry from the Angels if they fall out of the race. In fact, given his contract and his impending free agency, he might be one of the more attractive mid-season trade targets. The Yanks would probably love to add him now and get a full season, but that just doesn't appear likely. Instead, Pineiro is a guy we should keep an eye on in the first half. He could very well be wearing pinstripes by July.