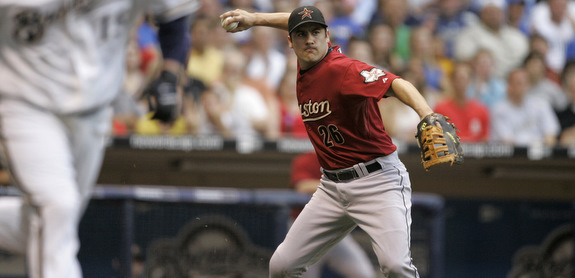 Aaron Boone's knee injury during the 2003-2004 offseason had a major impact on the Yankees, most notably because it opened the door for Alex Rodriguez's arrival in New York. It also had an impact on Mike Lamb. Not long after Boone's injury, the Yanks swung a deal with the Rangers to acquire Lamb, an up-and-down third baseman stuck behind then All-Star Hank Blalock. He was set to be the team's everyday guy at the hot corner in 2004, but less than two weeks later he was again a man without a position following the A-Rod trade.
The Yankees acquired Lamb seven years ago today, then traded him to the Astros just a month later. He never played a game for the Yankees outside of Spring Training, but that year he posted a .365 wOBA in 312 plate appearances for Houston. Lamb spent four pretty productive years with the Astros (.342 wOBA in 1,436 PA, 5.3 WAR), but he's nothing more than an afterthought in Yankee history*.
Here's the open thread for the evening. The Islanders are the only local team in action, so yeah, go out and have fun.
* Just for the sake of completeness, the prospect the Yankees sent to Texas (RHP Jose Garcia) never made it out of Double-A, and the prospect they received from Houston (RHP Juan DeLeon) never made it out of Single-A.