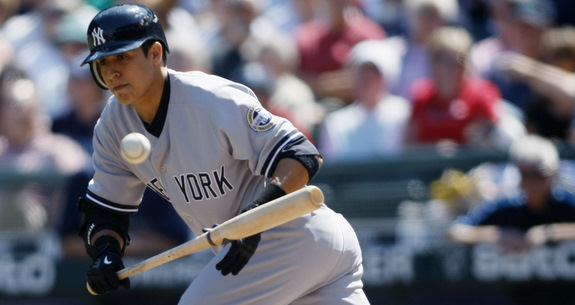 Given the general construction of the roster from year to year, the Yankees have very few position battles in Spring Training. Last season it was the fifth starter's job (gift wrapped for Phil Hughes) plus some miscellaneous bench and bullpen jobs, and the year before that Brett Gardner and Melky Cabrera had to duke it out for the centerfield job. That's pretty much it, it's not often the Yankees have a position up for grabs and need to fill it in camp, at least not a significant position anyway.
This year is no different. Everyone knows about the fifth starter's job and the last spot on the bench, but there's also a spot in the bullpen to be decided and the backup shortstop is still an unknown. Let's recap the positions still up for grabs in camp this spring…
Position: Utility Infielder
Candidates: Ramiro Pena, Eduardo Nunez
The Yankees need to carry someone on the bench capable of playing shortstop, and these two are the only guys on the 40-man roster capable of doing so (meh, I guess Derek Jeter qualifies). Pena is the incumbent while Nunez is the (apparent) hot shot prospect, and both bring different things to the table. Pena is all defense while Nunez can hit for an empty average and play a little defense. The Yankees apparently believe that Nunez is a future everyday shortstop, and if that's the case, sitting on the bench five or six days a week won't help his development. My guess is that Pena gets the job for a third straight season.
Position: Backup Catcher
Candidates: Frankie Cervelli, Jesus Montero, Austin Romine
Russell Martin has already been declared the catcher, and Brian Cashman has maintained that there will be an open competition for the backup job. That sounds great, but the choice here is pretty obvious. Cervelli backs up Martin while Montero and Romine play every single day in the minors. Hey, it's great to say there's a competition to motivate everyone, but the Yankees won't have to spend much time mulling this one over.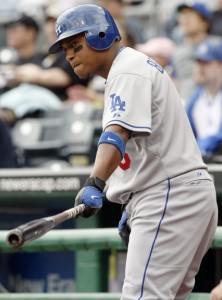 Position: Last Man On The Bench
Candidates: Pena, Nunez, Ronnie Belliard, Eric Chavez, Justin Maxwell, Colin Curtis, Greg Golson, Kevin Russo
I already explored this a few days ago so I'll keep it short. Maxwell and Nunez should play everyday for Triple-A Scranton rather than rot on the big league bench, while Golson, Russo, and Curtis really don't offer much to the team. Belliard and Chavez at least bring veteran presents (the kids will love 'em) and in Belliard's case, familiarity with the role. Chavez is a lefty bat, something the bench lacks, which helps his cause. I don't believe he'll be able to stay healthy for any length of time though, so I suspect Mini-Manny will get the job almost by default.
Position: Fifth Starter
Candidates: Freddy Garcia, Bartolo Colon, Sergio Mitre, misc. prospects
I'm assuming that Ivan Nova will get the fourth spot, a fairly safe bet. Mitre has started a dozen games for New York over the last two years (three in 2010), and his shiny 3.33 ERA last year masked a miniscule strikeout rate (4.83 K/9) and homer tendencies (1.17 HR/9). The Experience can get grounders like a mofo (50.9% last year, 58.7% career), pretty much is only redeeming quality. Colon reportedly threw well in winter ball (where he was managed by bench coach Tony Pena), but it's been a full year since he was on the big league mound and about four years since he was effective. Now 37, he's definitely the long shot of the bunch.
Garcia is probably the front-runner based on 157 innings he threw last year that were unquestionably below average but still better than replacement level, which is what Mitre and Colon seem destined to be. The Yankees have some minor league depth to try out, namely Hector Noesi, D.J. Mitchell, and David Phelps, but they're all in need of more Triple-A seasoning and shouldn't have their development path altered when a guy like Garcia can be thrown to the wolves for the first month or two of the season. One of them could surprise in camp, for sure, but I'd rather see the kids be the fallback option and not the first attempt at a solution.
Position: Long Reliever
Candidates: Same as the Fifth Starter, plus Romulo Sanchez, Daniel Turpen, Robert Fish, Ryan Pope, Brian Schlitter
Six of the seven bullpen spots are already accounted for (Mariano Rivera, Rafael Soriano, Joba Chamberlain, David Robertson, Pedro Feliciano, Boone Logan), so that last spot will end up going to someone capable of throwing three or four innings at a clip. Romulo is out-of-options, meaning he has to pass through waivers to go back to the minors, and chances are he'll be a goner at some point. Turpen and Fish are Rule 5 Draft picks, so unless they spend the entire 2011 season on the 25-man active roster, they'll have to be offered back to their original clubs. Expect them to be gone before the end of Spring Training. Pope and Schlitter are short relievers with no and little big league experience, respectively, and I'm willing to bet they'll be riding the Scranton-New York express all summer.
That leaves the guys from the fifth starter competition, so it seems like the runner-up for the last rotation spot gets the last bullpen spot as a consolation prize. Mitre is probably the best fit here, since he has experience as a long reliever and filled that role just last year. Either way, just like every other job listed in those post, the long man is sure to change over the course of the season, so don't get too attached.