When I first started following the minor leagues however many years ago, one of things I didn't quite understand initially was the concept of an organizational player. That's a player that has a job playing baseball in the minor leagues even though he isn't considered a Major League prospect. Why would teams bother with these guys, aren't they blocking actual prospects? Those and about a zillion other questions raced through the mind, but now I know what's up. Org players aren't just a part of baseball, they're a very important part of it.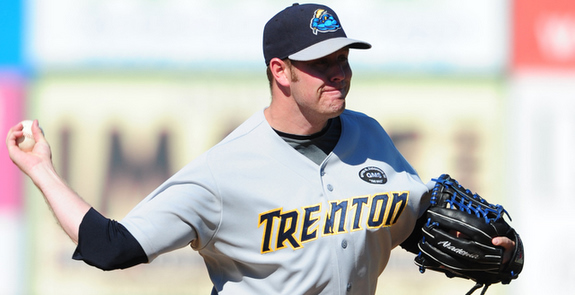 If you want to visualize the distribution of prospects in the minor leagues, think of a pyramid. There's a whole bunch of talented players at the lower levels of the minors, but as you climb the ladder the number of prospects starts to thin out, with just a handful at the Triple-A level. That's just the natural order of things, attrition will feast on the weak while the strong move on. But roster spots, those are a big solid block, not a pyramid. Teams still have to field a full roster at every level regardless of how many actual prospects they boast.
The Triple-A level is a bit unique because teams will typically stash backup players there, such as spare relievers and an extra outfielder, a starter or two, probably an infielder, etc. Not everyone is a prospect, but most of the guys on the 24-man Triple-A roster serve some sort of purpose to the big league team. Double-A and below is a different story; you'll have a handful of prospects and then a whole bunch of roster spots that need to be filled, and that's where the org players come in.
The role of an organizational player is simple, they just have to do whatever the prospects can't. Any innings that need to be pitched, positions that need to be filled, whatever, it's up to them. Prospects are usually on a set regimen and development plan (especially with the Yankees), meaning their usage and pitching schedule and lineup spot are fixed by the higher-ups and not by actual production. It's a development thing, and it's up to the org players to fill in around the prospects.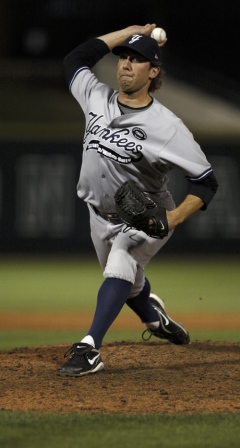 The Yankees have a number of high quality org players in their system, none better than Josh Schmidt (above). A 15th round pick back in 2005, Schmidt crushed the New York-Penn League as Staten Island's closer that year (33 IP, 14 H, 1 R, 6 uIBB, 47 K), but the now 28-year-old has spent most of the last three seasons soaking up innings for Double-A Trenton. His performance has been quite good (156 IP, 67 uIBB, 175 K), but because he lacks the stuff to get big leaguers out, he's used to take pressure off actual prospects at the level. P.J. Pilittere has spent the last few years filling in behind the plate at various levels, Jack Rye has been bouncing back and forth between outfield jobs for Trenton and High-A Tampa over the last two years, and guys like Adam Olbrychowski and Eric Wordekemper and Phil Bartleski soak up innings at whatever affiliate happens to be short on arms on a given day.
Remember, these guys are all human, they all want to win. Development is obviously priority number one in the minors, but winning is not an afterthought. Good org players lead to more wins, and you want your best prospects in a winning environment. There's also the business aspect of it; more wins means more butts in the seats, and the affiliated clubs appreciate that. It's a two-way relationship, both the Yankees and the minor league clubs are supposed to benefit from their player development arrangement.
The other thing we can't forget here is these guys are all teammates and will be stuck living with each other for six months a year. Good org players aren't just productive on the field, they also help the prospects off the field and in the clubhouse. Most of these guys are old for their level, so the experience they share with the younger guys is just as important as the innings they eat.
Being an organizational player is a completely thankless job, but that doesn't mean they're not important. Productive players that know their role in the organization contribute a great deal to the development of the highly touted prospects they play with, they just happen to be more disposable. Don't take them for granted though, quality players help breed a quality organization, regardless of how small their role may be.