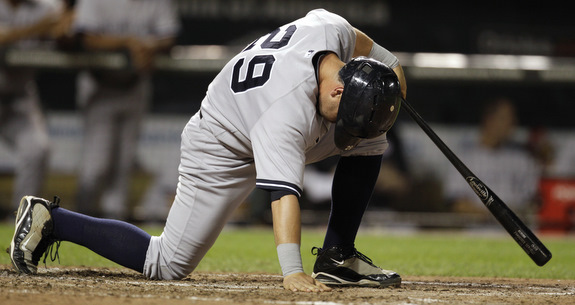 The Yankees have announced that Frankie Cervelli has a fractured bone in his left foot and will be in a boot and unable to perform baseball activities for the next four weeks. Six-to-eight weeks is the realistic timetable for when he'll be able to return to the team. Cervelli suffered the injury when he fouled a ball off the top of the foot earlier this week. He stayed in that game for another inning but was eventually lifted.
Joe Girardi told reporters that the competition for the backup catcher's job is wide open right now, but the plan is for Jorge Posada to remain at DH according to Bryan Hoch. Girardi has "no plans" of starting Jorge behind the plate in any games this month. This really opens the door for Jesus Montero, who has to be considered the favorite to backup Russell Martin at this point. I'd be in favor of that. Austin Romine and Gustavo Molina will be given long looks as well.
This is the third time in four years that Cervelli's been hurt in Spring Training. He had his wrist broken in that infamous home plate collision with Elliot Johnson in 2008, and last year he was hit in the head by a pitch, resulting in a concussion. That's what brought about the Rick Moranis helmet.